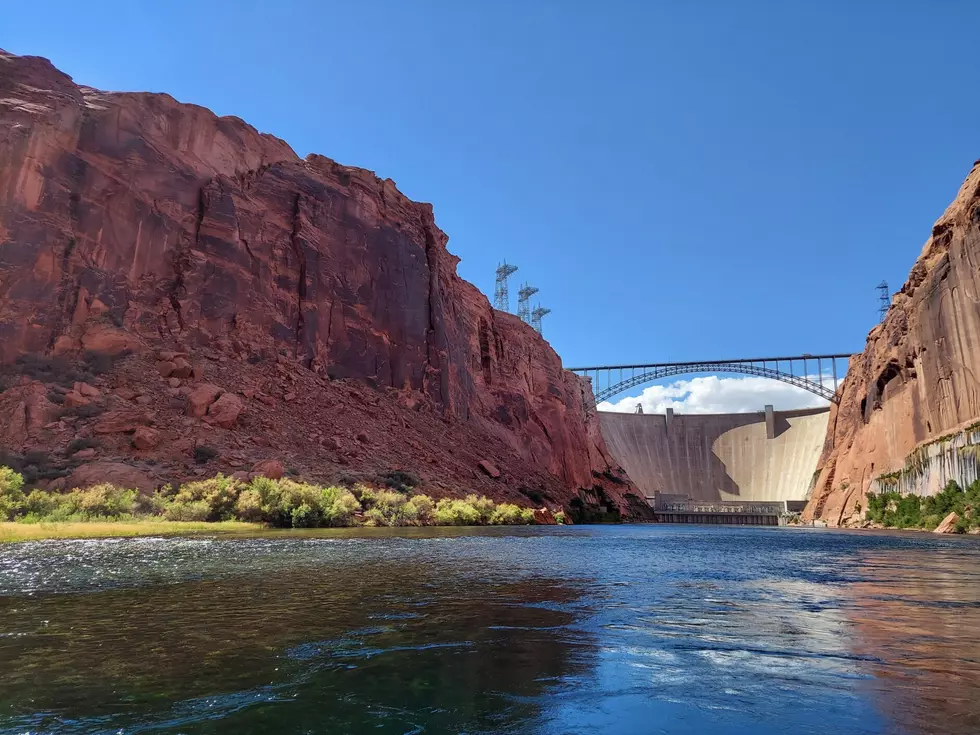 Arizona announces $233M in Colorado River water conservation efforts
Glen Canyon Dam on the Colorado River. (Brad Poole/Courthouse News)
Joe Duhownik
PHOENIX (CN) — On the heels of one of the wettest Arizona winters in history, federal, state, local and tribal leaders united Thursday to announce a total of $233 million in funding for water conservation agreements to aid the Gila River Indian Community and other Colorado River users.
Taken together, officials said, the investments are projected to save roughly 200,000 acre-feet of water annually and provide enough water for more than half a million people per year. They're also projected to raise the water level by two feet each year in Lake Mead — a critical but rapidly depleting reservoir that straddles Arizona and Nevada.
Despite recent rain and snow, the Colorado River — a lifeline for communities throughout the U.S. Southwest — remains strikingly low and is forecasted to hit new record low water levels this month.
In an afternoon press conference, Arizona Governor Katie Hobbs, Gila River Indian Community Governor Stephen Roe Lewis and other federal representatives detailed three separate agreements with the U.S. Bureau of Reclamation that they hope will together guide Arizona through the ongoing water crisis.
"Even with this welcome weather, conservation is more important now than ever," Hobbs said. "The challenges facing Arizona and the 40 million people who rely on the Colorado River cannot be solved by a lone wet winter, which is why conservation projects like these are so critical."
Funding for the projects comes from the Biden administration's Bipartisan Infrastructure Law and Inflation Reduction Act, adding up to the largest climate investment in U.S. history, said Deputy Secretary of the Interior Tommy Beaudreau.
The Gila River Indian Community will receive up to $50 million in funding through the Lower Colorado River Basin System Conservation and Efficiency program, which aims to protect Colorado River reservoir storage volumes.
It will receive another $50 million in both 2024 and 2025. The program is expected to conserve up to 125,000 acre-feet of water per year over the three-year agreement.
"Conservatively, that's enough water for at least half a million people," Deputy Bureau of Reclamation Commissioner David Palumbo said to a round of applause from the audience.
Another $83 million will go toward the Gila River Indian Community's Reclaimed Water Pipeline Project. The project aims to increase water reuse by connecting reclaimed water to the Pima-Maricopa Irrigation Project facilities. When completed, the project will provide up to 20,000 acre-feet annually for system conservation, with a minimum of 78,000 acre-feet of the saved water committed to Lake Mead.
Construction on the 19-mile pipeline is set to begin next month, and will be complete by the end of 2024, Palumbo said.
Lewis applauded the fact that the materials for the pipeline are sourced from Arizona. The pipe will come from Diamond Plastics, a corporation based in Casa Grande.
Finally, Lewis announced funding for a portion of a solar-covered canal project in the Gila River Indian Community to reduce evaporation and increase electrical energy output.
"This is truly a path to a greener future, he said, which would help with "attacking the root cause of climate change" and "moving us forward to a net zero economy for a sovereign tribal nation."
Seven U.S. states, including Arizona, sit in the basin of the Colorado River.
Still looming over all seven of the is Bureau of Reclamation's instruction to save two to four million acre-feet per year of Colorado River water.
If they fail to do so, the Bureau will enforce cuts of its own.
While 200,000 may seem insignificant to such a large number, Palumbo emphasized that every water droplet helps.
"These incremental savings through the agreements that we're reaching will keep building elevation in Lake Mead, so reductions that have to happen in the future are minimized," he said. He added that similar agreements will be announced across the basin in the coming months.
Mayors from the cities of Phoenix and Tucson attended the news conference as well, where they spoke on the importance of collaboration at the city level.
"As cities, we are the economic and population centers of the state," Phoenix Mayor Kate Gallego said. "We take our role very seriously in ensuring the wellbeing of our residents and ecosystems."
She described multiple Phoenix-based industries that are "essential to our entire country" and that rely on sustainable water supply, including semiconductors, pharmaceutical manufacturing and more.
"That's why it's so important that we work together to ensure we have strong water supplies to ensure the prosperity and safety of our country," she added.
Phoenix partners with the city of Tucson to conserve Colorado River water through the Central Arizona Project. In 2022, Phoenix contributed 30,000 acre-feet of its Colorado River water allocation to preservation of Lake Mead, Gallego said.
Tucson Mayor Regina Romero called Tucson "one of the most water resilient cities in the Western United States."
Since 2017, the city has contributed 48,000 acre-feet of Colorado River water allocation to preserve Lake Mead, Romero said. She announced a contribution of another 110,000 acre-feet of the city's river water allocation over the next three years, drawing the third round of applause of the afternoon.