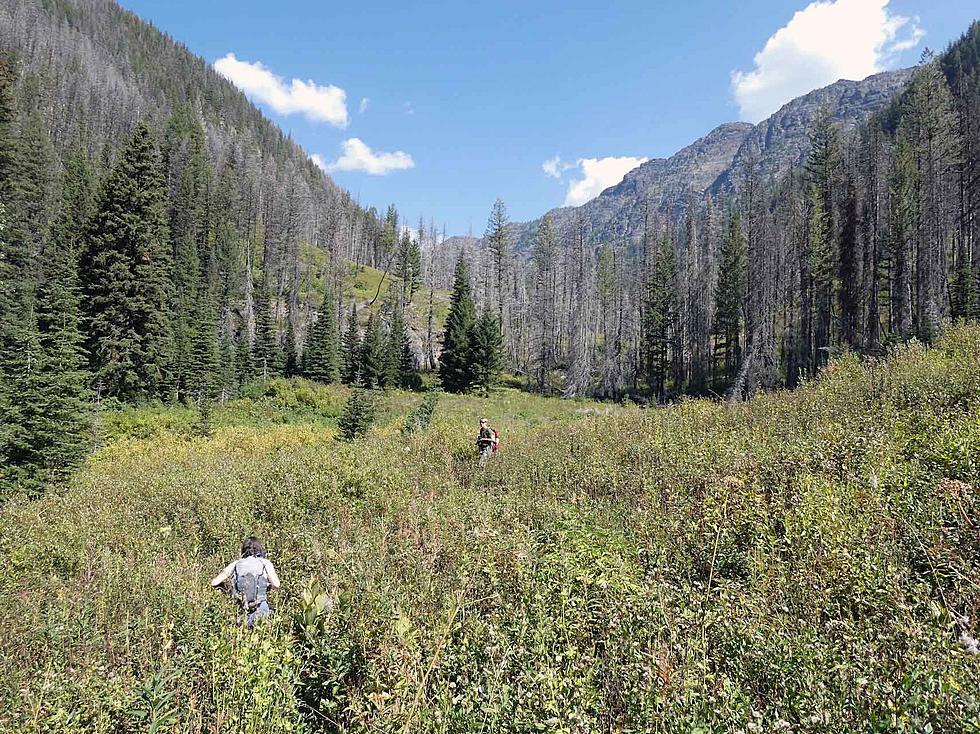 Blackfoot Clearwater wilderness bill headed to Senate floor
Hikers work their way toward Grizzly Basin in the Swan Range east of Seeley Lake on Aug 28. This area would be protected as wilderness under the Blackfoot Clearwater Stewardship Act. (Laura Lundquist/Missoula Current)
Laura Lundquist
(Missoula Current) After seven years, the Blackfoot Clearwater Stewardship Act has finally passed out of committee and is on its way to the Senate floor.
In a rushed meeting early Thursday morning, the Senate committee on Energy and Natural Resources approved Sen. Jon Tester's Blackfoot Clearwater Stewardship Act - S. 2149 - as part of a package of 21 bills that are now headed to the Senate floor. Ten of the 19 committee members were present, and the only no vote for Tester's bill came from Sen. John Barrasso, R-Wyoming, after the package vote.
The senators combined the bills to keep the meeting short, because they were to meet with Ukraine President Volodymyr Zelenskyy as part of his visit to New York and Washington, D.C.
It's the first time the Blackfoot Clearwater Stewardship Act has made it out of committee since first being introduced in  March 2017. The act would add about 78,000 acres of wilderness to the Bob Marshall, Scapegoat and Mission Mountains wilderness areas and create two recreation management areas for snowmobiling and mountain biking.
Around 84% of Montanans support the Blackfoot Clearwater Stewardship Act, up from 79% a year ago, according to the Colorado College Conservation in the West poll released in February.
The wilderness proposal was part of a collaborative effort that brought together recreationalists, timber companies and wilderness advocates starting in 2005. They hammered out a compromise that has already produced timber and land restoration projects from north of Seeley Lake to north of Ovando.
Through 2020, the Southwest Crown of the Continent Collaborative has logged more than 60 million board-feet, treated 57,000 acres for noxious weeds, restored 204 miles of stream and maintained more than 3,400 miles of trails. That has helped to create or maintain an average of 153 jobs, bring in $34 million in federal investments, and add an overall investment of $57 million in the local economy. But one remaining piece of the agreement, the wilderness designation, has not been fulfilled, waiting on Congress to act.
Initially, the Blackfoot-Clearwater wilderness was part of the larger Forest Jobs and Recreation Act, which Tester first introduced in 2010. That bill included collaborative efforts in two other regions: the Kootenai Challenge and the Beaverhead-Deerlodge Partnership. But it also struggled to get much traction. So the Blackfoot Clearwater piece was given its own bill.
In 2018 and 2020, the Senate committee heard the bill but took no action. In October 2021, the bill was brought to a committee vote but was opposed by Sen. Steve Daines, who said the bill shouldn't move forward unless it was combined with a bill Daines was writing. That bill would release certain wilderness study areas in Montana from being managed as wilderness to being managed as national forest.
In 2017, Daines and then-Rep. Greg Gianforte sponsored legislation that would have eliminated five wilderness study areas encompassing 449,000 acres: the West Pioneer, Sapphire, Big Snowy Mountains, Middle Fork Judith, and Blue Joint areas. A subsequent University of Montana survey indicated more than 80% of Montanans opposed the legislation, partly because it bypassed the public process.
"I think there should be a balance between preserving areas deemed suitable for wilderness while also allowing Montanans to make appropriate use of lands deemed not suitable for wilderness," Daines said in 2021.
On Thursday, Daines followed up on his 2021 promise and inserted his bill, S. 2216, the "Montana Sportsmen Conservation Act," in the package vote. The Sportsmen Conservation Act would eliminate wilderness protection from more than 100,000 acres of the Middle Fork Judith, Hoodoo Mountain and the Wales Creek wilderness study areas.
"There's more work to be done on these important issues. I look forward to advancing these bills together," Daines said in committee Thursday.
Groups that have backed the Blackfoot Clearwater Stewardship Act were quick to react, praising the passage of Tester's bill but disappointed with Daines' bill.
"(Blackfoot Clearwater Stewardship Act) moving forward is a great day for Montana and a responsible Montana-made solution to protect the Last Best Place. But Senator Daines' insider-deal to give away our prized public lands is exactly the wrong approach to responsible land management. Unfortunately, crafting legislation with DC lobbyists in back offices rather than the kitchen tables of Montanans is repeat history for Senator Daines," said Whitney Tawney, Montana Conservation Voters executive director in a release.
A release from Daines office said his bill was supported by the Montana state Senate; logging interests; two recreational organizations, the Great Falls Bicycle Club and the Blue Ribbon Coalition for motor sports; and two hunting organizations, Montana Outfitters and Guides and Montana Sportsmen for Fish and Wildlife.
Two other Montana hunting organizations, the Montana Wildlife Federation and Missoula-based Hellgate Hunters and Anglers, voiced strong opposition to Daines' bill on Thursday.
"Unlike Sen. Daines and his elitist friends, our members rely on public lands for big game hunting opportunities. If this bill advances, it will threaten some of Montana's best elk habitat and public hunting country," said Andrew Gorder, Hellgate Hunters and Anglers president. "By seeking to remove (wilderness study area) status from these lands -- potentially opening them up to development -- Daines just shows he has absolutely no desire to protect the interests of ordinary Montanans."
Hunters similarly opposed Bureau of Land Management efforts to eliminate wilderness study areas when the Missoula Office wrote a draft resource management plan that tried to remove protections from the Hoodoo Mountain and Wales Creek areas in the Garnet Mountains north of Drummond. The plans were never finalized.
"That, from a hunter's standpoint, is the best of the Garnet Range – it's the area that isn't roaded, so there's elk, there's moose. It's a refugia, so when all the shooting goes on in lower areas, there's an opportunity for people to pack in and hunt off of roads," said Backcountry Hunters and Anglers spokesman Greg Munther in 2019.
Both bills are headed to the Senate floor but may not see action soon, unless they become part of a larger lands package, which has been discussed as a possibility this Congress.
"Now that it's out of committee, we can try to get this bill probably put into amendment form, because there's not going to be the time - assuming the government stays open - to have floor action on it," Tester said in a Thursday press call. "Blackfoot Clearwater is important, but all the other things are national issues so time will become an issue."
The Senate has its hands full trying to pass the Farm Bill and other appropriations legislation before the end of the year, while far-right members of the House are refusing to approve the budget deal struck back in May. Without a budget, the government will shut down on Oct. 1.
Tester urged supporters to call the Montana delegation to ask them to vote for the Blackfoot Clearwater Stewardship Act to finally get it to the president's desk.
Contact reporter Laura Lundquist at lundquist@missoulacurrent.com.