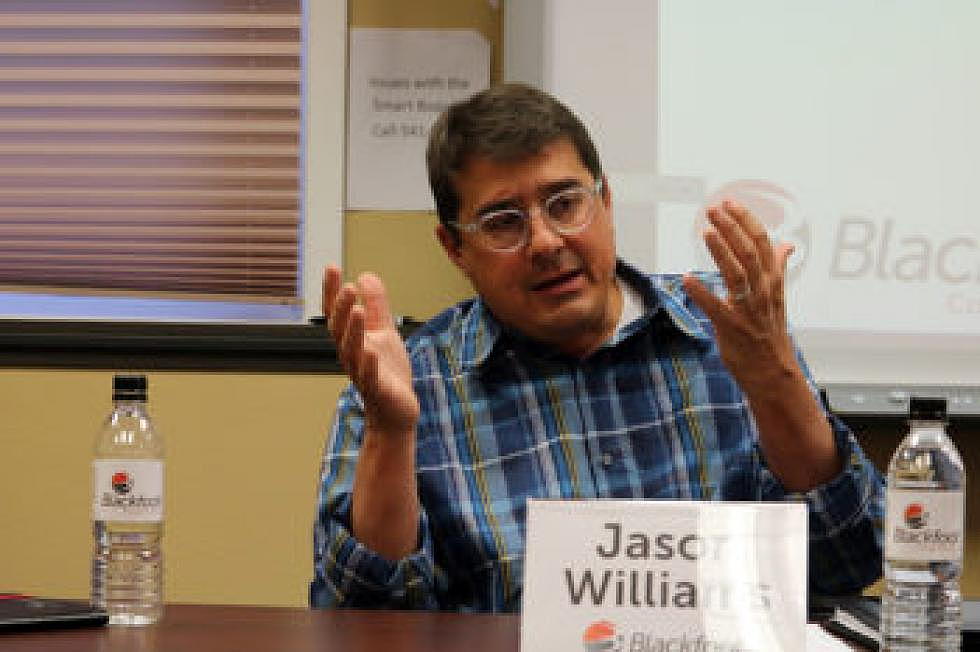 From intern to CEO, Blackfoot's top boss takes charge of company's tech growth
Jason Williams, CEO of Blackfoot, a communications company based in Missoula, began as an intern and worked his way up to head the company. (Martin Kidston/Missoula Current)
Jason Williams' friends, family and employees like to talk about his career trajectory from intern to CEO at Blackfoot in 15 years.
"I like to think my story is inspirational," Williams said. "I started at the bottom rung, and now I'm leading a company I love."
Williams has more than 20 years of experience in telecommunications, energy and technology. A South Dakota native, he graduated from Notre Dame and took a job in the regulatory department with the Bellevue, Washington-based telecom firm NextLink.
Williams graduated from law school at the University of Montana and spent a year in Washington, D.C., as an adviser to a commissioner at the Federal Communications Commission.
It was during law school that he landed his providential legal internship at Blackfoot before going into private practice representing rural phone companies. He worked as in-house counsel for NorthWestern Energy in Montana and then in Boise for Idaho Power.
But in 2012, Bill Squires recruited him back to Montana to serve as general counsel for Blackfoot. In March 2016, Williams was appointed COO and in December 2016, he was named CEO after Squires' unexpected passing.
Williams believes his journey to the c-suite is evidence of Blackfoot's commitment to employee career success and the culture of the company.
"I was lucky I had some great mentors along the way and I developed a passion for an industry that is constantly evolving," he said. "It's a privilege to be in a position where I can influence the careers of our growing workforce. It's an exciting time to be at Blackfoot."
Blackfoot started in June 1954 as a cooperative to bring telephone service to the Blackfoot River corridor, including communities like Greenough, Ovando, Seeley Lake and Clinton.
At the time, Mountain States Telephone and Telegraph (a division of Ma Bell) served Missoula, but not outlying rural areas. So a group of 10 farmers, ranchers and small business owners met in downtown Missoula at the Palace Hotel, with each individual pitching in $50 to start the nonprofit cooperative.
Today, that same telephone cooperative serves more than 12,000 customers over 6,500 square miles in western Montana.
Since its founding, Blackfoot has risen to become a regional force in technology infrastructure, providing wide areas with network services, broadband, IT consulting, voice, cloud, data storage and other business services across Montana, eastern Idaho and the Pacific Northwest.
Under Squires' leadership, Blackfoot grew its revenue through an aggressive strategy that included expanded services and acquisitions. Blackfoot acquired Cutthroat Communications in Bozeman in 2013, web hosting company Modwest in 2012, and Fremont Communications in eastern Idaho in 2013.
Under Williams' tenure, the company shows no signs of slowing down. Just last week, Blackfoot announced that the company has entered into a definitive agreement with T-Mobile to provide fiber backhaul services to T-Mobile tower sites throughout Montana and Wyoming.
With Blackfoot's efforts, T-Mobile aims to build hundreds of new mobile sites in eastern Montana and northern Wyoming, bringing 4G LTE coverage to underserved customers. Williams said the company has been pushing the local technology envelope for more than a decade.
"We are thrilled to be a part of bringing unlimited, mobile broadband to Montana and Wyoming," said Williams. "T-Mobile is exactly the type of innovative partner we are pleased to do business with."
The coverage will include areas such as Bozeman, Great Falls and Billings while extending service in Helena and Butte.
T-Mobile senior vice president Dave Mayo said Blackfoot helps advance T-Mobile's own goals of giving customers the best wireless experience.
"With Blackfoot's engineering and fiber expertise, T-Mobile can rapidly expand our LTE coverage to rural Montana and Wyoming, bringing wireless choice for customers while creating near- and long-term job opportunities in the state," Mayo said.
The Missoula Current reported that Blackfoot CEO Jason Williams is part of a push to create a technology and innovation corridor in western Missoula.
"The thinking would be, it's a place where not only existing high-tech companies in Montana can locate their business, but also tech companies looking to relocate from somewhere else to Missoula," Williams told the Current.
MonTEC, a high-tech business incubator controlled by the University of Montana, is reaching capacity. A new West Broadway innovation center could continue to boost collaboration and coordination between established companies and upstarts in western Montana.
"We're going to develop a master plan and work with the adjacent landowners to see if we can do something even more," Williams told the Current. "We've been spit-balling a lot of ideas."
"There are 13 acres next door at the Department of Transportation and it just has trucks on it," he said. "Being that close to the center of Missoula, it would be great to repurpose that."
Williams said Blackfoot is also committed to growing its Bozeman market. Blackfoot does more than $1 million in business a year in Bozeman and has plans to double that over the next three to five years.
In addition, the company is investing in Bozeman's fiber-optic network. In 2017, Blackfoot will have invested more than $1 million in broadband fiber infrastructure in Bozeman.
At the Montana High Tech Jobs Summit in October, Williams announced the company's staunch resolution to support rural communities. Blackfoot's broadband is preserving and advancing job opportunities in small towns in western Montana, which make it possible for workers to telecommute and for any business to thrive.
"Over the next ten years, we're going to invest more than $75 million in communities like Thompson Falls, Drummond, Phillipsburg," Williams said. "We're going to enhance our existing fiber network there with additional fiber."
He added that Blackfoot is also dedicated to connecting Montana's major cities with fiber and strong wireless connections, and that great broadband access isn't just about doing work, but about the quality of life.
"With Blackfoot's Internet connection, you can be sitting [and working] on the banks of the Clark Fork overlooking the river," Williams said. He added later, "Indeed, our Montana outdoor assets have been a compelling recruitment tool, and we try to position ourselves to be one step ahead of what our customers need in terms of connectivity."
Blackfoot employs more than 175 people with an average salary of more than $70,000 and adds about 20 jobs each year, hiring for sales, technical support, installation and repair techs construction, and customer care positions. Williams said Blackfoot is also still committed to recruiting interns.
"Blackfoot's been here for 60 years," Williams said. "We're going to be here for at least 60 more. As Montana businesses grow, we're committed to grow with them."
Blackfoot has $105 million in assets and customers in more than 30 Montana and Idaho communities. The company will continue to offer more than Internet, developing web-based applications and cloud-based services.
"Our customers will have the option to do everything remotely including adjusting home thermostats and having the ability to automatically upgrade internet speeds at their business and solving really large data problems," Williams said. "I'm pleased that our customers have access to the same advanced services any of the large providers offer anywhere across the country."
Christina Henderson writes for the Montana High Tech Business Alliance, a nonpartisan statewide association of more than 250 high tech and manufacturing firms and affiliates.