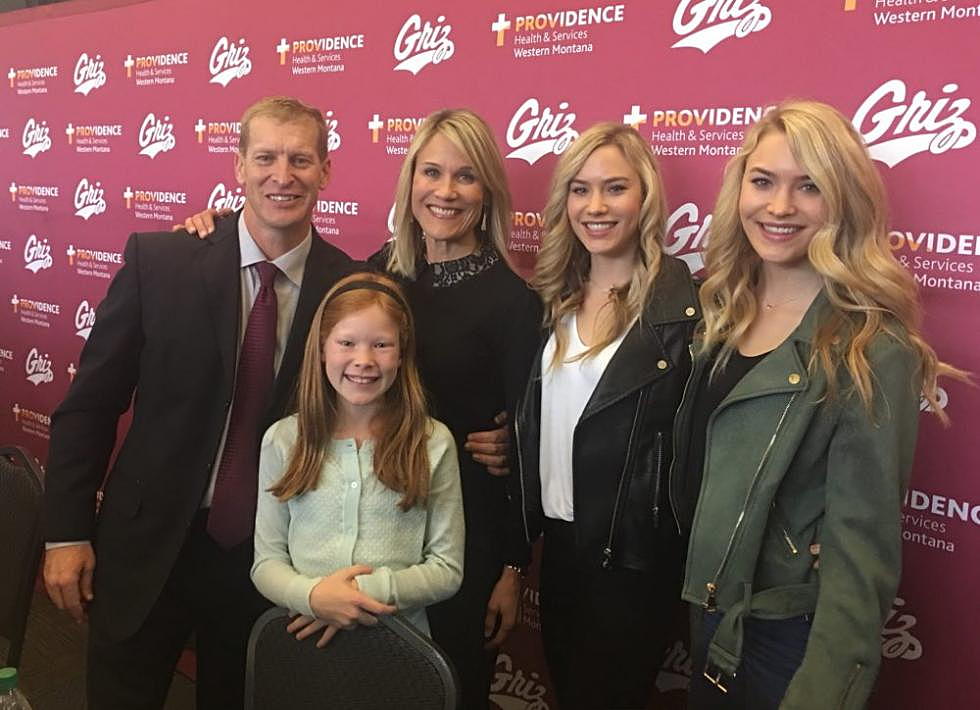 A Griz once more: Bobby Hauck named Montana's 37th head football coach
"Thank you Griz Nation for the warm welcome," Bobby Hauck posted alongside this family photo on Twitter. "We're missing one but the family is excited to wear the maroon again." (@Coach_Hauck ‏)
Athletic director Kent Haslam has named former Grizzly head coach and current San Diego State associate head coach Bobby Hauck as the 37th head football coach at the University of Montana.
On Thursday, Hauck agreed to a three-year contract, which will take him through the 2020 season.
One of the winningest coaches in Grizzly history, the UM alum returns to his native Montana after five seasons as the head coach at UNLV, and three seasons serving as SDSU's associate head coach and special teams coordinator.
"I look forward to working with Coach Hauck and the football staff in advancing the overall mission of the athletic department. A mission focused on success in the community, in athletics, and in the classroom. We will not compromise on our pursuit of excellence in everything we do. Coach Hauck's previous success on the football field at the University of Montana is well known and I expect that will continue. I also expect we will continue to build a culture of hard work, respect and accountability," said Haslam.
Hauck will be formally reintroduced to the Montana football community and media in a press conference set for Friday, Dec. 1 at 10:30 a.m. in the Washington-Grizzly Stadium Canyon Club. The press conference will be broadcast live via the team's Facebook and Twitter feeds.
"It is an honor and a privilege to be able to come back home to a place that is so important to me. I am grateful for the opportunity to continue the tradition of excellence at the University of Montana. I am absolutely committed to success both on and off the field. I cannot wait to get started, and look forward to being a strong advocate for the University as a whole," said Hauck.
2018 will mark Hauck's thirtieth year coaching college football with seven spent as Montana's head coach from 2003 and 2009. He led the Grizzlies to three national championship appearances, won seven-straight Big Sky Championships, and mentored a host of future professionals. He began his coaching career with the Grizzlies in 1988 after earning a bachelor's degree in business and physical education at Montana in 1987.
He is a three-time Big Sky Conference Coach of the Year, and was a finalist for the Eddie Robinson Coach of the Year award in 2009.
Hauck was prolific for Montana in his first stint as head coach, posting an overall 80-17 record, an 82 percent winning average, the highest in the FCS at the time. He also led the Griz to three perfect seasons in Big Sky Conference play with a 47-6 league record and won at least a share of the Big Sky title in each of his seven seasons.
Hauck's Grizzlies also excelled in the classroom during that time. From 2003-2009, Montana placed 104 football players on Academic All-Big Sky teams, the most, or second most in the league each year. In each of those seasons, football student-athletes also graduated at a higher rate than their campus counterparts, including a remarkable 90 percent rate in 2005.
Known for operating a punishing rushing attack, Hauck's Grizzlies outscored their opponents 3,079-1,795 in his 97-game tenure with the Griz. He also coached 37 first-team All-Big Sky selections.
"Griz Nation welcomes Coach Hauck back to the University of Montana. This process has moved quickly, but deliberately, and with in-depth discussions of our expectations. I've appreciated that dialogue from a diversity of perspectives, because it speaks to the heartfelt admiration for our university shared by so many," said University of Montana President Sheila Stearns.
Incoming University of Montana President Seth Bodnar spoke with Hauck this week as well, sharing his vision for all student-athletes at UM.
"Coach Hauck and I discussed my unwavering commitment to all of our students' well-being and success, and the critical importance of building a respectful and positive culture – in athletics and across the university. We will hold ourselves accountable and live these values through our actions. I know that Coach Hauck has a deep love for this institution and our state, which is his home. As a former Division I student-athlete myself, I believe that our athletic programs play a key role in developing young women and men of character. I look forward to working with Athletic Director Haslam, Coach Hauck, and all our coaches as we commit to that work," said incoming University of Montana President Seth Bodnar.
From 2010-2014 Hauck served as head coach and special teams coordinator at UNLV. As head coach, he led the Rebels to the Heat of Dallas Bowl in 2013 - their first winning season since 2000. As special teams coordinator, Hauck's Running Rebels ranked No. 34 nationally in kickoff return average and No. 40 in kick return average yards allowed.
"I spent over 30 years as an Athletic Director at the Division-I level and made a lot of hires in every sport. Bobby Hauck is as good a coach and person as anyone I've been around. This is an absolute home run for the University of Montana. He did a great job here at UNLV," said former AD Jim Livengood.
"I think the world of him as a coach and as a person. He's an incredible family person. Bobby Hauck could coach anywhere in the country, and the program, the university and the student-athletes would be better for it. He is absolutely as good as they come."
In 2015, Hauck accepted the role as special teams coordinator at San Diego State under legendary head coach Rocky Long. There he coached kick returner Rashaad Penny, a three-time Mountain West Special Teams Player of the Year and 2017 Offensive Player of the Year - the only player in league history to win both awards in the same season.
Hauck was born in Missoula and went to high school in Big Timber. He and his wife Stacy have four children: Alexandra, Elise, Robby and Sydney.
Head coaching experience
| | | | |
| --- | --- | --- | --- |
| Year | Team | Overall | Conference (Finish) |
| 2003 | Montana | 9–4 | 5–2 (T-1st) |
| 2004 | Montana | 12-3 | 6-1 (T-1st) |
| 2005 | Montana | 8-4 | 5-2 (T-1st) |
| 2006 | Montana | 12-2 | 8-0 (1st) |
| 2007 | Montana | 11-1 | 8-0 (1st) |
| 2008 | Montana | 14-2 | 7-1 (T-1st) |
| 2009 | Montana | 14-1 | 8-0 (1st) |
| Montana | | 80-17 | 47-6 |
| 2010 | UNLV | 2-11 | 2-6 (7th) |
| 2011 | UNLV | 2-10 | 1-6 (T-6th) |
| 2012 | UNLV | 2-11 | 2-6 (8th) |
| 2013 | UNLV | 7-6 | 5-3 (T-3rd) |
| 2014 | UNLV | 2-11 | 1-7 (6th) |
| UNLV | | 15-49 | 11-28 |
| Overall | | 95-67 | |
Hauck Timeline
| | |
| --- | --- |
| 1988–1989 | Montana (DB/DL) |
| 1990–1992 | UCLA (GA) |
| 1993–1994 | Northern Arizona (OLB) |
| 1995–1998 | Colorado (S/OLB/ST) |
| 1999–2002 | Washington (DB/ST) |
| 2003–2009 | Montana (Head Coach) |
| 2010–2014 | UNLV (Head Coach) |
| 2015–2017 | San Diego State (Assoc. HC/STC) |
| 2017-Present | Montana (Head Coach) |