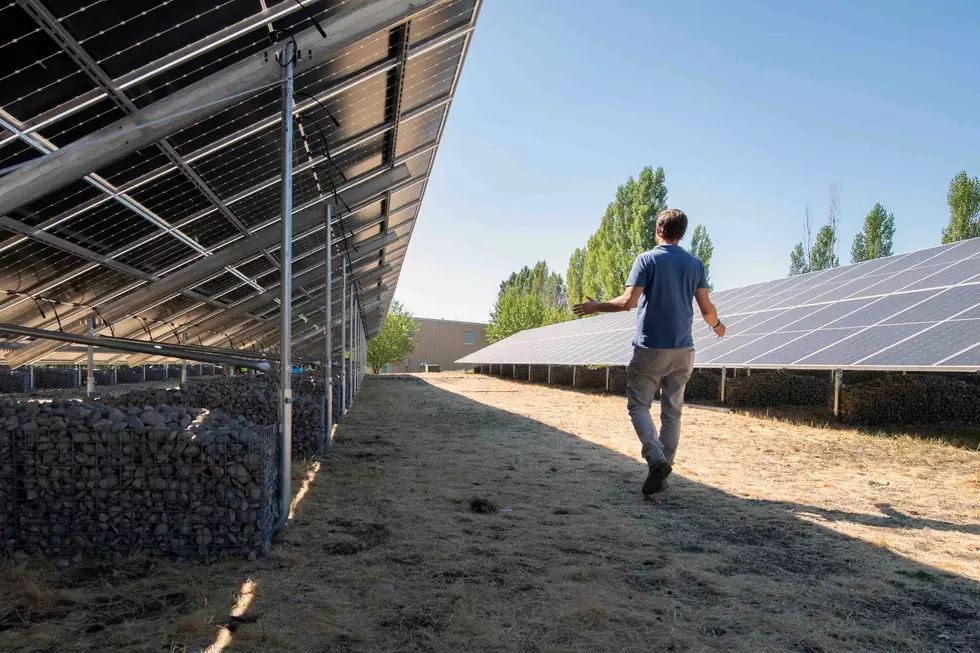 City budget invests in electrification, cutting emissions
Newly installed solar panels at the city's wastewater treatment facility. (Kevin Moriarty/Missoula Current file)
Martin Kidston
(Missoula Current) With the pieces of the climate puzzle now on the table, the City of Missoula plans to become more intentional in locking them together to achieve its climate-action goals, including cutting emissions by bringing more renewable energy to the market and electrifying buildings and cars.
Mayor Jordan Hess last week added a new request to the budget to support the city's pursuit of 100% clean electricity by 2030. The addition also includes a grant-writing position focused on emerging needs related to the city's climate goals.
The position isn't funded by local taxes, Hess said.
"This is really around electrification. What we need to do from a climate standpoint is to electrify everything we can and to green our grid. This work supports that," said Hess.
Among other things, Hess said the new position will support efforts to transition businesses and residents to electric power. It will also lead efforts around electric vehicle planning and policy work.
Hess said the work coincides with the city's effort to create a renewable rate option with NorthWestern Energy, in partnership with Missoula County and the city of Bozeman.
"These would be utility-scale renewables that would be built on the NorthWestern Energy grid and provide new renewable energy generation," Hess said. "Once this is pulled together, we'll have some significant hurdles around marketing and recruitment. That's a portion of this funding as well."
Already, the city has a number of climate-related goals that go beyond 100% clean electricity. They also include zero waste by 2050, going carbon-free in city government by 2030 and citywide by 2050. Becoming more resilient to climate change also plays a role.
Hess and other city leaders said that recent legislation, including the bipartisan Infrastructure and Jobs Act, and the Inflation Reduction Act, include funding to aid in the climate transition.
"There's so much money in there and complexity that we need some additional capacity around outreach and meeting the goals of the act," said Hess. "There's more money on the table right now for climate related initiatives than there has ever been. We see an immediate need to start bringing dollars in the door and to start building capacity, particularly in the area of electrification."
Other work continues to advance as well, Hess said. The city is making improvements to its composting facility to reduce the amount of methane it produces, and it's working with Home ReSource to open a year-round hazardous waste disposal station.
As efforts to update the city's growth policy and building codes advance, they too will have an eye on sustainable transportation and climate change.
"We have tremendous opportunities in how we build our community to build a more resilience built environment," Hess said. "We might become a location where climate migrants are fleeing other areas and landing in places like Missoula, and we need to prepare for that."
Most members of City Council support the work and additions to the budget. Council is expected to adopt the final budget on Monday night.
"We need to position ourselves to be competitive for this (federal) money," said council member Amber Sherrill. "Prioritizing climate and keeping an eye on the bottom line and being good stewards of our public funds is critical."