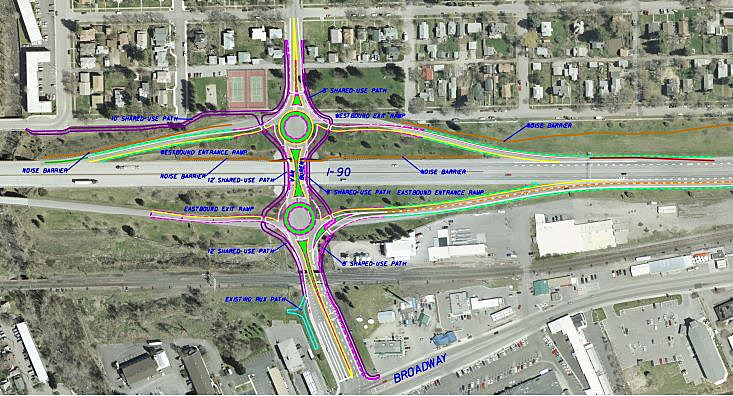 Construction of two roundabouts at the Interstate 90 and Van Buren Street interchange is expected to begin in March with the removal of landscaping, followed by the intermittent closure of the four freeway ramps as work progresses over the summer.
The project, now years in the making, looks to improve the safety and function of the dated downtown interchange by installing two roundabouts at the base of the north- and south-bound ramps.
Work is scheduled for completion in a single season and carries an estimated $7 million cost. Bids will be opened this week.
"It's still moving forward on time," said Don Pfeifer with the Montana Department of Transportation. "All the modeling MDT did showed this as the best scenario, better than a signalized intersection."
MDT began looking at plans back in 2004 when a study identified capacity and noise as problems facing Missoula's two downtown interchanges.
Traffic counts conducted by MDT in 2014 found the heaviest use of I-90 through Missoula at the Orange Street and Van Buren interchanges. The Orange Street roundabout was completed last year.
Before work begins at Van Buren this spring, crews will remove roughly 85 trees and 88 large shrubs to make way for the new road alignment. Those trees will be replaced with native trees and grasses, reducing water and maintenance costs while improving overall visibility.
"Prior to starting construction of the roundabouts, we're going to start with the landscaping," said Courtenay Sprunger with Big Sky Public Relations. "One of the first things that happens, which is understandably hard, is we have to take out some trees."
Sprunger said the area will see a net gain of 32 trees, including ponderosa pine and bur oak. The interior of each roundabout will include Rocky Mountain juniper and shrubs, similar to that selected at Orange Street.
Sprunger added that the project, which includes the building of a sound wall along the freeway, will unfold with a robust public relations component to keep motorists appraised of the progress and any planned disruptions.
"We're already working with the city, and we're going to go out with a month-long effort to let people know," said Sprunger. "We're out speaking with community influencers and we'll start with a pretty organized effort, with staff out canvasing in the Rattlesnake area. We'll be doing a fairly aggressive social media campaign."
Work is also set to begin this year on Russell Street. The removal of several structures was set to begin this week to make room for the new four-lane corridor, including a new bridge. That project has a completion of several years.