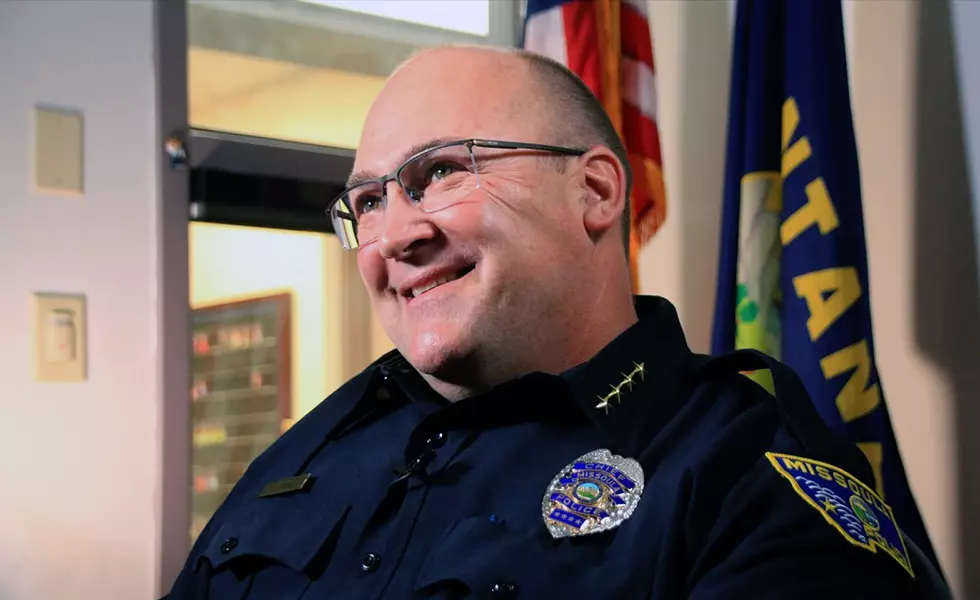 Chief White reviewing, rewriting department policies with eye on community policing
Missoula Police Chief Jaeson White said his department is reviewing and updating policies across a range of issues, from officer accountability to use of force. The process began before the death of George Floyd and the protests that resulted. (KPAX image)
Shortly after his hire earlier this year, Missoula Police Chief Jaeson White set out to review the department's internal policies, including those surrounding use of force, training, accountability and the release of data.
On Wednesday, joined by student leaders from the University of Montana, members of the Missoula City Council and Mayor John Engen, White said those policy updates continue to move forward, along with the expanded training of the city's officers.
"To help them, we've opened up lines of communication within the department so that critical information about the things they need to know about their job is provided to them," White said. "We've explored opportunities to help them enhance their capabilities and provide them with greater skills to do their difficult jobs."
Since taking the job in February, White has extended the training requirements for local hires. Six new police officers will graduate from the new program later this month.
While training is an integral part of policing, White said it can always be improved, and that will require an enhanced budget. Additional training would cover things like use of force and the deescalation of force, along with other issues that have recently received national attention.
The last report issued by the U.S. Department of Justice in 2018 stated that 2% of law enforcement contact resulted in threatened or use of force nationally. In 2019, the Missoula Police Department handled more than 60,000 calls for service. Of those calls, 172 resulted in incidents of threat or use of force, or just .03%.
"That's well below the national average and demonstrates our officers' commitment to resolving matters without resorting to the use of force," White said. "We have a comprehensive use of force reporting process. The purpose of this report and review is to ensure that any use of force is legally justified and within department policy."
While local police calls rarely result in use of force, White said his department has begun efforts to review and revise its use of force policies. It's also reviewing policies around officer accountability while enhancing definitions in other chapters.
"One of the areas that wasn't explicitly in policy was the duty to intervene and report any excessive force incidents," White said. "We've always understood that to be an ethical issue, but it wasn't a clear statement in our policy. I've added that requirement that officers intervene when feasible and make sure they report it."
As the city of Missoula gears up to write its Fiscal Year 2021 budget, White will likely request additional funding for training and body worn cameras, the later required to maintain and enhance officer accountability.
But some are looking to put dollars elsewhere, including one caller who urged the city to redirect funds into subsidized housing, suggesting it would lead to reduced police interaction. At least one member of the City Council also urged the city to fund a mobile crisis intervention team.
White said he supported the issue and said a temporary grant is available to pursue a mobile crisis intervention team. But given the time constraints to get the program up and running, putting it in place on a temporary basis could prove challenging.
"I'm very much in favor of having a mobile crisis intervention team that's made up of mental health professionals and the like to help in those situations," he said. "Without that resource, law enforcement becomes the default response, and it's not always appropriate as a law enforcement response."
Given the national discussion taking place in the wake of the death of George Floyd and other instances of police brutality, members of the council and some in the public see an opportunity to rethink community policing.
Mayor John Engen said those conversations with White began before Floyd's death and the public outcry it sparked.
"He's had to hit the ground running under extraordinary circumstances and during the course of our initial conversations, we began long conversations about training capacity, the things we do well as a department, and the things we'd like to improve as a department," Engen said. "Despite the fact there's a lot of focus today on policing, we have been evolving as a department for a long time, and that evolution continues."