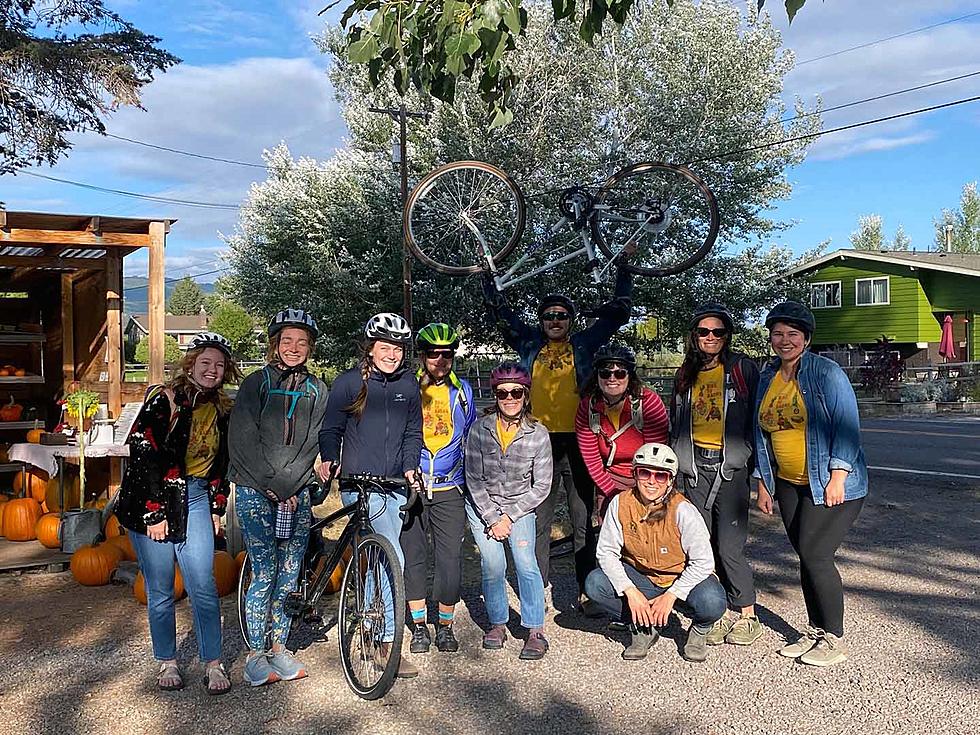 Climate Connections: How to support Missoula farmers
Bike to Barns participants pose for a photo at a local farm stand.
Summer is in full swing, and Missoula County's local farmers are in the fields and at markets working hard to grow and provide food for our community.
The past few years have been tough on our local farmers, they've faced a lot of uncertainty as the Covid-19 pandemic hit and are still working to recover lost wholesale, restaurant and large event produce sales due to pandemic closures and changes. Many have opened new farm stands, are participating in more on-farm community events and are looking to have more individual repeat customers come out to visit the farm! 
Increasingly, farmers are having to farm in an environment that is harshly impacted by climate events – wildfire smoke inhalation, sweltering heat, crop damaging weather events, and more. At the same time, local farmers are some of our best local carbon capturers!
How are farmers climate capturers you ask? It's all about the soil. Farmers are stewards of precious, rich soils and small-scale producers working on smaller acreage depend on keeping that soil as healthy as possible so that they can grow high quality food year after year. Soil has an incredible ability to store carbon and the amount of carbon it can store is increased by using sustainable soil management practices.
The more carbon in the soil, the more yield and nutrition farmers will be able to realize in the crops they grow. Practices that many local farmers use to capture more carbon in their soil include reducing tillage, planting cover crops and adding compost to fields. Soil has the ability to capture a lot more CO2 emissions than it releases, making healthy soil an important tool in efforts to combat a warming climate.
How can you support and get to know more Missoula farmers?
Grab the Community Food & Agriculture Coalition's (CFAC) 

2023 Local Food & Farm Passport

 and visit farm stands, markets and other local food businesses in Missoula, Lake and Ravalli Counties. The Passport includes special offers at select farm locations and you can win prizes by visiting locations and getting your Passport stamped. Passports can be purchased on 

CFAC's website

. 

Use climate-friendly transportation and 

participate in Bike to Barns

! Take this self-guided bike adventure to farms in the Target Range and Orchard Homes neighborhoods anytime from August 26

th

 – September 24

th

. This event is celebrating its 5

th

 year – make it an annual tradition!

Shop for your produce at a weekly farmers market. August 6-12 is 

National Farmers Market Week

! Find a farmers market near you by visiting 

Abundant Montana's Farmers Market Guide

.
Supporting local farmers and eating local food is for people with any type of budget. Recipients of the Supplemental Nutrition Assistance Program (SNAP), formerly known as food stamps, can visit local farmers markets and receive Double SNAP Dollars (DSD) to put toward local produce. 
Many more farmers are participating in local food access nutrition programs than ever before allowing a lot more of our friends and neighbors to access delicious local food. Other programs include the Senior Farmers Market Nutrition (SFMNP) coupons and Produce Prescription programs which provide vouchers to patients with chronic illnesses from their healthcare providers to access free fruits and vegetables at farmers markets. 
Introducing the whole family or your closest friends to the joys of local food and meeting and talking to local farmers creates a strong sense of community and connection to the food we eat. Eating local food and supporting local farmers is also good for the environment and our bodies.
Making a habit of purchasing local, meeting local farmers, and investing in agriculture can shape a whole community culture over time. Finding ways to do these things has never been easier in Missoula. We hope to see you out at the farm!