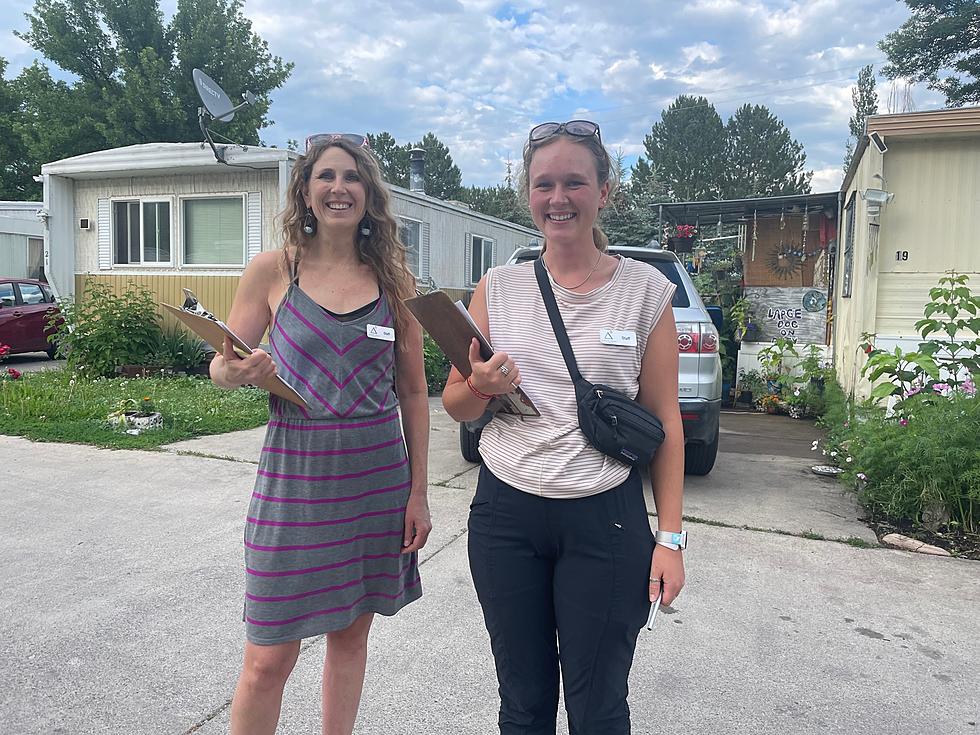 Climate Connections: Lessons from a Montana summer
Susan Teitelman and Reeve Schroeder with Climate Smart Missoula canvass Missoula neighborhoods during Wildfire Smoke Ready Week.
Reeve Schroeder
A couple of months ago on a cool, rainy morning in late May, I hopped on my bike and headed to the Climate Smart Missoula office for my first day as a summer intern. I did not know exactly what my time here would entail, but I knew that I would be working on wildfire smoke and indoor air quality.
Growing up in western Massachusetts, I did not experience smoky summers, aside from the occasional family trip to Montana. Now, attending college in Colorado, I have become more familiar with life under smoky skies. But, until this summer, I did not know much about what this smoke meant for our health, or the importance of filtering indoor air during these times. I had worked with air filters previously, but with a focus on urban air pollutants in the Boston area. I arrived at Climate Smart Missoula eager to understand one of the West's principal climate change-related issues: wildfires and smoke.
In my first couple of weeks as an intern, I had the opportunity to talk with co-workers, explore the Montana Wildfire Smoke website, and join events and meetings where I began to grasp the short- and long-term impacts that wildfire smoke can have on our health. It became clear, quickly, that wildfire smoke is an urgent concern, and one that we need to be talking about even more.
By early June, smoke had engulfed much of the East Coast. Photos from friends and family in the Northeast showed gray and orange skies dimming once familiar views. Smoky skies continued to make headlines in places like Chicago and the Twin Cities, and news of extreme heat in the South has permeated for weeks. Skies in Missoula were still clear and the air was cool, but it was unmistakable from the onset of summer that Climate Smart's work has become increasingly urgent, and it's no longer just a project for the West.
Throughout this summer, I have had the opportunity to learn not only about the ways in which Climate Smart Missoula is improving climate resilience in the community, but also about the collaboration between local organizations and the good that comes from strong community partnerships. I have enjoyed having a front-row seat to these collaborative efforts, from meetings with neighborhood groups to promoting awareness on social media. I even got to help create a dance video to a wildfire smoke awareness jingle – proof that this kind of work is not just urgent, but it can also be fun.
Another one of my tasks this summer was to clean used air purifiers that were donated to Climate Smart, in order for us to donate them to others. It was satisfying to see firsthand how much dust and smoke the filters had trapped, and it was a good reminder that we can still have some agency over the air that we breathe.
It was gratifying to hand out the clean and updated filters as part of a targeted outreach program – talking to folks about indoor air quality and sharing meaningful resources. While tabling at farmers markets, I also enjoyed having direct conversations with people about ways to stay healthy (and spreading the word about NorthWestern Energy's rebate for HEPA air purifiers!).
When I wasn't talking to community members or refurbishing air purifiers, I was researching extreme heat and compiling resources that can be useful for developing a heat resilience plan for Missoula. While the temperatures in our valley approach the triple digits, and the news reminds us of the even-worse temperatures elsewhere, it was encouraging to learn about examples of what communities are doing to address the issue and the various solutions – like cooling centers, white roofs, building & growing shade, and heat pumps – that we can advocate for and implement to keep people safe here in Missoula.
With the hottest global temperature on record just this month, it's clear that efforts to mitigate extreme heat, especially for those most vulnerable, and without further contributing to the climate crisis, will only be more urgent in the coming years.
It is now the end of my summer internship, and the air is hotter and hazier than when I arrived. I am worried about the fires and smoke starting to impact our region, but I also feel better knowing that I am equipped with new knowledge and resources that I can use to protect myself and others.
And, it is reassuring to know that there are groups and individuals who are working across the community to tackle these issues. There is a long road ahead, but for now, I will turn on my air purifier, take some deep breaths, and get back to work.
Find strategies to stay cool on Climate Smart Missoula's website - and be sure to bookmark MontanaWildfireSmoke.org for all the resources and information you need to stay informed and safe as fire season heats up.
Reeve Schroeder is an incoming senior at Colorado College. Climate Smart Missoula brings this Climate Connections column to you two Fridays of every month. Learn more about our work and sign up for our e-newsletter at missoulaclimate.org.