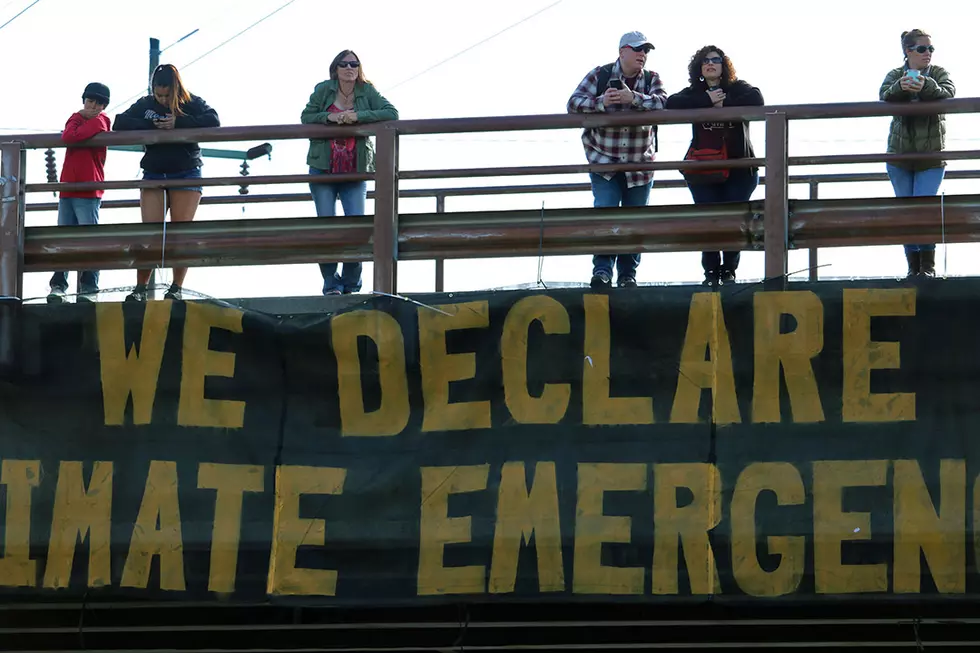 Missoula city, county adopt climate plan as seasons warm and temperatures rise
A climate strike held in Missoula last summer, organized in large part by area high school students, demanded change to local policies and a sincere acknowledgement of climate change. Missoula County and the city on Monday night adopted Climate Ready Missoula after two years of work. (Martin Kidston/Missoula Current file photo)
Saying there was no time to waste, the Missoula City Council and Board of County Commissioners on Monday adopted a new climate plan and a forward that will weigh local decisions on growth and development under the spectrum of climate change.
Nearly two years in the making, the Climate Ready Missoula Plan covers a wide range of topics, from decisions based in science to prevention and adaptation. The plan passed both local governments in a rare virtual joint session, and it did so nearly unanimously on a 14-1 vote.
City council member John Contos of Ward 4 abstained from voting and was the only official not to support the plan with an affirmative vote.
"I didn't feel 100% comfortable and I made a vote once before and felt bad about it a day later and said I wasn't going to do that again," Contos said by phone after the meeting. "I really wasn't impressed with the presentation last Wednesday. I do need to dig into this a little more. I'm not going to vote on something I'm not 100% behind or feel really good about."
Other members of the council put their support behind the plan, saying time was pressing and Missoula needed to do its part in the global issue.
While the plan was adopted on Monday night, council member Bryan von Lossberg said it wasn't written in stone. As climate issues evolve and the younger generation gains a voice in policy issues, the plan will likely shift to match the crisis.
"With all of our good plans, they're living documents," said von Lossberg. "Resiliency and adaptation are concepts that were important before the pandemic and even more so now. This work product and plan is a good companion to the other activity the city and county have done in this area."
In recent years, the city and county have jointly adopted a number of plans around climate change, including goals for 100% clean electricity, zero waste, and ways to streamline government operations to make them more energy efficient.
The authors of the new plan said research points to hotter and drier summers and warmer and wetter springs. The changes will result in frequent flooding, longer wildfire seasons and periods of intense smoke – the later a concern with the rapid spread of the respiratory coronavirus and the cost of its response.
At a hefty 68 pages, the plan gives detail to the potential changes, suggesting warm winters will see more rainfall than they will snow. Longer summers will intensify the fire season.
All told, changes in temperature and precipitation will affect the region's water resources and the economies that depend upon them, including agriculture and recreation – two of western Montana's key industries.
Those who supported the plan said climate change also threatens to exploit existing inequities, from income to health.
"Climate change and health inequities are the greatest health challenges of the 21st century," said council member Amber Sherrill. "It's going to affect our health system, and that's going to be added to what COVID is already doing. We need to do our part locally. This is a good step forward."
According to the plan, Montana has seen a significant decrease in the number of days with intense cool temperatures and an increase in days with intense warm temperatures.
Between 1951 and 2010, monthly minimum temperatures in Montana have warmed by 5 degrees while monthly maximum temperatures have warmed by 11 degrees. The number of days with frost have fallen by 12 while the number of days over 90 degrees have increased by 11.
The growing season is now 12 days longer, the plan suggests.
"On behalf of my two young children, I just want to thank everyone who put so much effort into this document," said council member Mirtha Becerra. "I think as a community, we're going to benefit in the short term. But no doubt, this is what will help us leave a legacy of good environmental stewardship."
The plan's influence on local growth policies and what that may entail wasn't covered on Monday night, nor was the plan's actual cost or implementation. In the past, the city has adopted plans that went on the shelf and resulted in little change.
But times have changed and supporters see new opportunities.
In a forward to the new climate plan, city and county officials call for greater investment in a number of fields including clean energy, green infrastructure, public transit and retrofitting outdated systems.
Such investments, they contend, would rebuild the economy "from the ravages of the current crisis," while building a more resilient future. Stimulus funding could be used to move the efforts forward, the plan notes at one point.
"This isn't a once and done affair. It begins the process of implementation," said Commissioner Dave Strohmaier. "There are two sides to the climate change challenge facing us. One is mitigation and the other is adaptation and resiliency – and that's the piece we're dealing with here tonight."