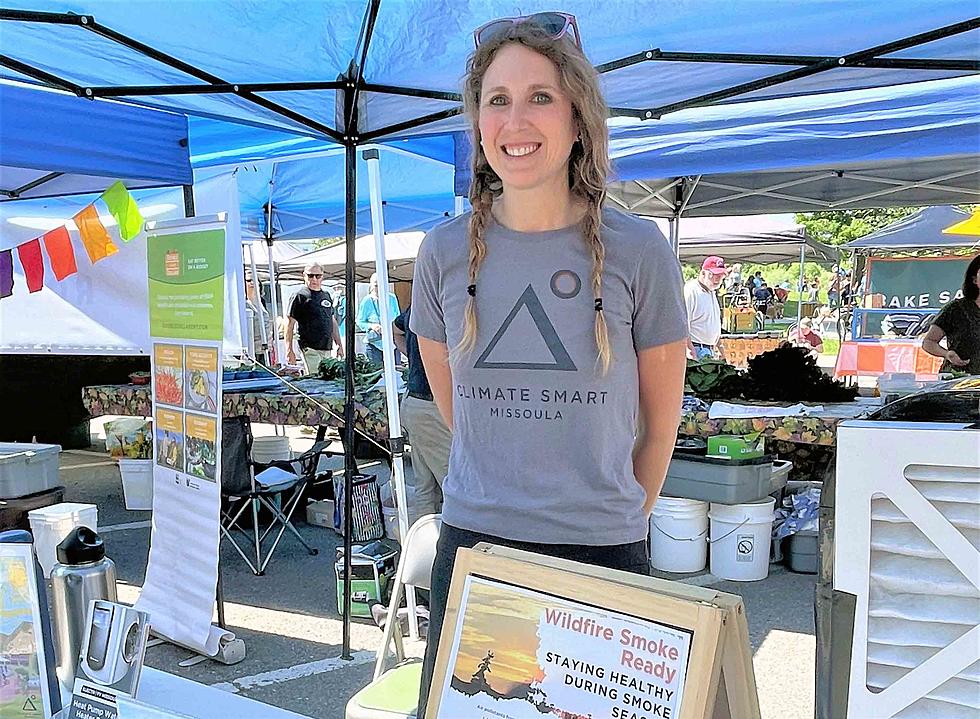 Climate Connections: It's Wildfire Smoke Ready Week, so prepare
Susan Teitelman shares wildfire smoke resources at the Clark Fork River Market.
Susan Teitelman, Sarah Coefield, Caroline Bean, and Eric Legvold
After weathering a long, cold winter, seeing wildfire smoke in May was depressing . Our team stared dumbfounded out the window, questioning if we would get any time this year to do the things most Missoulians love—being active outside.
Fortunately for us, the smoke cleared out quickly and we've had a rather cool couple of months. We're grateful for blue skies and are watching the weather forecast -- HOT this weekend, with hot and dry weather projected for August and beyond.
Our neighbors in the Midwest and on the East Coast haven't been so lucky, experiencing air pollution levels that rival the worst in the world. The impacts of wildfire smoke in these regions have brought something most Westerners have dealt with for years to the center stage, along with conversations around the increasingly harmful impacts of climate change. We hope there will be a silver lining: that the suffering experienced will build more momentum for climate solutions like electrification and investment in renewable energy. (Learn more about these solutions at ElectrifyMissoula.org.)
In the meantime, even if we are wildly successful in moving solutions-oriented efforts forward, the reality is that wildfire smoke seasons are getting worse and it's something we must all be prepared for even if -- for now -- the Missoula skies have been wonderfully clear.
This week, our collaborative team has been sharing resources in the community – online, on the airwaves, and in person -- during our third annual Wildfire Smoke Ready Week. (Come visit us at the farmers markets this weekend)
We encourage you to take the following steps to ensure you and your loved ones are staying safe when the skies fill with particulate matter from wildfires:
Understand the Health Impacts - Wildfire smoke is our most significant source of air pollution in western Montana. The tiny particles in smoke can burrow deep into your lungs and pass into your bloodstream where they set off an inflammatory response. They impact your heart, lungs and immune system. Even if you are not in a high-risk category (children, older adults, people with heart and lung disease, and pregnant people), the smoke is bad for you - and the longer you're in it, the worse it gets.
Monitor Local Air Quality - Accurate air quality maps and forecasts can help you be smart, adjusting your activities and getting outside during the healthiest times of the day. We rely heavily on Fire.AirNow.gov and the "Today's Air" portal run by Montana DEQ.
Create Clean Indoor Air – During wildfire smoke events, indoor air quality can be just as bad as outdoor air. If you can, close windows and doors when it's smoky (but be sure you're not letting your space get too hot! If you must choose, stay cool first and mitigate indoor air quality as much as possible.) Use a HEPA air purifier or build a DIY fan and filter combo to clean indoor air – and don't forget to change your filters regularly. To learn more about air filters, visit  MontanaWildfireSmoke.org.
Reduce Time Outside - During periods of wildfire smoke, it's easy to feel unhappy or trapped when we're told to stay indoors or to reduce physical activity. Plus, some people work outside and don't have the option to go indoors. Strive to find a balance. Reduce the intensity of outdoor activities (go for a walk instead of a run) and do your best to plan activities during periods of better air quality.
Check on Friends and Neighbors – Share these tips with those around you! Studies show that health impacts from smoke exposure extend months or even years after smoke has dissipated, highlighting the need for interventions and follow up. We also know that climate impacts like wildfire smoke and heat affect our mental health. Staying connected and reaching out to others reminds us we will get through this together and blue skies will return again.
Bonus – Advocate and organize to promote health and resiliency!  Our climate is changing, resulting in hotter and drier summers, more intense wildfire seasons, and more smoke. Wildfire smoke is now a public health issue around the globe. Here in Montana, there are other risks from climate change that we need to understand and address, too. We need to work together to build strategies to address the root causes of climate change and reduce carbon pollution! Can you work with local government and leaders in our community to begin planning and acting today? Are you interested in taking steps to decarbonize your home or building?
You can find more information on the above, plus tutorials and additional tips, at MontanaWildfireSmoke.org.
A final note as the temperature forecast veers toward triple digits this weekend. If it's hot and smoky outside, what do you do? If you have air conditioning, use HEPA portable air cleaners (PACs), DIY fan/filter combos, your home furnace fan, or your central air handler to clean the indoor air. If you have a window A/C unit for just one room in your home, sleep in that room with the door closed and run your air filter to clean the air in that room while cooler, smokier air is in the rest of your house.
If you don't have air conditioning and it's both hot and smoky, cool your home first! Heat exposure is immediately dangerous to life and health. Cooling your home may mean opening your doors and windows and letting cooler, smoky air inside in the evening. Then, you can use a HEPA PAC, DIY fan/filter combos, or efficient furnace filters to effectively and quickly clean your indoor air. (Wait to turn your air cleaners on until after you've closed your doors and windows. Your air should be considerably cleaner within an hour.)
Together, we can take practical steps to prepare for smoke and heat today, while building a more resilient, connected community for everyone for the long term.
Susan Teitelman is the Climate Resilience Specialist with Climate Smart Missoula, Sarah Coefield is the Air Quality Specialist with the Missoula City-County Health Department, Caroline Bean is the Climate Action Program Manager with Missoula County, and Eric Legvold is the director of impact at United Way of Missoula County. 
Climate Smart Missoula brings this Climate Connections column to you two Fridays of every month. Learn more about our work and sign up for our e-newsletter at missoulaclimate.org.