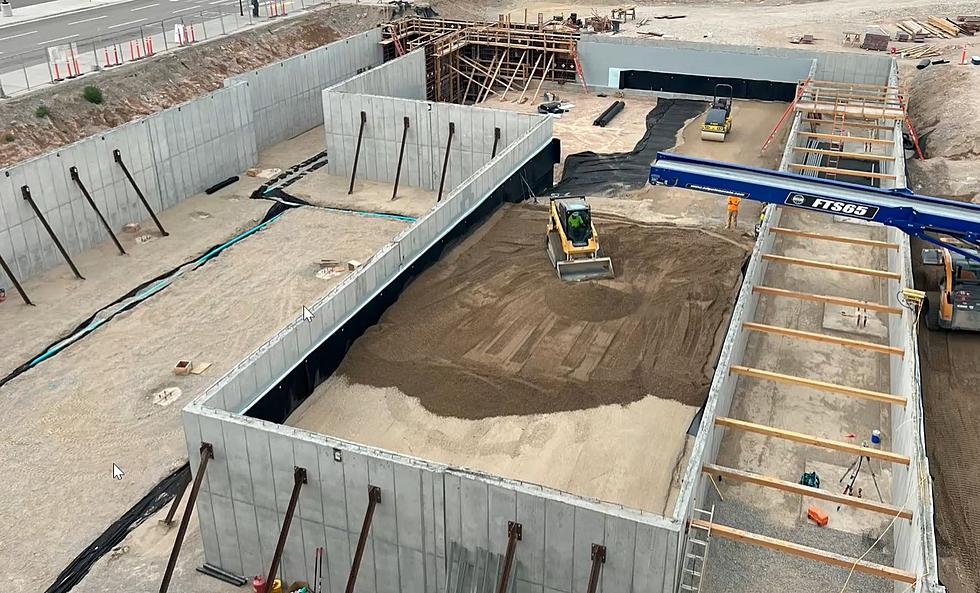 Construction of new concourse advancing at Missoula airport
The foundation and walls are in place for the new East Concourse. (Airport courtesy photo)
Martin Kidston
(Missoula Current) With a new passenger record set in June and a likely repeat in July, the Missoula Montana Airport has turned its focus toward the completion of its new concourse and the expansion of its deicing pad.
It will also expand the ramp to provide more room for aircraft parking and passenger boarding.
"What we would like to do is add some ramp space for (the new concourse), which would allow us to park four mainline aircraft there versus three," said airport Director Brian Ellestad. "This just gives us added flexibility since (the contractor) is honoring pricing and is currently on site for the deice pad expansion."
The airport completed Phase 1 of the new terminal project last summer and opened the South Concourse to operations. This June, it proceeded to shatter its old passenger record, with enplanments up 17% over the prior record, which was set in 2019. July is expected to set a record as well.
As passenger numbers grow, the airport is pushing forward to finish Phase II, or the new East Concourse. Savings from Phase I are being rolled into the new phase, which is advancing ahead of schedule.
The basement walls and foundation are now in place and vertical construction is set to begin next month.
"Steel should be arriving in the middle of August," Ellestad said. "We're on track for an early 2025 opening."
Once finished, the airport will have the capacity to park and board at least eight mainline aircraft. Completing the project can't happen soon enough, as the airport is looking to expand service next year.
A meeting with airlines is planned in Missoula in October.
"We're working with our airline partners to provide as many seats in our market as they deem acceptable," Ellestad said. "In October, we'll be hosting numerous airlines, along with the rest of the large commercial airports in the state, to pitch additional service and new routes."
The airport is also working to expand the capacity of its deicing pad.
"It will increase our deice capacity from two aircraft to three aircraft," said deputy airport director Tim Damrow. "It will be much easier to get aircraft in and out. There's lots of good progress there."