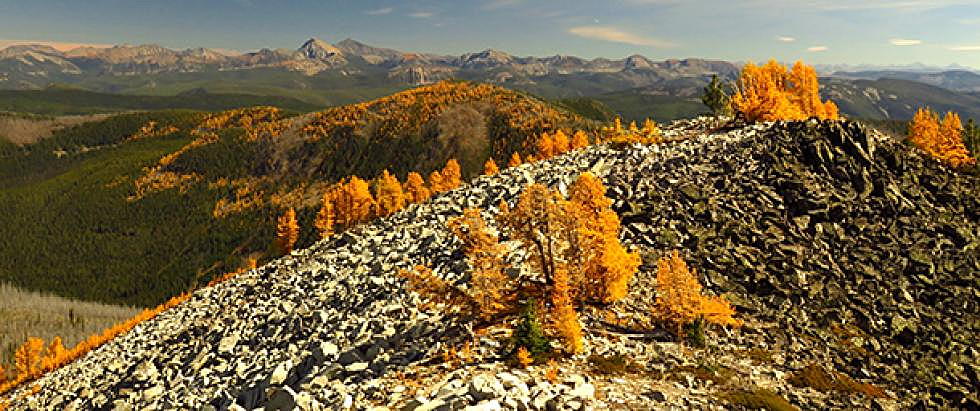 Daines looks to release 450,000 protected acres from wilderness study designation
Larch in fall splendor in the Sapphires Wilderness Study Area. The WSA is one of five that Sen. Steve Daines is proposing to release from further study. (Montana Wilderness Association/Zack Porter)
Montana Sen. Steve Daines on Thursday announced his intention to release five wilderness study areas from further review, saying the U.S. Forest Service has deemed them unsuitable for wilderness designation.
Coupled with local support that favors release, Daines said his legislation would free the areas spanning 449,000 acres from unnecessary restrictions and turn them over to other uses.
"We're not releasing wilderness areas – this is not touching existing wilderness at all," Daines said. "This is addressing a law passed on Nov. 1, 1977, when Congress was to go study these areas for five years and come back and tell us which should be deemed wilderness and which were not suitable for wilderness."
While wilderness advocates say the bill would represent the largest elimination of protected public lands in Montana history, Daines said the deadline established by Congress back in 1977 has come and gone.
The wilderness study areas set aside 40 years ago remain in place and are often managed as de facto wilderness. Daines said the resulting restrictions have served to limit public access and economic opportunities, taking away experiences for future generations.
"By limiting access and recreation, you also limit job opportunities," he said. "Montanans want to see wilderness, but Montanans also want to see less restrictions on lands not designated as wilderness. Yet more restrictions have been added, even though they are not wilderness."
Citing support from the Montana Snowmobile Association and several counties, among others, Daines' proposal would released the West Pioneer and Sapphire wilderness study areas from further review. It would also release the Big Snowy Mountains, the Middle Fork of the Judith River, and the Blue Joint study areas.
The Hyalite-Porcupine WSA near Bozeman and the Ten Lakes WSA near Eureka were not included in the bill. Daines said they didn't meet the criteria he used to craft his legislation.
"Once this bill was enacted, it would remove the study designation for those acreages, but then continue the public input and planning process where new uses could then be considered," Daines said. "You still have the same environmental analysis, the same public process, but now the Forest Service would know it's no longer in a study area."
The Blue Joint Wilderness Study Area, located in the Bitterroot Range on the Montana-Idaho Border, spans 61,400 acres, but was never designated as official wilderness.
Greg Chilcott, Ravalli County commissioner, favors releasing the Blue Joint WSA, saying it would simplify fire suppression efforts and improve public access.
"The Bitterroot National Forest analyzed nearly 102,000 acres designated as a wilderness study area and concluded that 74,473 acres were not recommended for wilderness designation," Chilcott said. "Due to inaction, these lands are still being designated and managed as wilderness study areas, and this designation negatively effects management decisions."
Members of the Montana Trail Vehicle Riders Association in Great Falls voiced support for Daines' legislation, as did members of the mountain biking community.
Corey Biggers from Bozeman said the Forest Service has excluded mountain biking when managing the Sapphire and Blue Joint wilderness study areas. If the designation was lifted, he believes groups like his would have an equal voice on use and management.
"In the Sapphire and Blue Joint, we lost about 120 miles of trail, and it's been an ongoing battle," said Biggers. "With these wilderness study designations, we don't have a voice at the table. There's a predetermined outcome before the forest plan or travel plan even starts."
John Todd with the Montana Wilderness Association described Daines' legislation as divisive. While the study areas were never designated as official wilderness, he said many Montanans have come to identify the areas as nothing less than wilderness.
Some residents have known them no other way.
"It's an attempt by Daines to sabotage 500,000 acres of Montana's wilderness legacy, and he's done it without wide public input or a single town hall," said Todd. "If this passes, it would be the largest elimination of protected public lands in Montana's history."