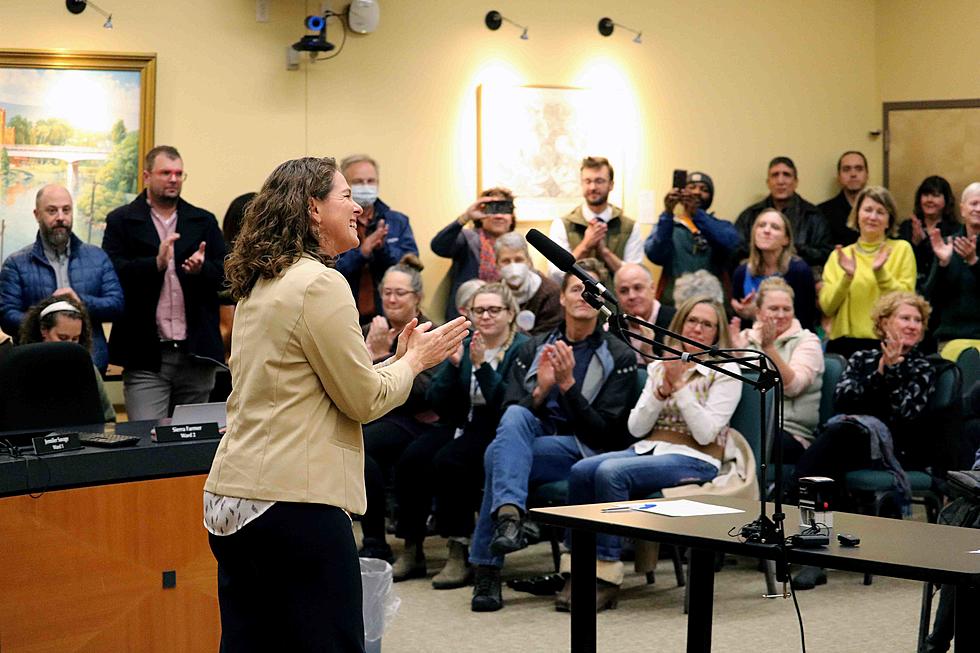 'Dawn of a new era:' Davis takes oath as Missoula's new mayor
Mayor Andrea Davis thanks supporters after being sworn in as Missoula's new mayor. (Martin Kidston/Missoula Current)
Martin Kidston
(Missoula Current) Missoula officially turned the page on a new era of governance on Monday when the city's new mayor was sworn into office, followed by the celebration of dozens of jubilant supporters.
With former Mayors Jordan Hess and Daniel Kemmis – and most of City Council in attendance – Andrea Davis took the oath of office, as did council member Sierra Farmer. Both were elected to complete the term of a former office holder.
Davis said she'll receive the "keys" to her new job on Tuesday.
"I'm ecstatic, humbled and thrilled as we get to work on a myriad of challenges and opportunities the City of Missoula has in front of us," Davis said. "By the look around the room, I can see just how committed this community is to the betterment of us all."
Davis, now a former nonprofit director, entered the race earlier this year as a political newcomer. With five candidates on the ballot in the September primary, she surprised election watchers by taking the top spot.
With the race narrowed to two candidates in November, she again ended the night with a strong showing by winning the mayoral race. It's the first time in nearly two decades that a new mayor has been voted into office in Missoula.
Davis acknowledged her challengers on Monday, both of whom attended the swearing in.
"Mayor Hess has been an incredible leader," she said. "He's been dedicated to the City of Missoula for a decade. There is so much we have to thank Mayor Hess for."
Davis also thanked City Council member Mike Nugent, who also ran a strong campaign. Davis said she was eager to work with Nugent in the months ahead as the city buckles down to address a number of challenging issues.
"He and I have known each other for a long time. He's a great supporter of the organization I have just left," Davis said of Nugent. "We got to know each other throughout the race. It goes to show how amazing Missoula is in that we had a good dialogue and people really responded to the respectful campaign, which we set out to have."
Unlike some past campaigns, neither candidate openly criticized their opponent. Instead, they announced and promoted their position on various issues and let voters make the ultimate decision.
Davis said it wouldn't be easy to fill the shoes of former Mayor John Engen, who remains the city's longest serving mayor. Engen died of cancer last year, which opened the door to this year's race.
"It's an enormity to fill the shoes of someone like Mayor Engen. Nobody will. There's nobody like him, and that's okay," said Davis. "I know his light still shines on all of us."
Davis will serve as Missoula's second female mayor, and the majority of City Council is also comprised of women. Former City Council member and member of the Montana House of Representatives Marilyn Marler swore Davis into office.
She also happens to be Davis' neighbor and friend. Before swearing Davis in, Marler praised the civic engagement that played out in the recent election. She also described Monday as a big moment.
"It didn't happen from just one or two people. It happened from the whole community," Marler said. "Thousands of people who participated in the civic engagement that goes into an election, everyone who worked on a campaign or a ran for election, this moment is a collective moment."
Incumbent City Council member Mirtha Becerra, who also won re-election this month, swore in fellow Ward 2 council member Sierra Farmer. Farmer was appointed to fill the City Council seat vacated by Jordan Hess when he was appointed mayor.
"In one of my first conversations with Sierra about City Council, I realized she was educated on the issues we were working on, was interested in learning more, and dare I say, had a little twinkle in her eye when I suggested she should run," said Becerra. "I'm glad she decided to step up to serve. It was a challenging time for this body and the City of Missoula. Her thoughtful approach to decision making has been a valuable asset to City Council.
Photos of Monday's swearing in ceremony