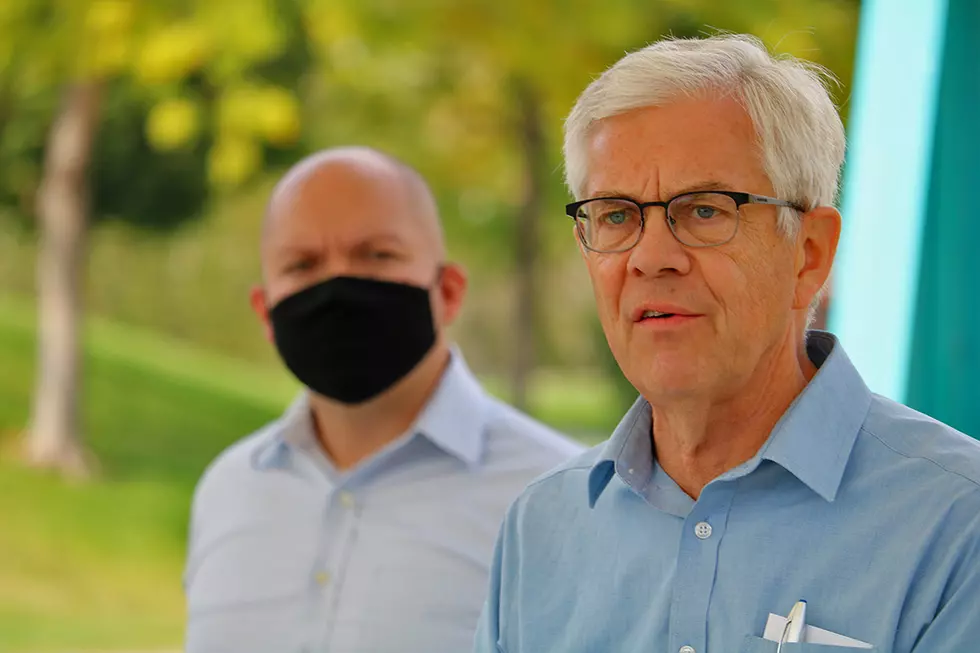 Montana Dems lament election landslide despite strong performance in Missoula
Missoula County heavily backed Montana's Democratic candidates on Tuesday night, though it did little to help the party win any statewide offices, even with record turnout.
Montana Republicans made a clean sweep of both statewide and federal offices and held their majorities in the Legislature, giving them full control over the 2021 political agenda.
Rep. Brad Tschida, a Missoula Republican who won his fourth term on Tuesday night, said the GOP agenda will eye limiting state government while growing jobs and the economy, along with other human services that benefit Montanans.
"We need to reduce the impact of government in our lives through less regulation, and create a more friendly environment within state government so we have people who are able to get the things they need to be successful, whether it's people who own businesses or people in need of some kind of special service," Tschida told the Missoula Current.
Rep. Marilyn Marler, D-Missoula, who easily won election on Tuesday night, said she was disappointed with the overall outcome and frustrated with the party's lack of footing. While Democrats ran strong statewide candidates in the election, they lost each race.
Republicans now control both houses of the Legislature and the governor's office.
"We were able to get a lot of things done last session, like Medicaid expansion, but that depended on diplomacy and relationships. That will be even more so this time, but we don't have the governor," Marler said. "I would rather that not all three things were controlled by one party. I don't think we have the checks and balances we know are so important."
Once considered a purple state, Montana has trended red in recent years. Democrats last held the Senate in 2008 and the House in 1992. The party had held the governor's office since 2005 but lost it on Tuesday night.
"I don't think we're becoming extinct, I just think we need to double down on our organizing efforts," Marler said. "We need to come up with a plan for next year, two years and four years out. We have to network better with other cities. And we have to elect people who can work with Republicans, too."
In the U.S. Senate race, Steve Bullock won Missoula County by more than 20,000 votes, or 65% of the electorate, but lost to Sen. Steve Daines on the state level by more than 50,000 votes.
The outcome in the U.S. House race was similar for Kathleen Williams, who won Missoula County with 63% of the vote, but lost the state with just 44%. In the race for governor, Mike Cooney won the county with 61% of the vote but lost to Greg Gianforte, who netted more than 55% of the statewide electorate.
The Montana Democratic Party declined to comment on the outcome of Tuesday's election when asked on Wednesday morning. It referred instead to a statement issued by the party's Executive Director Sandi Luckey.
"Democrats will always champion working families. Our values focus on the people of Montana — and we will never stop working to get the right things done for all Montanans," Luckey said.
"Creating good jobs has never been more important. Protecting access to quality, affordable healthcare has never been more important. Making sure our public schools are equipped to meet the challenges of our time has never been more important."
Democrat Ellie Hill won her race for Senate District 45 (South Missoula) with 62% of the vote. Democrat Shannon O'Brien also won Senate District 46 (East Missoula and Seeley Lake) with 67% of the vote. Democrat Chase Porter held a narrow lead in Senate District 47 (West Missoula and Frenchtown) with 51% of the vote.
Of the 12 districts that comprise Missoula area seats in the state House, Democrats won eight while Republicans won four. Despite the success of Democrats in much of Missoula County, Republicans still control both houses of the Legislature, and by a significant margin.
"I'm hopeful there will be some legislation we need to get taken care of, especially with the most vulnerable, whether you're talking about the unborn or about those who are disadvantaged somehow through a mental or physical limitation," Tschida said. "We'll see what we can get accomplished and what the people on other side of the aisle are willing to work with us on that's really meaningful and not just things that help state agencies but help the people in the state of Montana."