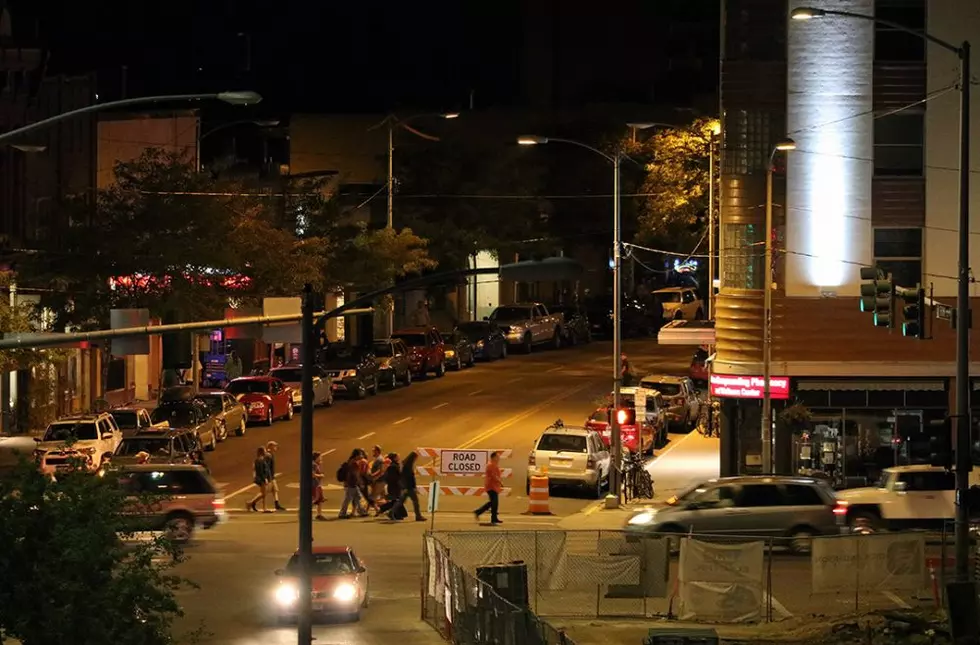 Downtown revival, "hot" market and Missoula's reputation speak to district's future
The corner for Front Street and Higgins Avenue is one of many in downtown Missoula undergoing a transformation. Interest in the district is high and downtown watchdogs describe the market as "hot." (Martin Kidston/Missoula Current)
The vacancy rate in downtown Missoula hovered north of 20 percent seven years ago, still better than peer cities hit hard by the recession. The shuttered Mercantile sat at the heart of it, along with a smattering of other empty retail spaces.
But with the economic rebound in full swing and Missoula on the map of best places to live, that double-digit vacancy rate has closed to roughly 5 percent. Several new businesses are heading to the Merc's successor, and as many as 40 new businesses will have opened downtown this calendar year.
"A lot of city centers around the country really took a hit when the recession came about, but Missoula was a little insulated from that," said Linda McCarthy. "At one point in time, we were around 22 percent, and we were kind of feeling good about that, because other downtown communities were more in the 30 to 40 percent vacancy rate."
McCarthy, executive director of the Downtown Missoula Partnership, detailed the city's plans to embark on an updated downtown master plan earlier this week. While affordable housing is expected to play a prominent role in the plan's revision, so too is economic development and the needs of local businesses.
"Things are growing and changing, and those are the reasons why it's time for us to take a look down the next 10 years and that next phase of whatever downtown is going to be," McCarthy said. "We need to make sure we're protecting the assets we want to protect."
Across the country, McCarthy said, people are gravitating toward midsized cities, particularly in the Rocky Mountain West, and Missoula is no different.
The Garden City has received its share of accolades over the past few years, from being named among the Best Towns in the U.S. by Outside Magazine to its high ranking in the arts by Southern Methodist University's Center for Arts Research.
Sunset Magazine listed Missoula in its "Best Places" issue, and Verizon Business named Missoula the third best small city in America to start a business. While the rankings are familiar to most residents, where they take the city remains uncertain and will require good planning.
"People are gravitating toward quality urban and midsized communities, particularly in the Rocky Mountain West," McCarthy said. "We're getting a lot more recognition. Our economy is growing and we're seeing a lot of great new businesses, not just in retail and food and beverage, but in technology. There's a lot of talk about that and Missoula is on the map."
McCarthy and others, including Matt Mellott, a former Marine Corps pilot and agent with Sterling Commercial Real Estate in Missoula, both agree that growth lies in the city's future, including the downtown core. The front edge of that growth is already unfolding in new housing and lodging, though other projects are rumored.
As recently as last year, the downtown district had an abundance of Class A office space, so much so that experts predicted it would take years to fill. But those predictions didn't pan out, and the city is lacking in certain amenities needed to grow economically.
"A year ago, there was a glut of Class A office space downtown, and now there's almost none that's not spoken for," Mellott said. "A lot of that is due to ClassPass and Advanced Technology Group and some of these other companies that are expanding, like Submittable. That happened very rapidly."
The district's economic expansion isn't only in white-collar office jobs, but also in retail and restaurant. Mellott, who fields calls from prospective commercial investors, said interest in restaurant space has picked up "significantly" in the downtown area, as well as ground-floor retail.
Just last week, HomeBase Partners, who are developing the Marriott hotel on Higgins Avenue and Front Street, announced six new retail tenants, including Camino, a Mexican restaurant, and Teton Tai. Several existing Missoula retailers will also move in, including The Montana Scene and Olive + Iron.
"Downtown is kind of the hub for retail and restaurants, and we're seeing the interest from restaurants pick up significantly," Mellott said. "There's a company out of Bozeman that has a bunch of restaurants that's been poking around pretty heavily here. The demand for ground floor retail space has picked up as well."
While the future of Missoula can be written in as many ways as there are people in the city, each with their own vision, some things are certain – downtown will continue to grow. Mellott, whose firm produces an annual commercial market watch, has seen the dial turn in Missoula over the past year.
Planning for that growth will require some form of consensus.
"I think people are going to realize there's not any land left, so you'll have to take the parking lots and turn them into either parking structures or, even better, parking structures below and buildings on top," he said. "I think it's almost inevitable that's going to happen."
When McCarthy describes downtown, she uses words like "colorful" and "fun" and "eccentric." Retaining that atmosphere as the city envisions its future and continues to mark economic progress is key, and it will play a vital role in the new master plan, she said.
"It's a hot market right now in downtown, because there's a lot of activity, investment and new construction, new property owners and new business owners," she said. "It's a different dynamic than Midtown or sitting out on Reserve Street.
"But right now, people are having a hard time finding the right office space. There's very limited office space available and very limited retail space available. There's movement in the marketplace and new properties are coming available. You have to be strategic and forward thinking, and people have to engage."