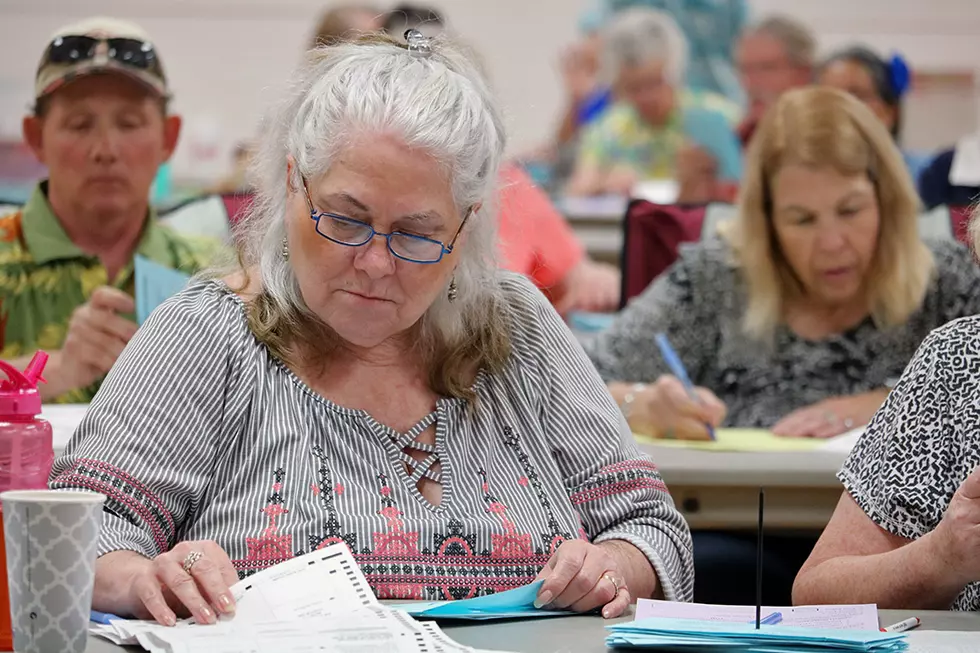 Bills could delay Missoula mayoral, City Council races; new candidates emerge
Missoula County election workers were counting ballots deep into the night, with what could be a record primary election turnout. (Martin Kidston/Missoula Current)
Martin Kidston
(Missoula Current) While the filing period for municipal races doesn't open for several more weeks, six candidates thus far have declared their intention to run for Missoula mayor and an equal number have an eye on City Council.
But a number of bills before the Legislature could impact this year's municipal races, including Senate Bill 420, which would move such elections to even-numbered years.
The Missoula County Elections Office is watching – and waiting – for the legislative outcome before making the necessary adjustments.
"It's not over 'till it's over," said elections supervisor Bradley Seaman. "We're watching these bills move forward."
According to the measure's sponsor, SB 420 would take effect immediately if passed and local elections slated for 2023 would be postponed until 2024.
That would likely extend by one year the term of six Missoula City Council members whose seats are up for grabs this year, along with the city's race for mayor.
Seaman said similar adjustments have been made in the past, including the term for water and sewer districts. Those too were adjusted to run on even-numbered years, he said.
"What happens is, the people who are serving go through a process where they're granted an extension to their seat," Seaman said. "The standard election cycle would then take place the following year."
Former Mayor John Engen won his 2021 reelection bid, granting him a new four-year term. However, he passed away the following year.
Jordan Hess was appointed to fill Engen's post until the next election, which is 2023. The winner of that election would then finish the last two years of Engen's term, which expires in 2025.
But if the Legislature moves municipal elections to even-numbered years, everything gets extended, meaning the next mayoral election won't happen until 2024. It's unknown if Engen's term would also be extended to 2026 or shortened to 2024, meaning the winner of that race would be granted a full four-year term.
Hess has announced his candidacy for mayor as has City Council member Mike Nugent and Andrea Davis, the executive director of the nonprofit Homeword.
According to the Montana Secretary of State's office, three other candidates have also announced their intention to run including Jacob Elder, Sean McCoy and former Missoula County Sheriff TJ McDermott.
"I think the most likely outcome would be to extend that term and run it on the next cycle," said Seaman. "But there's so many bills right now. We've had over 300 potential bills on elections. It's really been waiting until one gets signed. We've got a lot of contingency plans going on."

The change in election years would also impact the race for Missoula City Council, where six seats – one in each ward – will be decided this year. So far, four incumbents have declared their intention to run again including Gwen Jones, Mirtha Becerra, Amber Sherrill and Sierra Farmer.
Sean McCoy and Eric Melson also have declared their candidacy, according to state filings. But if SB 420 passes, those races won't take place until next year.
"I'm just assuming we'll have elections this fall and am proceeding accordingly," said Jones.
Seaman said another election bill could add a wrinkle to upcoming races, including that for U.S. Senate. Senate Bill 566 would revise Montana election laws to allow the top two primary candidates in the Senate race to advance to the general election, regardless of party.
Sen. Jon Tester has announced his intention to seek reelection. Some political watchdogs believe Reps. Ryan Zinke and Matt Rosendale could emerge as challengers. If that scenario plays out and SB 566 passes, the top two vote getters in the primary would move on to November.
"We're really watching how this works and how this goes forward," Seaman said. "This is new and new isn't necessarily bad. Elections change on a regular basis. But what works well in another state may not work here. Our job is always to make sure it's easy for voters to vote."