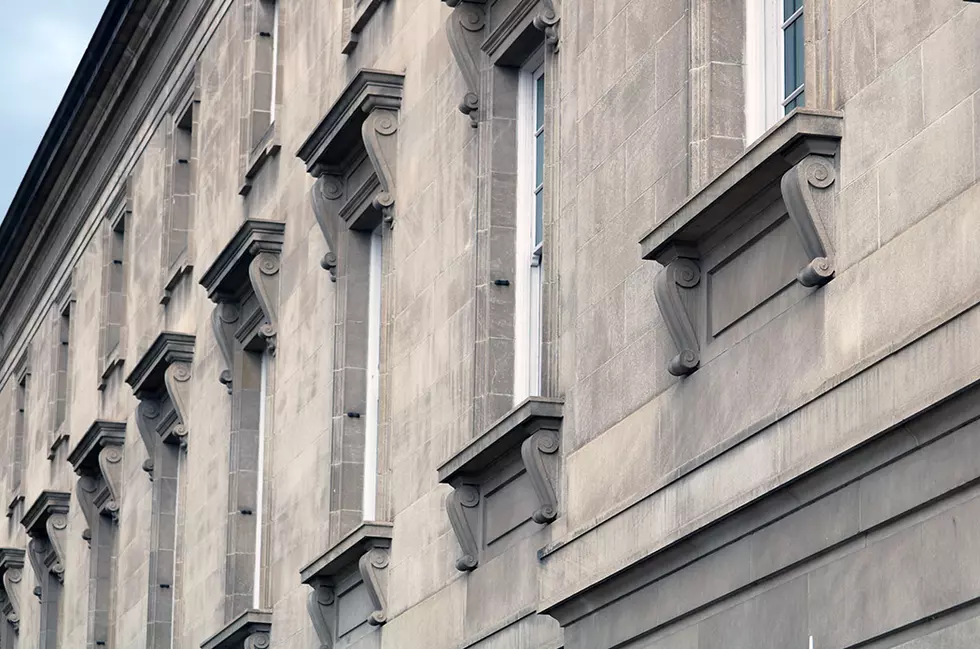 Redevelopment possible near Missoula federal building as acquisition study nears end
The city and county of Missoula continue to finish due diligence on the vacant and historic federal building in the downtown district, where they hope to consolidate services. (Martin Kidston/Missoula Current)
A thorough inspection of the downtown federal building continues to go well and hasn't revealed any deal breakers, Missoula city and county officials said on Thursday.
Both governments remain on pace to acquire the facility for free from the federal government as early as next year and are currently working to complete due diligence and determine how local services will utilize the space.
"We are expecting our due diligence report by the end of the calendar year, which should provide information on how we think the mashup between the city and county plans would go together in there, and where we might have problems," said city CAO Dale Bickell. "The GSA is scheduled to convey in early 2022. We have that time to design something related to changes."
The General Services Administration deemed the old Federal Building surplus property in July, clearing the way for public agencies – including local governments – to submit a notice of interest in the facility.
The city and county of Missoula have long expressed interest in using the building as a hub of government services. That would help consolidate government offices and free up other downtown properties currently occupied by the city and county for redevelopment.
"The design team was pleasantly surprised with how good of shape the building was in," said Bickell. "They feel they can do changes over time in a phased approach. There haven't been any red flags for our ability to move into and use the building. It's just the way it's set up or not."
The Forest Service once occupied the building but left for Fort Missoula in 2015. Before that, the downtown district was able to accommodate employee parking. Parking for current government operations in downtown Missoula isn't currently a problem.
But when the city and county occupy the building, the need for both public and police vehicle parking may be needed, and options are being explored on ways to provide it, according to Mayor John Engen.
"We've had conversation with at least one proximate property owner about the potential for redevelopment, including some parking there, that seemed promising," Engen said. "We had a subsequent conversation with another adjacent property owner as well, and that also sounded promising."
Chris Lounsbury, the county's chief administrative officer, said conversations focused on sustainability are also taking place. The county is working closely with A&E and other consultants on completing an energy performance audit.
The building's mechanical systems will likely need to be updated.
"They are looking at the mechanical systems, which have been well maintained in the building but of course aren't new," Lounsbury said. "The building has been there for a number of years."
Lounsbury said the county is completing its own asset management plan in an effort to determine the life expectancy of its assets and budget for any future costs. The federal building would likely be included in that study.
Lewis and Clark County and the city of Helena currently share the old federal building on Last Chance Gulch on that city's north end. The facility is spacious and adorned with period architecture and will likely serve as a model for Missoula governments to follow.
Both governments in Helena share the public hearing room, which was converted from an old court room and still includes the old courtroom benches. Title and registration services occupy the ground floor and government offices are located on the second and third floors.
The building includes both a towering staircase and retrofitted to include an elevator.
"The facility in Helena is pretty similar to our scenario," said County Commissioner Dave Strohmaier. "It would be worth a field trip over there. A&E would be interested to see how they've configured that space there."