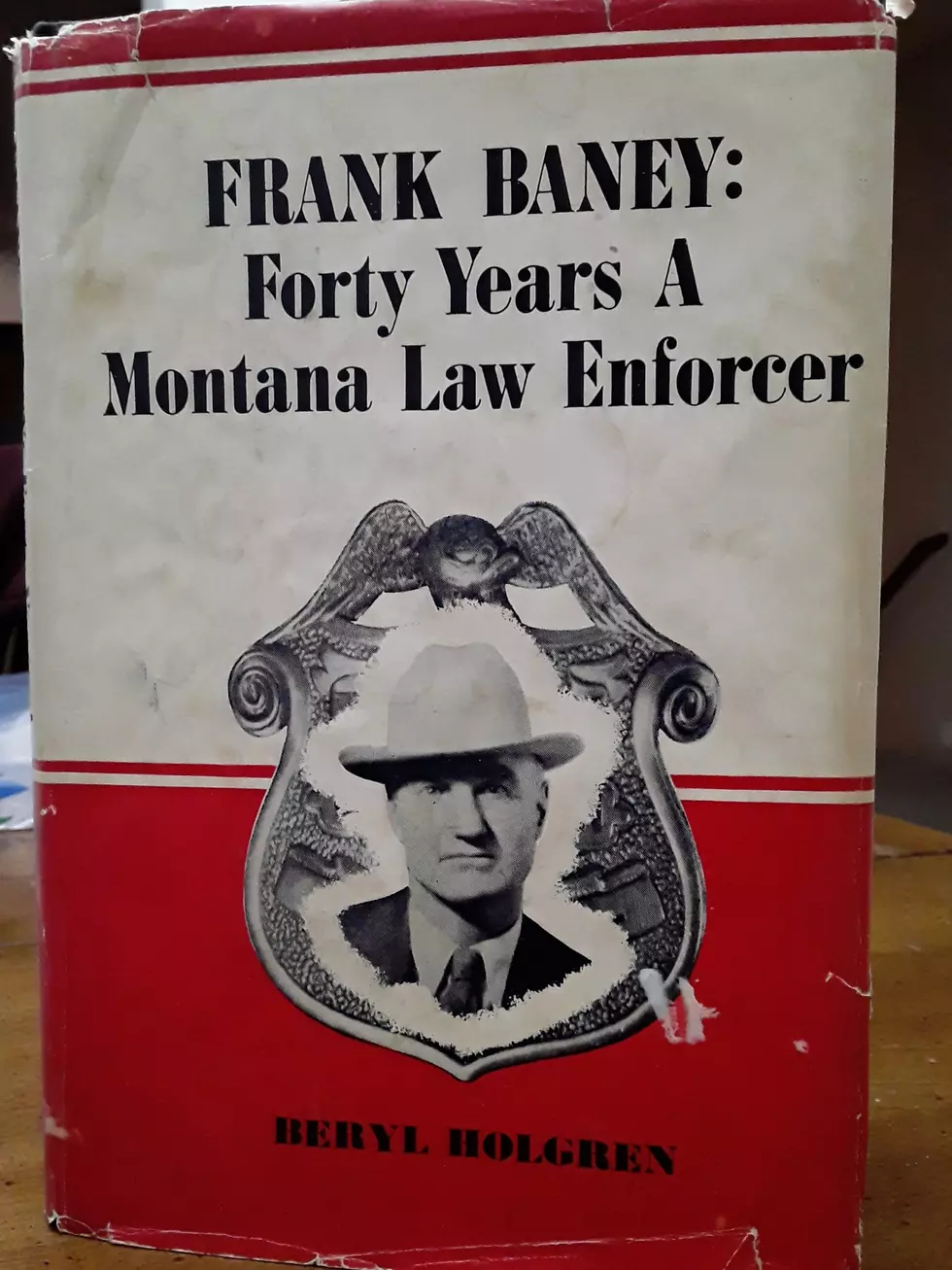 Harmon's Histories: Sheriff Frank Baney served Lincoln County with courage, compassion
It was late summer, 1920 – prohibition times, just south of the Canadian line in Lincoln County.
Four Eureka residents – booze runners (two men and two women) – had a good lead, but Sheriff Frank Baney "stepped on it" and within a mile was alongside the fleeing car shouting at them to stop. They refused. So Baney fired a few shots at their front tires.
Bottles began flying out the windows before the booze runners finally pulled over and surrendered. The sheriff gathered up "12 quarts of good whiskey in a gunny sack," some broken, others intact, according to an account carried in newspapers across the state.
That – as it turns out – was just another routine day for Frank Baney, one of the most fearless and beloved law enforcement officers in Montana history.
There is so much I never knew about the man, even though he was a good family friend. My grandfather, John Harmon, served as Libby's police chief during the 1930s, and often worked with Frank.
I was too young to know him personally. He retired the year I was born and died in June 1950, when I was just 3, going on 4. But I did come to know Frank's wife, Vick, in later years and, even more so, their daughter June and her husband "Slim" Woofenden.
What sparked today's story was the discovery of a book (long out of print) that was eye-opening fun to read this winter. It's a biography titled, "Frank Baney: Forty Years A Montana Law Enforcer," by Beryl Holgren.
Of course, it also set me about digging through old newspaper accounts of this legendary Montana lawman, finding one gem after another.
Frank Baney grew up in the Tobacco Valley of northwest Montana. In what would become a defining moment for the somewhat wary teenager, he was jumped by a couple of "fist-happy young farm boys," who for no apparent reason just wanted to pick on him.
Backed into a corner, wrote Holgren, "Baney attacked them with abandon ... slugging first one boy and then the other," until neither showed any intention of getting up. From then on, she said, Baney would "wrestle or fight anyone foolish enough to take off his coat."
But he was much more than a fighter. The Eureka Journal described him in later years as "brave, fearless, efficient, (but) always obliging and courteous." Holgren said of him: "He's all man." 
Baney became the first sheriff of the newly created Lincoln County (carved out of Flathead County in 1909). Except for a few years as a deputy state game warden, he served continuously until his retirement in 1946.
The Libby Herald called him a "fearless, honest, likable official (who was) gaining a reputation (statewide) of being a model sheriff," and urged his reelection "because he is right as a golden guinea."
Baney had to deal with all sorts miscreants – from an overly talkative man who turned out to be a con artist, to robbers, tramps and thieves. In 1938, Baney, a deputy, and my grandfather, the Libby police chief, had to coax a suspect out of the basement of a home. The armed man, wanted for kidnapping and attempted murder, luckily gave up without a fight.
But the most dangerous criminals Baney had to face were the booze runners and the transients – two of whom nearly killed him.
On the night of August 31, 1920, the sheriff and "two unarmed assistants," alerted that two shooting suspects might be hanging out in a "camp in the jungles near Eureka," walked down to the area and began questioning those living there.
The Great Falls Daily Tribune reported, "One of the (half) breeds, resenting the question of the sheriff reached for his gun. Baney at the same time drew his gun, whereupon the second breed opened fire sending a bullet entirely through the sheriff's body." The transients then took off, but the sheriff reportedly got off a few shots "and believes he hit the man who shot him."
With Baney "sinking fast" and not expected to live, hundreds of Eureka citizens "armed themselves and joined in the chase. Bloodhounds were wired for and all trains were searched."
A short time later the two suspects, Peter Little Plume and Frank Gilstrap, were arrested in Whitefish and held in Kalispell "on account of the intense feeling against them in Lincoln County."
In addition to the shooting of Baney, the pair was also wanted for the murder of Great Falls policeman Frank Connolly a month earlier.
Little Plume, who suffered from tuberculosis, not only admitted to shooting Baney, but to killing four men during his lifetime. He died the day before he was to go to prison. Gilstrap, who was wounded by Baney in the shootout, recovered quickly. He was charged only with "resisting an officer."
By the 1940s Frank Baney began to feel the effects of age and his challenging occupation. He didn't have the stamina he'd had in the past. He announced his plan to retire in 1946. He wanted to return to Eureka and live his old life of ranching and fishing.
A trip to the Mayo Clinic confirmed he had an enlarged heart, likely due to that bullet wound of 30 years earlier. By 1950 he was mostly bedridden.
Beryl Holgren, in her biography of the sheriff, described one final, heartwarming incident that pretty much summed up Frank Baney's character. Two boys, caught fishing at Baney's private pond in the country were brought to his bedside by the arresting officer.
"Baney looked up at the boys with kindly eyes (and said), 'I've saved that fish pond for my old age fishing and I don't want to be cheated out of it. ... If everybody goes out and fishes there, what will be left for me?'" One of the boys later admitted he'd never been so ashamed in his life.
In June 1950, "on a sunny spring day," wrote Holgren, "Baney ate a hearty breakfast (and was in great spirits)" when he collapsed and died.
What an incredible man – what an incredible life.
Though I never knew him, now that I've read Holgren's book I feel connected to the man. In the late 1950s, my dad spent some time in Eureka helping Vick Baney paint her house. Our family stayed in Frank's country cabin that week – and I was allowed to fish in that private pond.
If you have a chance to acquire a copy of Beryl Holgren's book, I highly recommend it. The copies that do exist, which are offered for sale online, are first editions filled with personal notes.
My copy has a handwritten note from Vick Baney which reads, "Dear Douglas, Thought you might like to know the book is finally done. Sure brings back many memories."
Mine also has a recipe, handwritten on the back of an envelope, for some kind of sweet concoction made with wheat flour, oil, water, sugar, syrup, nuts, raisins and a few other illegible ingredients – all to be cooked together for 12 minutes.
Perhaps I'll do some baking – in Frank's memory.
Jim Harmon is a longtime Missoula news broadcaster, now retired, who writes a weekly history column for Missoula Current. You can contact Jim at harmonshistories@gmail.com. His new book, "The Sneakin'est Man That Ever Was," a collection of 46 vignettes of Western Montana history, is now available at harmonshistories.com.