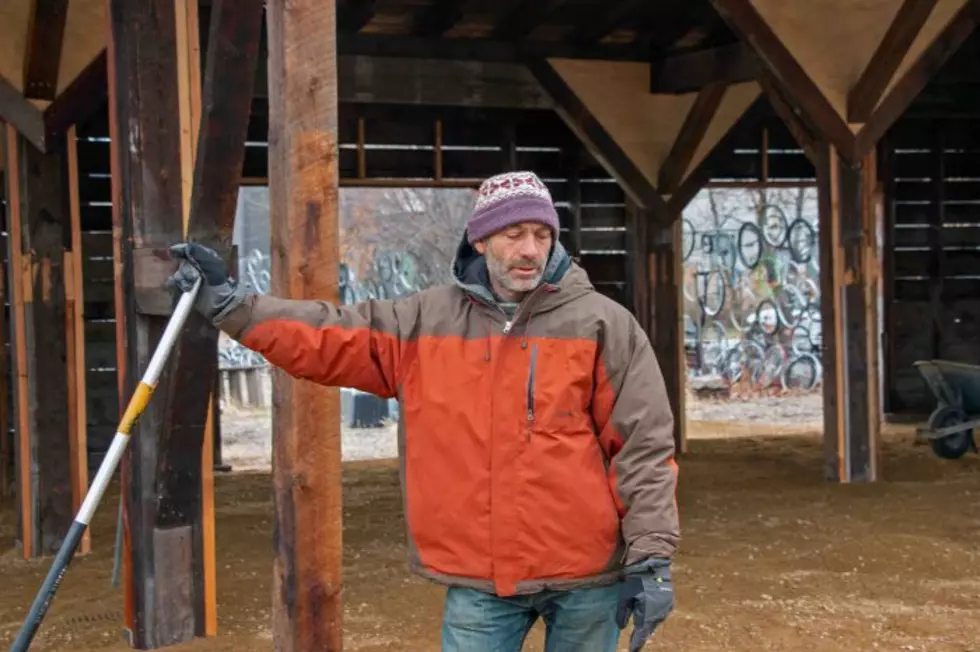 Running strong: Free Cycles of Missoula explores the future of sustainability, community
Bog Giordano, founder of Free Cycles, stands in the organization's facility in Missoula. Although currently closed due to the ongoing coronavirus pandemic, Free Cycles has been able to pivot its business and continues to provide much appreciated bicycle services to the Missoula community. (Jordan Unger/Missoula Current)
In the spring of 1996, Bob Giordano was sitting in an International Conservation Development course at the University of Montana. His professor, Steve Siebert, was telling a story during class about a recent experience in Portland, Oregon.
Siebert ended up making an off-hand remark about stepping out of a bar and coming across two free yellow bicycles sitting on a corner with a sign that read, "ride me and leave me."
This simple fragment of the story would ultimately serve as the impetus for Giordano, at the time a master's student in Resource Conservation, to start what would become Free Cycles.
Since its humble beginning, Free Cycles has ultimately evolved into much more than a beloved bike shop. It also loosely serves as a community center, concert venue and social hub.
Although currently closed due to the ongoing coronavirus pandemic, Free Cycles has been able to pivot its business and continues to provide much appreciated bicycle services to the Missoula community.
Despite the hardships of 2020, Giordano has still set his eyes on future goals for Free Cycles – naturally centered on building community and making Missoula a more livable city.
Free Cycles continues to espouse a certain philosophy, which Giordano summed up pretty efficiently: "We're a charity and we're going to help people every single day we can."
This sentiment has rung true during COVID and as the organization looks towards the future.
It wasn't long after hearing about Portland's yellow bikes placed on street corners that Giordano, along with a couple of his roommates, decided to do the same in Missoula. After running a newspaper article, bicycle donations started to flood in.
Members of the community were also eager to help Giordano out with his plan.
"People started volunteering. So, we were having people in our garage. People were using our bathroom, fixing bikes in the backyard," he said.
What started as a simple idea of making bicycling more accessible to the community of Missoula soon grew beyond this original scope.
"It just started with this notion that we were going to put green bicycles around town for people to ride. That's all it was for the first year," he said. "It's been an organic growth. So there was never this master plan of getting where we are today."
Today, Free Cycles and its umbrella organization, Missoula Institute for Sustainable Transportation (MIST), operate out of a space in the Riverfront neighborhood on 1st street. The organization has two acres of land and 28,000 square feet of building space.
According to Free Cycles' data, there have been over 220,000 visits to the open shop and over 19,000 free bicycles have been built. Free Cycles has focused on providing bicycles, parts and help to the residents of Missoula while simultaneously accentuating the public involvement aspect.
Along with MIST, Free Cycles is aiming to change city design by helping Missoula become more sustainable and a place where bikers, walkers, cars and buses can prosperously coexist. The organizations have advocated for things such as single-lane roundabouts and more public plazas in the heart of downtown.
Since shutting down the shop to the public on March 13 due to coronavirus restrictions, Giordano and his staff have been working to fulfill their mission and have still been set on helping the community.
According to their records, since that March lockdown, Free Cycles has provided 250 free bicycles to adults with essential transportation needs and an additional 220 free bicycles to Missoula's youth. In this time frame, Free Cycles has also fixed a fleet of 40 bicycles for the Watson Children's Shelter.
They have pivoted to provide bikes and parts to the community in a safe fashion to account for COVID by establishing a contact-free pick-up service for parts for those still wishing to fix up their own bicycles. They have gone as far as offering delivery as well.
"We've probably filled a couple of hundred parts orders: seats, chains, grips, tires, tubes. I mean, everything. We put them outside, and people come and grab them," Giordano said.
However, along with so many other facets of society affected by COVID-19, the community aspect of the program is what is truly missed.
"The thing we're really missing is that element – usually people are in there learning and fixing things together. We haven't had any of that. That's what hurts," Giordano said.
While a rough year for any organization, especially one that revolves around community support, Giordano has still been able to remain optimistic about Free Cycles and its future prospects. As part of his commitment to sustainability, he is talking about moving Free Cycles off the grid and actively reducing the building's carbon footprint.
Giordano is currently constructing an outdoor classroom at Free Cycles for use when some of the restrictions imposed by COVID are lifted. Having more outdoor workspace will ultimately limit the amount of energy the building needs to function.
Giordano also plans on setting up a wood pellet heat stove to heat the inside of the property.
"I think in the next year or two we could either cut our natural gas or cut our electric lines. I'd like to do one or the other," he said.
Giordano has also been known to go to extreme lengths to promote using bicycle delivery whenever possible. For example, he will encourage volunteers to make trips to recycle parts at Pacific Steel on their bikes instead of using a truck.
"That's going to take three hours round trip, but it's going to be fun. Someone's going to get a bunch of exercise and we're going to keep pollution from piling up in Missoula," he said.
Giordano's vision for Free Cycles goes well beyond reducing its carbon footprint. He's got a host of other ideas percolating at all times.
One idea is to establish a "Bike Inn" or hostel associated with Free Cycles.
While making note that there is a hostel in town already, Giordano thinks there is a niche for one that is cheaper and caters more to cyclists– making it more accessible to a wider range of people.
"There needs to be one that's a really low price with probably some camping involved," he said.
Giordano's further ambitions include establishing a café and growing food on-site at Free Cycles through a permaculture-based method.
"On the café front, we would envision all local organic food. It's the fuel for people biking. So instead of filling up your tank of gas, you're going to fill up your belly with Montana grains, vegetables, maybe some venison," he said.
The Free Cycles team, holding strong to their values, envisions the café as being highly affordable and maybe even based on a "pay what you can" model.
With Giordano at the helm, Free Cycles seems set to continue to evolve and creatively meet various community needs. At the end of the day, both the organization and Giordano are bent on helping the city of Missoula and its inhabitants anyway they can.
Giordano likes to sum his mission by telling a story of almost not being able to pay rent for Free Cycles several years back.
He had to reach out to a few people for small loans. Three different people ultimately gave him around $300 dollars each. One person, however, told Giordano they didn't need to get paid back.
"Things like that just make you almost cry with gratitude," he said. "But instead of crying with gratitude, I think about how can we give back? How can we help others?"