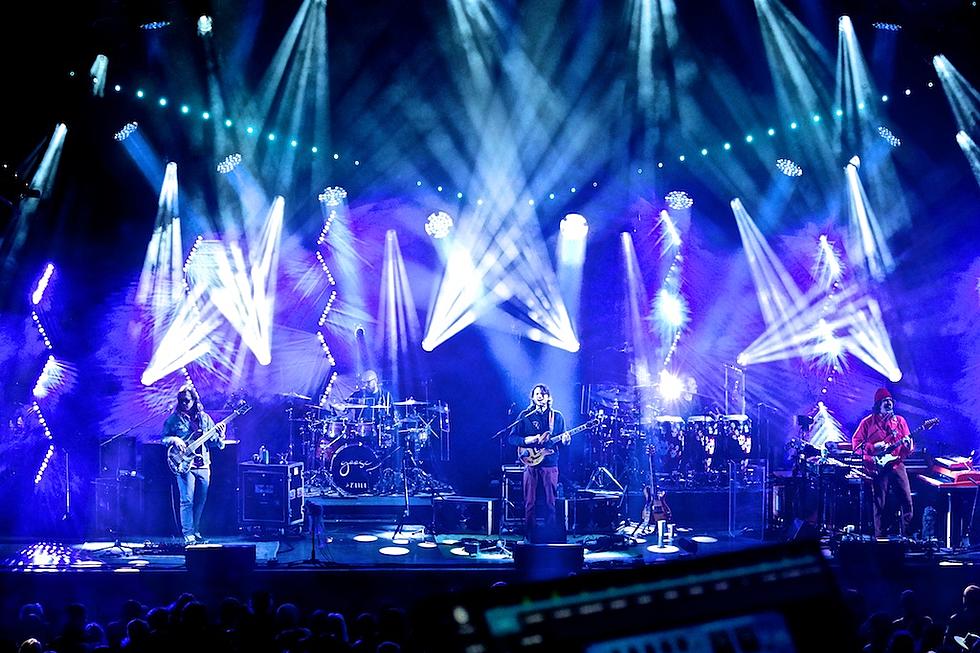 Jam-band Goose illuminates a dark Missoula night
Goos at the Kettlehouse. (William Munoz/Missoula Current)
William Munoz
(Missoula Current) When you hear the term "jam band," the Grateful Dead, Allman Brothers and Phish stand out. But there are others, too, including Widespread Panic, The String Cheese Incident and Blues Traveler, along with Umphrey's McGee, which played The Wilma last week.
What these bands have in common are improvisational songs, playing variations from one night to the next while extending the length of the songs. The influences can include bluegrass, jazz, country and blues.
As each new generation comes along, it embraces new bands, many which are expanding on the bands that came before them. Goose is such a band.
Formed in 2014 in Norwalk, Connecticut, Goose has developed a national following that rivals some older bands. Their sets are typical of the genera, a slow buildup to a blistering lead guitar solo.
As with many of the other bands they travel with, lights that are as mesmerizing as the music allows a sold-out crowd to move wildly in an ecstatic dance of collective rejoicing. Together for 9 years, Goose is only starting out on this journey while most of the bands still touring have been active well over 25 years.
Goose has a way to go but this band has shown itself to be well on the way to a long career of live music touring. As good as they are now, they will only get better the longer they tour. But touring can and does take a toll.
The successful ones learn to seek out a sustainable pace that doesn't tax the physical and mental stamina and allows for creative energies to meld with each member. Goose is likely at this point and if the Kettlehouse performance was an indication, we will be loving them for years to come.
The Goose concert ended the 2023 outdoor concert season. Next year's outdoor concerts could very well be massive. I've rumors of up to 50 at the Ketthouse and possibly 5 or 6 in the Washington Grizzly Stadium.
Already, there are a couple of big names coming to the Adams Center by Live Nation, with Macklemore on Oct. 11, John Pardi on Nov. 3 and Ludacris on Jan. 18.
Logjam Presents in addition to their ticketed shows at the Wilma and Top Hat are presenting free shows on weekends throughout the year. Coming up Sept. 30 is Rootz Within – a rock funk band influenced by reggae that formed in Hawaii but is from Minnesota.
There are 11 free shows to be announced by Dec. 16. Many are local Montana musicians. Two that I would draw attention to are Jacob Rountree on Nov. 3 and Warpony on Nov. 17. In addition to the Top Hat, Longstaff House has The Tannahill Weavers, one of the legendary Celtic bands from Scotland coming Nov. 16.
Music is alive and well in Missoula.
Goose at the Kettlehouse in Missoula