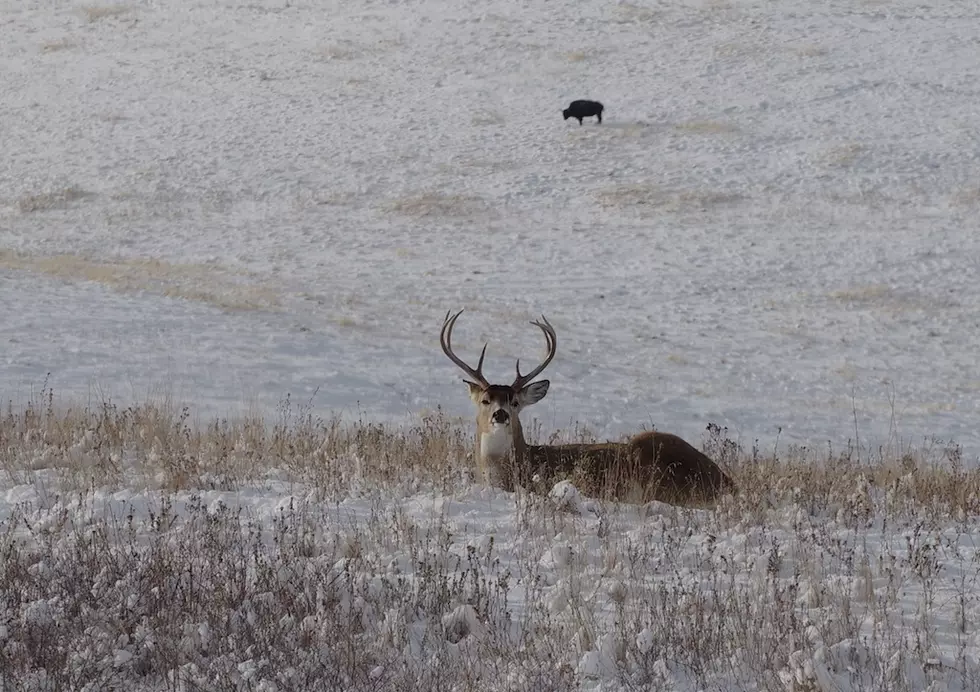 Governor nominates two new FWP commissioners
Wildlife in the Evaro area. (William Munoz/Missoula Current)
Laura Lundquist
(Missoula Current) On Tuesday morning, Gov. Greg Gianforte announced his picks to replace two Fish, Wildlife & Parks commissioners whose terms are running out.
For FWP's Region 2, headquartered in Missoula, Gianforte has selected Jeff Burrows to replace Commissioner Jana Waller of Florence. During the Dec. 20 commission meeting, Waller announced she is moving to Utah so she couldn't accept renewal of her appointment.
Burrows, a Hamilton resident, has served as a Ravalli County commissioner since 2012. If appointed, Burrows would likely continue to serve as county commissioner.
Burrows said he talked with Lt. Gov. Kristin Juras and other commissioners to be sure there was no conflict.
"I got the meeting schedule - I think I can handle both positions," Burrows said. "I think being a county commissioner will add to the availability for the public to come in and talk to me. It's a little easier to get a hold of me. I hope so anyway."
In his role as county commissioner, Burrows also serves on the Ravalli County Collaborative, a group of stakeholders appointed by the Ravalli County Commissioners to weigh in on the local, state and federal management of public natural resources within Ravalli County.
"Public lands and fish and wildlife are the reason we all live here," Burrows said. "I think natural resources, at least in Ravalli County, it's one of the biggest issues we have, between forest management and fish and game, so I think the two (commission positions) tie together really well."
Gianforte has been acquainted with Burrows since at least 2018 when Gianforte was still a congressman. In August 2018, Gianforte held a hearing in Hamilton on public land wildfire issues and invited Burrows to be on a panel discussing forest management.
As part of the county commission, Burrows has offended some sportsmen in the past. In August 2018, the Ravalli County commission asked former Attorney General Tim Fox to investigate several organizations for alleged dark-money connections. The organizations had opposed county commission support for eliminating certain wilderness study areas, including the Blue Joint WSA.
The commissioners labeled the groups as "green decoys," because in 2014, Richard Berman, president of the Washington, D.C.-based lobbying and consulting firm Berman & Company, had created a misinformation campaign attacking conservation groups like Trout Unlimited and the Izaak Walton League as "green decoys."
His firm has created several campaigns backing business and industry over consumer, safety and environmental groups.
In 2018, the "green decoys" allegation was recycled to discredit some Montana organizations, including the Montana Wildlife Federation and Backcountry Hunters and Anglers.
Fox's response letter to the commission said that while his office had some authority over nonprofit organizations, the commission's complaints did not fall under any category Fox could address. After no other counties joined Ravalli County's call for investigation, the county commission let it drop.
The Ravalli County commission has also disappointed sportsmen due to its reluctance to protect access to public land. After a landowner put a gate across a public road up Hughes Creek, the commission made minimal efforts to challenge the landowner, which prompted a lawsuit. The county commission asked a district judge to dismiss the lawsuit.
Burrows told the Ravalli Republic a year ago that it cost the county an excessive amount of time and effort in exchange for the limited access the road provides.
The Gianforte administration also selected Susan Kirby Brooke to take over as the FWP commissioner for Region 3, headquartered in Bozeman. Pat Byorth served until the end of 2022 and knew he would not be reappointed because he was the only remaining Bullock administration appointee.
The Gianforte announcement said that Brooke owns and operates the St. Mary KOA campground and Rising Sun Pizza near Glacier National Park and one near Three Forks, and has participated in collaborative efforts involving federal land exchanges.
There is no mention of wildlife experience.
Brooke's LinkedIn profile shows she served on the Montana-based staff of Sen. Conrad Burns from 1992 to 2000. She also sat on the Montana Board of Environmental Review in the early 2000's during the Judy Martz administration.
Finally, Gianforte is renominating FWP commission chair Leslie Robinson for another term. The governor nominated Robinson in 2021 to take over for the northeast FWP region after the Legislature refused to reappoint Andrew McKean.
If confirmed by the Legislature, all three will serve until Jan. 1, 2027.
Contract reporter Laura Lundquist at lundquist@missoulacurrent.com.