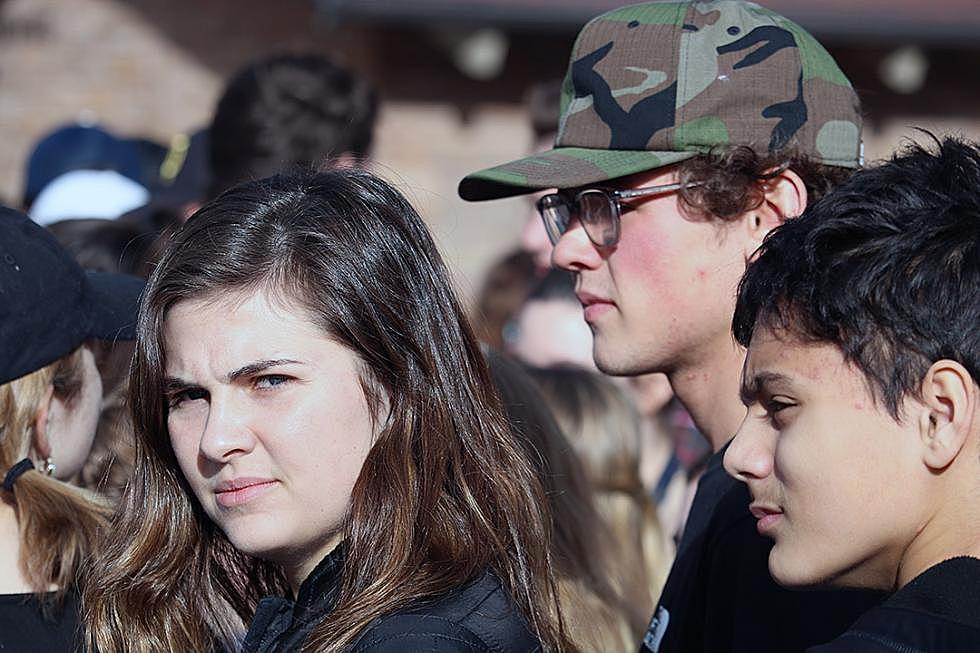 17 minutes: Missoula students join national walkout in push for gun reform
Students at Sentinel High School gather outside the campus at 10 a.m. on Wednesday to add their voices to the nation's debate over gun control and to remember the 17 victims of the Florida school shooting. (Martin Kidston/Missoula Current)
A quiet parade of students left Sentinel High School sharply at 10 a.m. on Wednesday to join their peers across Missoula – and much of the nation – in leaving class for 17 minutes.
That's one minute for each victim gunned down in the mass shooting in Florida one month ago. And for a generation shaped by gun violence, those 17 minutes offered another opportunity to make their voices heard as they look to effect change.
"I think it's important to remember why we're all here today," said Sentinel senior Marina Gray. "It's not just to get out of class, and it's not just to protest guns. We're here to create friendships and lasting bonds with people so things like this don't happen again, and people don't feel singled out and shootings don't happen again."
Wednesday's walkout carried a quieter and more subdued tone than the protest that played out last month in downtown Missoula, where several hundred students left class to call on Congress to implement new gun control measures.
Yet while the debate continues in Washington, D.C., little has been achieved at the national level, and nothing has happened in Montana. The state's congressional delegation stands firmly behind the Second Amendment and has, over the past month, looked away from new gun measures toward other issues, such as mental health and school safety.
For many of the students, that status-quo approach overlooks the underlying issue – that being America's fixation on guns and easy access to firearms.
"We support the cause of more gun control," said sophomore Lindsay Maurer. "It should be harder to get guns. A lot of people are really attached to their guns and think you want to take them all away instead of just making more rules around them."
Other states, including Florida and Washington, have implemented stricter gun measures since the Florida shooting. But in Montana, state leaders have done little to address the issue, though there has been plenty of talk.
Both Sens. Jon Tester and Steve Daines have said schools should be permitted to arm teachers if they choose. Gov. Steve Bullock, who has been mostly quiet on the issue, has called that a bad idea. Attorney General Tim Fox shot down Missoula's own effort to implement background checks for gun sales two years ago.
"Schools are safe, but I want them to be safer," said Devi Cole, a mother of several children who attended Wednesday's walkout. "Moving the age from 18 to 21 for an assault rifle would be a good start. There are students who are 18 in school, and if you can't buy a handgun at that age, buying an assault rifle doesn't make sense to me."
The students, who will all approach voting age within the next few years, have taken note of the inaction in the nation's capital – and in Helena. With an estimated 185,000 students in all 50 states expected to participate in Wednesday's walkout, they're hoping to gain the attention of lawmakers, many of whom remain beholden to the National Rifle Association.
Maggie Weida, a Sentinel sophomore, said she and her friends think often of the Florida shooting and wonder if it could happen in Missoula.
"Ever since Florida, I haven't really felt safe," said Weida. "He just walked into the school. There's so many entrances and they should be blocked – locked during class so not anyone can come in at any time."
"Sentinel is a safe place and I wouldn't expect it here," added her friend, Amara Graham. "But at the same time, in Florida nobody was expecting it there and it happened anyway."
While not all Montana schools – or others in the country – supported students leaving class to participate in a gun protest and vigil, Sentinel Principal Ted Fuller permitted his students to do so at their own discretion – and with the permission of a parent.
He said many students feel strongly about the issue and the cause, and wanted to memorialize the 17 people killed in the Florida shooting.
"In my tenure as principal, I have yet to see something that has galvanized and mobilized young people to the degree that this has," Fuller said. "I always say to students in my role as principal that they're the intellectual, creative engine of the future.
"So it's inspiring and exciting to see students feel passionate about any cause, and organize and mobilize and believe they have a voice to influence change in their community. That's a positive thing, regardless of what issue they're championing."