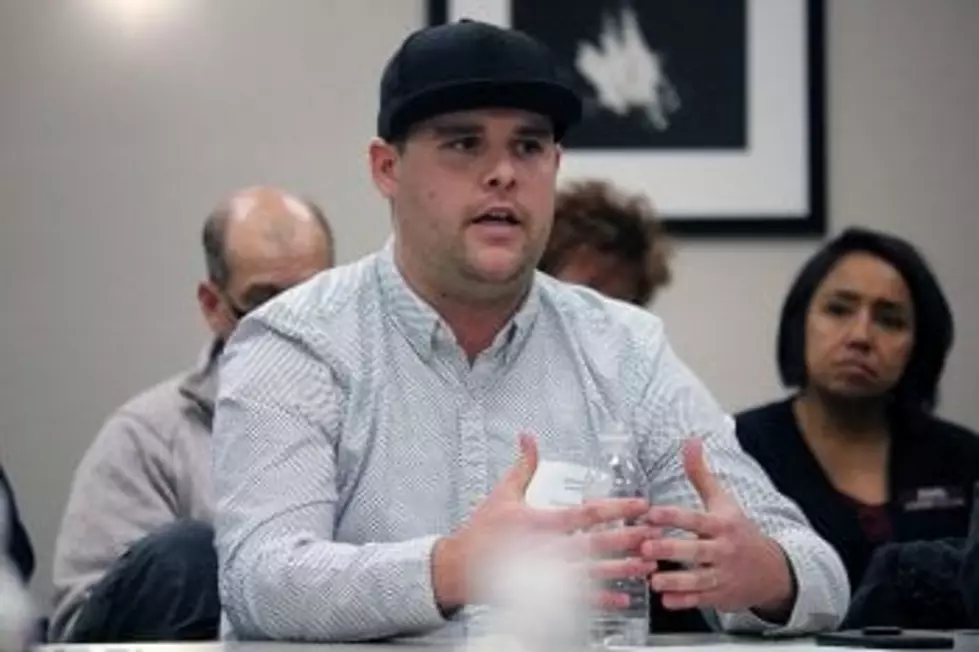 Missoula's LumenAd, Consumer Direct share $450K state grant for 63 new jobs
Anthony Krolczyk, director of marketing for at LumenAd, explains his company's growth over the past four years during a round-table discussion in Missoula on Tuesday. LumenAd is one of two companies to receive a new state grant to support job creation.
Two Missoula companies received a state grant on Tuesday to support expansion and add dozens of new jobs in the local market, though economic officials have expressed concern over future program funding.
The $450,000 grant, awarded through the Big Sky Economic Development Trust Fund at the Department of Commerce, will support the creation of a combined 63 new jobs at Consumer Direct and LumenAd, both based in Missoula.
Bitterroot Tool and Machine, based in Hamilton, also received $50,000 grant to create 10 new jobs.
"Montana's economy continues to grow when public and private sectors come together to create jobs and provide training for workers," Gov. Steve Bullock said in a statement provided with the announcement.
"As Montana businesses plan for long-term and sustainable expansion, we are working with them to support important economic development projects that result in new opportunities for hardworking folks in our communities."
The competitive grants promote economic growth through job creation and training. The grants are awarded by the state and administered locally by the Missoula Economic Partnership and Missoula County.
By rule, the grants are awarded to firms that export a product and pay a living wage. In Missoula County, that's $18.99 an hour, or $39,498 a year.
"Consumer Direct and LumenAd are both great examples of best-fit companies who serve our community by creating high-wage job opportunities for Missoulians," said Grant Kier, executive director of MEP. "We're thrilled these grant awards will help them grow and thrive."
The two latest grants boost an already aggressive push to grow local jobs, and the Big Sky grants have been central to that effort. Over the last year, MEP has secured more than $816,000 for eight companies in Missoula to support the creation of 123 new jobs, according to the organization's chairman.
Consumer Direct, a human services agency that provides management solutions for long-term care, received $255,300 in latest round of grants to support 37 new jobs over the next two years.
CEO Ben Bledsoe said the program is integral to his company's growth.
"Consumer Direct Care Network is proud and thankful for the financial support from the Big Sky Trust Fund," he said. "This grant ensures that our growing company can add the sustainable jobs in Montana that allow us to serve people with long-term care needs across the country."
LumenAd founder and CEO Ryan Hansen echoed that sentiment. His company received $195,000 in the latest round of grants to support the creation of 26 new jobs over the next year.
LumenAd was founded four years ago and has seen rapid growth over that time. The firm, housed in downtown Missoula, offers a media management platform for brands and advertising agencies.
"We see a huge opportunity to disrupt the digital advertising industry using our technology," Hansen said. "With the assistance of the BSTF program, LumenAd is well positioned to capitalize on this opportunity. It has and will continue to help us develop existing talent in the community and bring in experts from across the country to help us grow to the next level."
Grant recipients in Missoula have been wide ranging over the past few years, from an upstart home manufacturing firm to a film studio, both of which used the funding to create new jobs.
But the economic development program may be eyed for reduction in funding during the 2019 Legislature. That worries grant administrators, who have expressed frequent concern over the past year.
"We actually anticipate having to defend this program during the 2019 session," Nicol Rush, the grants administrator with MEP, said earlier this year.