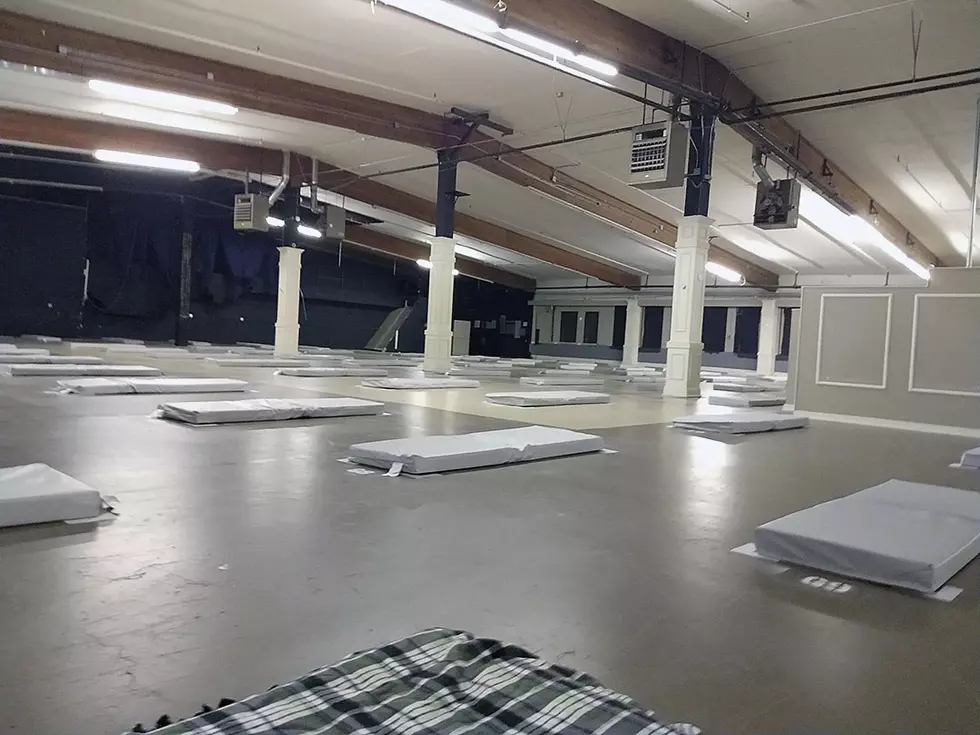 Drug use, safety, communication bog decision on Johnson Street shelter
The Johnson Street shelter.
Martin Kidston
(Missoula Current) Concerns over drug use, security and lack of communication related to the Johnson Street shelter played out alongside a City Council debate Wednesday on whether to fund the shelter's use as a year-round facility for the next 12 months.
Doing so still requires a variance from the health department allowing the use of chemical toilets, followed by a public forum on the city's plans to deviate from zoning to allow the shelter in close proximity to a residential neighborhood.
However, the City Council won't have a say on the latter issue.
City officials on Wednesday maintained their stance that Missoula was facing a homeless "emergency," a condition declared by Mayor Jordan Hess back in April. That emergency required fast action by the city, Hess said.
"I would underscore the emergency nature of this. It's something we endeavored to do very quickly," Hess said of the shelter. "We have a lot of work to do on neighborhood engagement. I fully recognize that. I also recognize this will be a less than ideal use for where it is."
The city is considering a $789,000 contract with the Poverello to operate the Johnson Street shelter for one year. That funding will come from what remains of the city's American Rescue Plan Act funding.
Other expenses related to the shelter including security, trash cleanup and enforcement of urban camping regulations will be covered by other funding sources.
"We're using the balance of our ARPA funding for this. It's $1.7 million for shelter operations," said Hess. "Missoula County has pledged $900,000 in funding. That's in broad strokes where the funding is coming from."
Sanctioned drug use?
Jill Bonny, executive director of the Poverello, said the Johnson Street shelter will be open 24 hours a day, seven days a week and have the ability to sleep 165 people. The shelter will serve both genders, be pet friendly and offer wi-fi.
The rules include respect and safety, she added.
"It's open 24 hours a day. We do close it for an hour in the morning. That's to clean and sweep the entire area and set up for food services," Bonny said, adding that one hot meal will be provided daily.
Currently, Bonny said the shelter won't allow alcohol or drug use on site. But several council members, including Daniel Carlino and Kristen Jordan, are pushing to allow drug use on the property, including needles.
They believe sanctioned use will keep drugs and dangerous paraphernalia out of the adjacent neighborhood and park. Jordan wants the shelter to serve as a low barrier for addicts.
"This is a way to make the neighbors more palatable to this. We have to take their concerns into consideration," said Jordan. "It's going to be super hard to allow needle injection on site. It's going to be even harder for neighbors to have people using in their neighborhood. It's harder for them to manage it than it is for the city to put things in place to allow it on the site."
But shelter managers and city housing officials said current shelter rules don't allow such uses. Nor are there any plans in place to safely oversee sanctioned drug use.
Drugs are also illegal under state and federal law, and the city has not said if it can legally allow open drug use under city supervision. Liabilities and the lack of medical knowledge from shelter staff also remain issues.
"We don't currently have a place to tell people where they can go," Bonny said of drug use. "If they had substances on them, we would ask them to leave. There's not a location right now where they can use authorized."
Lack of communication and frustration
Funding hasn't been identified to keep the shelter open beyond next September, nor has a long-term location been identified. As it stands, residents and several City Council members expressed displeasure with how the process has played out and frustration over the decision facing them.
"There's been no opportunity for the neighborhood to engage in this decision," said council member Mike Nugent. "Nowhere in the two months of all this planning and all this work was there an attempt to answer some of the questions and hear some of the concerns that we've been hearing constantly from people."
Several residents met this week with a few City Council members and Hess to share their concerns. Kevin Farmer, a nearby resident, said the neighborhood has concerns over security, drugs, safety and the city's perceived lack of communication.
They've also been displeased with shelter staff.
"One of our biggest upsets has been the reception met by members of the Johnson Shelter staff when bringing our concerns to their attention of ongoing issues," said Farmer. "We want a better system of security and communication to be a top priority in the deliverables for the new contract with the Poverello. We want a well-established point of contact put in place and advertised with surrounding neighbors."
Other residents opposed the shelter in general, saying it has and will continue to have significant impacts on their quality of life, the safety of their children and the investment they've made in their homes.
"This shelter is a huge, huge burden for our neighborhood to bear," said resident Lander Karath. "We're going to face the same problem, the same burden, except now it's on a 12-month basis. It's a huge burden for us to bear as a residential neighborhood for a problem that's city wide."
The city held a decision on funding the shelter in committee until next week, when it will continue to debate concerns.