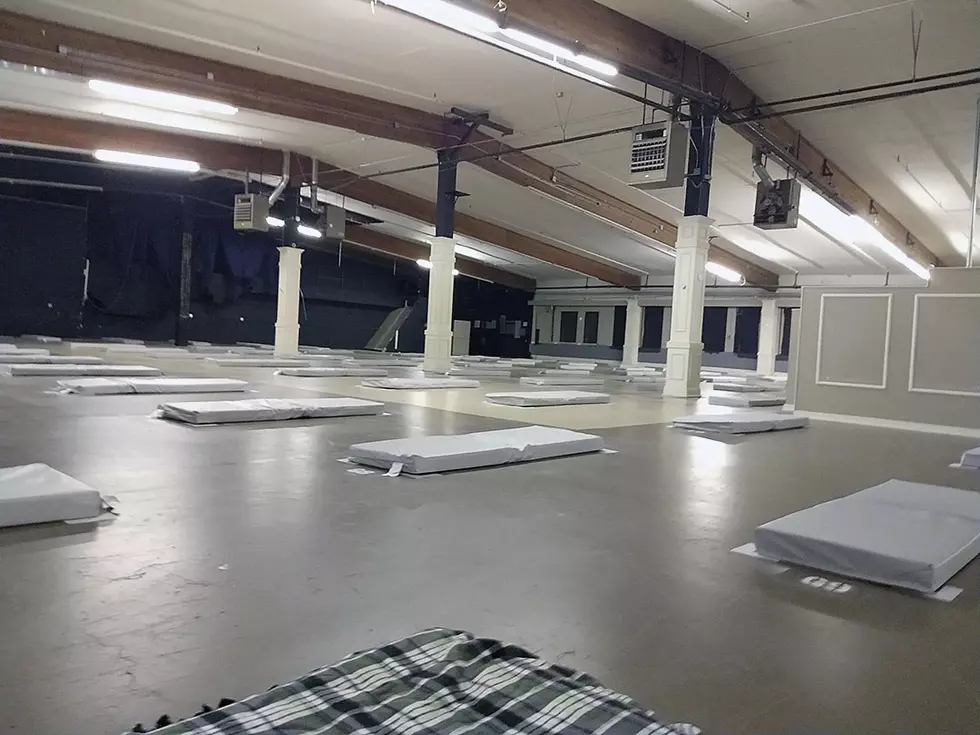 Plans to open Johnson Street shelter draws backlash, quest for solutions
The Johnson Street shelter.
Martin Kidston
(Missoula Current) A push to convert what once served as a winter shelter into a year-round facility drew backlash from several members of City Council on Wednesday, and a pledge from the city to seek solutions for a long-term shelter, where to place it and how to fund it.
But that could take a year or more to complete and the city plans to invest $1.7 million this budget season to open and operate the Johnson Street shelter year-round for one full year. That's a change from the shelter's previous use as an emergency winter shelter.
"I've never said personally or never thought this was without impact," said Mayor Jordan Hess. "It's not lost on me that this is a challenge. We don't have a long-term source (of funding). This is a one-year solution. There's a community conversation that needs to take place on what the long-term solution is and how to pay for it."
City officials on Wednesday said the spike in urban camping and the issues around it have forced their hand, requiring them to open the Johnson Street shelter sooner than in past years.
In April, the city convened a homeless leaders group that identified expanded shelter space as a top priority for public funding. As a result, Hess added funding for the shelter's operation in his executive budget.
Next month, the city will bring its contract with the Poverello Center to the City Council for consideration. It will also ask the health board for a variance to use chemical toilets while renovations are made to the Johnson Street building, according to Emily Armstrong, the city's houseless programs manager.
"In September, if all goes as planned, we hope to open the shelter, which is much earlier than we have in previous years," she said. "The summer and fall of this year is when construction begins and continues, with the hope of completing it by the end of December so we can be prepared for the coldest winter months with adequate hygiene facilities."
Armstrong said the shelter will be open 24 hours a day seven days a week to anyone needing to use it. It will be operated on a behavior-based policy and will include food access and connection to service providers.
But all of that will hinge on a variance from the health department.
"The variance we're requesting is for short-term use of chemical toilets, recognizing we'd like to have more significant infrastructure than what currently exists in the building," Armstrong said. "The plumbing just isn't sufficient. If the variance isn't granted, we won't be able to open the shelter until the construction is complete and the hygiene facilities become available."
Funding, operations and upgrades
The city has been working with a consultant to explore options for renovations to ensure the shelter has adequate facilities. The results netted two recommendations including on-site bathroom trailers or an addition to the building itself.
Eran Pehan, director of Community Development, Planning and Innovation, said bathroom trailers would be the most cost-effective way to meet the intensive needs of the shelter. The downfall is that such facilities aren't durable for long-term use and could encounter issues during winter months.
An expansion would also meet the needs though it carries a higher cost, Pehan said.
"It can be purpose-built and far superior from an operational standpoint and safety," Pehan said. "It can also be deconstructed and reused. But one of the downfalls of a new building structure is that it's going to likely be more costly."
Pehan said a final cost hasn't been determined for either option. As it stands, the city already plans to place $1.7 million into its FY24 budget to open and operate the shelter for one year. The county will also provide funding.
"Those funds are identified as coming from ARPA reserves, not general fund," said Pehan. "That constitutes the city's portion. We are working with the Missoula Redevelopment Agency on potential funding to cover the cost of facility renovations."
The shelter is located on property the city purchased several years ago with an eye on redevelopment and economic gain. That included plans for housing and other neighborhood amenities on roughly eight acres.
But that was before the pandemic hit and shelter needs in Missoula began to increase. Those needs became more acute this spring when homeless camps began to appear on city sidewalks and city parks.
"The decision to use Johnson Street this year was one made out of necessity based on our timeline, the urgency of need in the community, and the options available to us," said Armstrong. "At this time, we don't have any other viable facility spaces for this type of shelter. We have successfully operated out of this building before, so we know we can do it."
Security and outreach
While the Johnson Street shelter appears on track for a fall opening, several members of City Council criticized the lack of outreach to the surrounding neighborhood before a decision was made to open the shelter year-round.
And while city officials have said that a permanent location for a second shelter hasn't been identified and will involve a "robust community discussion," some fear the Johnson Street shelter will simply become permanent for lack of other options.
"If I lived across from the Johnson Street shelter, it would be really, really hard," said council member Kristen Jordan, who represents the impacted ward. "I do have concerns that this temporary shelter is going to become a permanent structure in Ward 6."
Sandra Vasecka, who also represents the ward, said she's been flooded with emails, phone calls and text messages from angry residents who say they haven't been given a chance to weigh in on the issue.
Among other things, Vasecka said area residents have reported defecation in water fountains, needles in parks, theft, vandalism, sexual aggression and other bad behavior.
"This is a huge shift to our neighborhood," Vasecka said. "It's so frustrating. A lot of the council has really frustrated me by saying this isn't a big deal."
Council member Mike Nugent also questioned the city's lack of outreach to area residents before it announced its plans to open the Johnson Street shelter as a year-round facility.
"The emails we get say they didn't get an opportunity to explain their concerns, that their voices weren't listened to, and I have to say they're right," Nugent said. "I'd like a little more information why the neighborhood wasn't given the opportunity to discuss the switch to year-round before it was clearly so far down the tracks that this is our only option."
Nugent also raised concerns regarding security and protection for area residents once the shelter opens. Hess said he understood the current lack of outreach, but given the surge in urban camping and the problems it brings, the timeline to open the shelter was narrow.
He also said that security will play a prominent role when the shelter opens and regulations on camping will be enforced.
"The desire is for the security contract to be responsive to the fact that this is a one-year use, and that has a different security profile and different impact on the neighborhood than a seasonal shelter," Hess said. "The council may decide that within a buffer zone of shelters that we don't have a tolerance for camping."