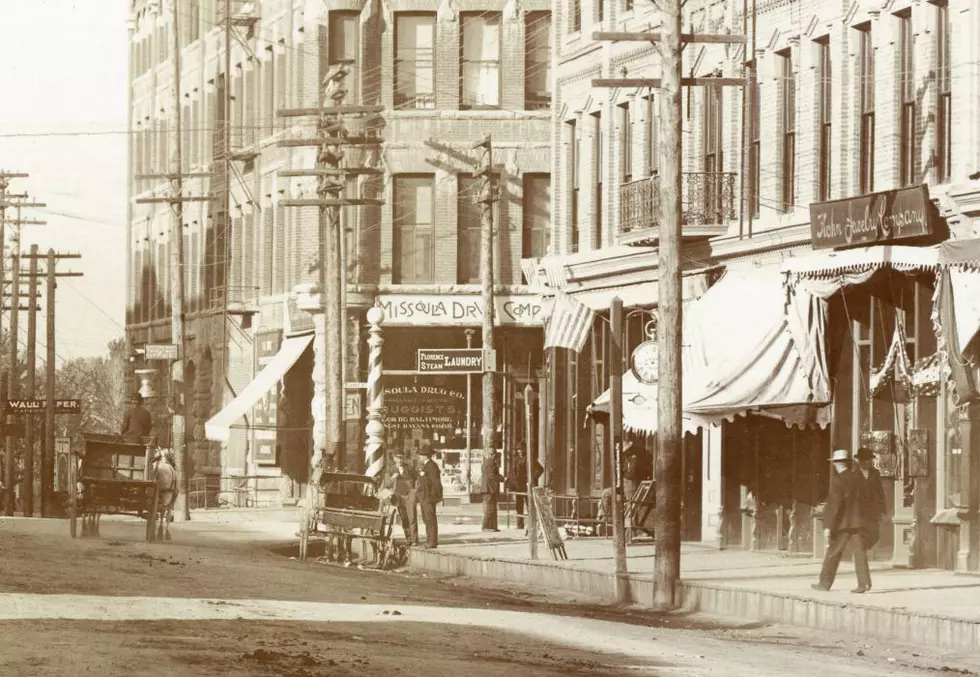 Harmon's Histories: Missoula jeweler Herman Kohn's eventful life … and iconic downtown clock
Front and Higgins in downtown Missoula, about 1900
He was one of Missoula's most prominent citizens back around the turn of the century – a successful businessman, a city councilman of several terms, an exalted ruler in the Elks lodge, a member of the Masons and the Odd Fellows.
But he'll be forever remembered for that sidewalk clock on Higgins Avenue.
Herman Kohn was a 22-year-old immigrant from Prague, Bohemia, when he checked into Helena's McBurney House on November 14, 1879. He was headed to Missoula and a new life. He completed the final few miles, arriving in the Garden City on December 1, 1879.
Kohn first opened a small saddlery shop in Missoula, but by the 1880s established a cigar store and jewelry business, initially on Front Street, then later at 123 Higgins Avenue (clearly seen with its big sidewalk clock, in a photo of the intersection of Front Street and Higgins Avenue).
In more recent years, the clock became known as the "Stoverud" clock, named for a later jeweler in the same location.
The early years were rough for Herman Kohn. In 1885, shortly after marrying Carrie Solomon, a native of Worms, Germany, he moved his saddlery business from Missoula to Butte, locating on West Park Street. By 1887, he was in deep financial trouble, defaulting on $10,000 worth of debt.
Exactly when he returned to Missoula – and exactly when he established the jewelry and cigar business – is a bit of a historical blur.
A 1940s newspaper ad claimed that the Kohn Jewelry Company was "Missoula's first jewelry store ... over 60 years of continuous service," established in 1879. That doesn't match with historical records and early newspaper accounts.
A look-back newspaper story in 2009 had Herman opening the jewelry business in 1883. His obituary in 1917 cited 1889. Yet another look-back article, this one by the Missoulian's Kim Briggeman, cited a "ghost sign" on the side of a building reading, "Established 1887."
So was it 1879? Not possible. How about 1883? Unlikely, given the fact that he was still in the saddlery business at the time, and relocated to Butte. So 1889? Possibly, but it seems a bit late.
It is most likely to have been 1887. That matches up nicely with the reports of Kohn's financial troubles in Butte and his move back to Missoula.
Once back in Missoula, Kohn did very well – except for the pigeons, the leaky bathtub, a bad bicycle ride and a falling street lamp.
First, the successes.
Herman Kohn's watch, jewelry and cigar businesses prospered, with many trips to New York to place large orders. By 1904, he had engaged architect A. J. Gibson to design a "handsome brick block on Higgins Avenue that will be used for business purposes."
Kohn became a member of the school board, the city council and the local booster club. He was so dedicated to his public service role that in 1908 he "came rushing home from his visit with his daughter at Choteau as soon as he learned the council didn't get a quorum with him out of town."
His wife Carrie played a prominent part in the local Woman's Club and the general social scene. In 1909, she hosted the Woman's Club dance "in Herman Kohn's new barn on First Street," which drew 150 couples!
Oh yes – those mishaps.
"There was an exciting time at the Herman Kohn jewelry store about 3 o'clock yesterday morning," wrote the Missoulian on January 27, 1905. "A leaking bath tub in one of the rooms of the second floor caused a large section of plastering to ... crash among a lot of statuary and hand-painted china, demolishing a showcase full in its fall."
The night clerk at the Florence Hotel heard the crash and thought burglars had blown open the safe. Police officers – even the game warden – rushed to the scene, guarding the store until Kohn could be summoned.
On another occasion, Kohn was bicycling home, picking up speed on the downgrade on East Front Street, when his pants leg caught in the bike chain and sprocket wheel nearly throwing him. Luckily, the incident ended with only a lost pant leg "and his manly limb exposed to the chill evening air."
Then there were the pigeons. In 1899, over a period of weeks, Kohn kept finding some of his pigeons shot. By the time a couple of dozen had bit the dust, the jeweler determined the marksman was a young man by the name of Arthur McQuestion. Kohn swore out a complaint, the fellow was arrested and the boy's parents paid the cost of the suit.
Finally – the falling street light. On the evening of September 13, 1911, Herman was walking home from work, when he had a sudden premonition he should "stop in his tracks" near Pattee and Front streets. Just as he did, "an electric arc lamp crashed down at his feet.
"One more step," reported a local newspaper, "would have put him directly under the heavy arc, which could not but have inflicted serious injury."
In the winter of 1916-1917, Carrie Kohn became quite ill and had moved to southern California for the warmer weather. Herman, after visiting his ailing wife, was on his way back to Missoula when he "dropped dead from heart failure" in San Francisco on March 12, 1917. He was 60 years old. Carrie died a year later, at age 58.
"Leiser's Footsteps," a museum exhibit telling the story of Missoula's early Jewish community (including Herman Kohn) had been on display for a short time at Fort Missoula in 2020. It was then to be displayed at the Missoula library, but COVID hit.
Hopefully you'll be able to see it soon, as the new Missoula library is hoping to open next month.
Jim Harmon is a longtime Missoula news broadcaster, now retired, who writes a weekly history column for Missoula Current. You can contact Jim at harmonshistories@gmail.com. His new book, "The Sneakin'est Man That Ever Was," a collection of 46 vignettes of Western Montana history, is now available at harmonshistories.com.