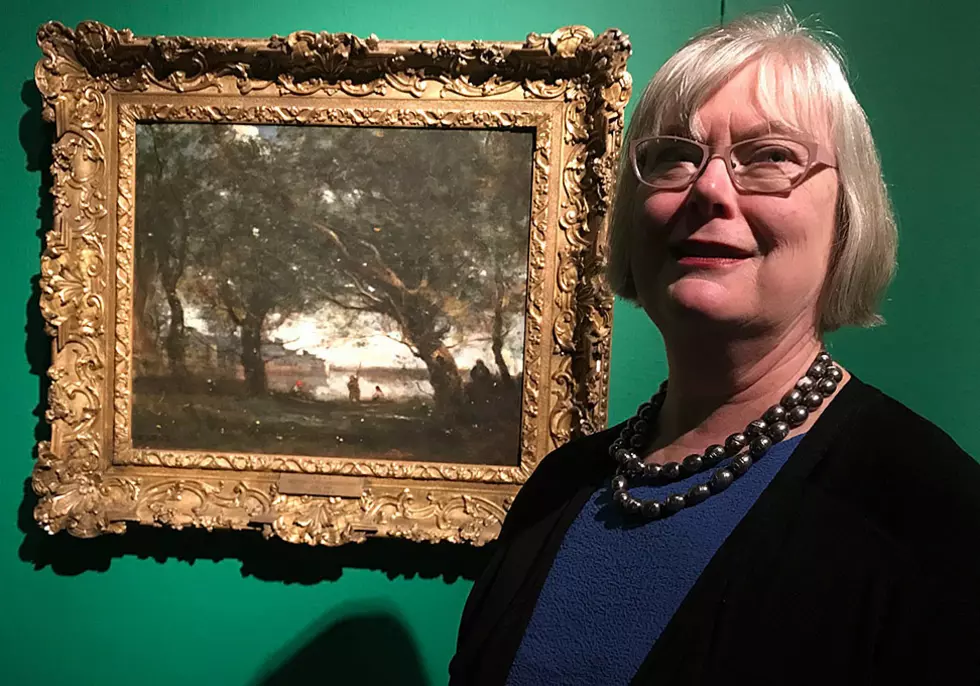 Amid departure, Koostra proud of growth, success of Montana Museum of Art
Barbara Koostra, director of the Montana Museum of Art and Culture at the University of Montana, stands before "The Pond," painted in the 1800s by Jean-Baptiste-Camille Corot. Koostra will be leaving the job this month after 14 years (Martin Kidston/Missoula Current)
On a warm July morning last year, a truck completed its journey from Washington, D.C, arriving in Missoula at the Montana Museum of Art and Culture carrying several nondescript pine boxes.
Inside those boxes lay the treasured art collection of copper baron William A. Clark. Their arrival – met with great anticipation – capped a milestone in museum director Barbara Koostra's long career.
"Some of Clark's vast art collection coming to Montana permanently, nearly a century after his death, is a profound and important moment in our state's long, historic relationship with the Copper Kings," Koostra quipped that morning.
Given the prominence of that collection and the achievement it represented, it came as a surprise when five months later, the University of Montana announced that Koostra would be leaving the museum.
The school, working to trim costs and restructure its faculty and staff, opted not to renew her contract after 14 years, The announcement came as a surprise to the art community, as well as to Koostra.
"On the heels of obtaining the Clark collection, it took my breath away that that would be a response to adding so richly to the collection and its value," Koostra told the Missoula Current. "I don't know where the genesis of this change even began. There was never any input solicited from me or my staff as to how to reposition the museum within the structure of the university."
The Clark collection – itself an artistic look into European art in the 19th century – now hangs on display in one of the museum's small galleries. Koostra considered the pieces last week – paintings by Jean-Baptist-Camille Corot and Jean-Charles Cazin, among others.
Standing amid the collection, Koostra also considered her future after so many years with the museum. She'll continue announcing Morning Classics on Montana Public Radio, and she'll explore what she described as other "discrete" projects.
"I'm taking a little rest and reassessing," she said. "This came as a shock. My goal is to continue to be a service to Montana and Missoula in some way. I'll be open for ways of expressing that in the future."
Before returning to Missoula, Koostra spent 17 years performing at the Kennedy Center for the Performing Arts. After earning her MBA from the University of Montana, she stepped in as director of the Missoula Cultural Council before serving the National Endowment for the Arts in Washington, D.C.
But in January 2005, Koostra was named director of the Montana Museum of Art and Culture in Missoula. During her interview for the job, she got her first deep look at the museum's treasured collection.
"I was shown the primary storage area for the collection, and pieces were pulled out for me to look at," she said. "I was stunned at the beauty, the richness, and I wanted to help that collection. I wanted to serve what it represented – a lot of Montana history, world history, and a lot of fabulous artists and donors."
In the years that followed, the museum would see the value of its permanent collection swell to 11,000 treasures with a combined value of $30 million. It also unveiled several noteworthy exhibits, including Pulitzer Prize-winning photos, the Ben Steele POW collection, and that of Francis Carol Brown – the daughter of Marcus Daly.
Shakespeare's First Folio found its way to the university in 2016, as did art by Claud Monet, Renoir, Degas, Rembrandt and Picasso. The William A. Clark collection punctuated Koostra's success last summer and added an estimated $2.1 million to the museum's permanent collection.
But despite its artistic prominence, what's often described as Montana's most complete and prized collection of art still lacks a worthy venue, and much of the work sits tucked away in storage. When the Clark collection comes down, it may be years before Montanans see it again.
It's something Koostra looks upon with great frustration.
"I wanted to try my best to create a worthy home for that collection," she said. "Unfortunately, I didn't find the support for the collection that I had dearly hoped for. We had other collectors watching and waiting and hoping they could join the line of givers over decades and decades."
Efforts to build a museum worthy of housing such a prominent collection of art isn't something new – it's been talked about for years and dates back to the University of Montana's prior administration.
In 2014, UM asked the Montana University System's Board of Regents to approve spending $10 million in private funds to construct a new Montana Museum of Art and Culture.
Back then, former UM President Royce Engstrom said, "There's some exciting potential out there that could develop very quickly. We want the authority to go forward as we bring in the money."
Five years later, nothing has changed less a restructure of the museum and Koostra's departure.
"It's been very frustrating at times," Koostra said. "We are a community that prides itself greatly on our artistic visions. It would be an enhancement of the university and the community and the state and the region to have a place that honored and celebrated these pieces of art. It would draw even more collections and support if we had an appropriate facility."
Every occupation my be filled with setbacks and frustrations, Koostra said. But when Koostra looks back over her tenure at the museum, she does so with pride and satisfaction.
"I'm very proud to have doubled the value of the permanent collection to now, conservatively, probably worth $25 million to $30 million," she said. "I truly enjoyed working with the generous souls who love art and appreciate the stories it tells. It's a long list of people you want to be there for and to serve."