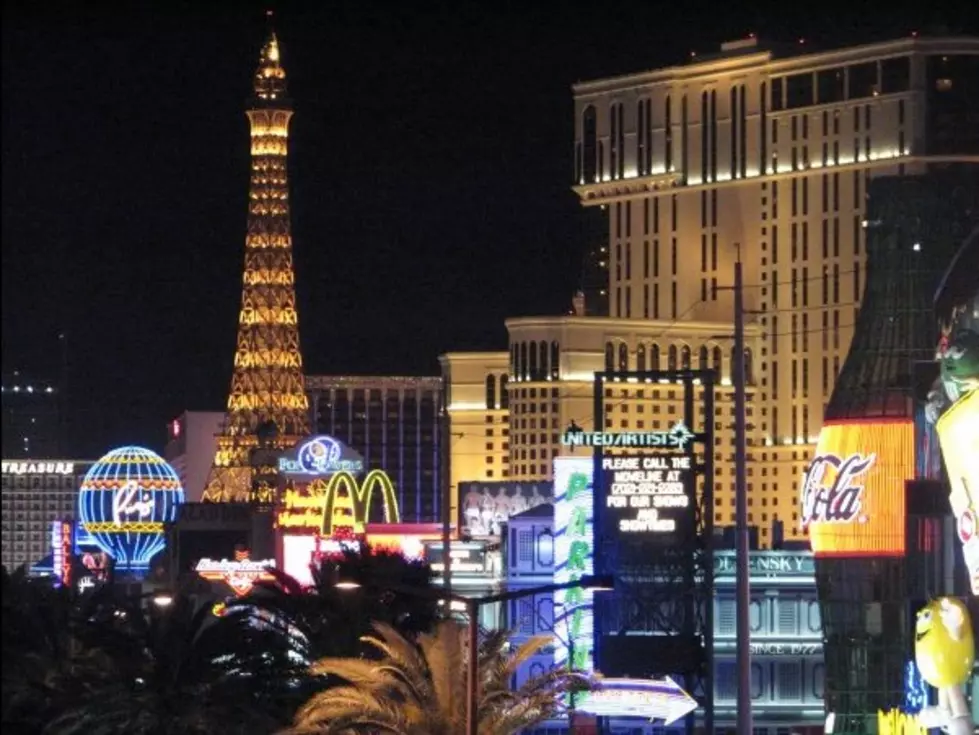 Las Vegas Sands, Wynn, Caesars make Top 100 list of most overpaid CEOs
A nighttime view of the Las Vegas Strip. (Martin Kidston/Missoula Current)
April Corbin Girnus
(Nevada Current) Las Vegas Sands Corp. may have ended its tenure on the Strip last year, but not before lining the pockets of its newly appointed chief executive officer, according to a new report from shareholder advocacy group As You Sow.
Sands Corp. CEO Robert Goldstein was named the seventh most overpaid CEO in the country. The ranking puts him in a Top 10 that includes executives from Warner Bros, Estee Lauder and JPMorgan Chase.
As You Sow analyzed S&P 500 companies based on three criteria: CEO pay compared to shareholder returns, votes against CEO pay packages, and the ratio of CEO pay to median worker pay.
Goldstein, a longtime executive at Sands, was named chairman and CEO in January 2021 following the death of founder and notable billionaire Sheldon Adelson.
Goldstein received $31.2 million in compensation that year.
The median annual salary for Sands employees: $35,879.
That means for every dollar earned by a typical worker that year, Goldstein received $866.
HIP Investor, which compared CEO pay to company financial performance for the As You Show report, estimates Goldstein's pay package should have been around $13.8 million.
Sands Corp. reported that votes representing only 34% of shares opposed the CEO compensation package. But As You Sow determined that votes representing 97% of institutional shares were against Goldstein's compensation. The report argues institutional investors are a truer reflection of shareholder opinions, since CEOs and other insiders often control significant numbers of shares or votes, thereby skewing the vote breakdowns reported by companies.
Only three other companies had higher percentages of institutional votes against their CEO pay packages.
Sands sold its Strip properties — the Venetian, Palazzo and Venetian Expo Center — to VICI Properties and Apollo Global Management for $6.25 billion in a deal finalized in February 2022. Sands still operates casinos internationally and is reportedly looking to open a resort in New York.
Sands was one of three Nevada-based companies to appear on As You Sow's top 100 overpaid CEOs list. Caesars Entertainment CEO Thomas Reeg and Wynn Las Vegas CEO Matt Maddox also appeared — 54th and 91st, respectively.
Reeg received $22.6 million in his capacity as Caesars' CEO while rank-and-file employees at the company's various properties, which include the eponymous Palace, Paris Las Vegas and Harrahs, earned a median wage of $35,618. That means for every $1 earned by a typical worker, Reeg received $634.
Based on the company's financial performance, Reeg should have been expected to earn closer to $15.5 million, according to the report.
Meanwhile, Maddox received $12.9 million compared to the median employee annual salary of $44,048. That means for every $1 earned by the workers at Wynn and Encore, Maddox received $294.
M Resort's owner, Pennsylvania-based Penn Entertainment, also appeared on the overpaid list. Penn head Jay Snowden was named the third most overpaid CEO in the country. He received $65.9 million in compensation in 2021 — more than five times what CEOS in his peer group were paid, according to the report.
The CEO to worker pay ratio at Penn: 1942 to 1.
Overpaid 'even by their own terms'
Eighty two percent of S&P 500 CEOs were paid bonuses at or above 100% of target, something As You Sow argues should indicate to shareholders and the public that the performance expectations set for CEOs are too low.
"When 82% of CEOS are getting their bonus, the bonus becomes an entitlement," said Rosanna Landis Weaver, the director of wage justice and executive compensation at As You Sow. "It's not really rewarding."
Executive compensation across all S&P 500 companies went up 20.9% last year while typical wage earners earned only 5.3% more, said Robert Reich, a former U.S. labor secretary in the Clinton administration who now speaks out about economic inequality. For the overpaid CEOs, compensation went up 30.6%.
Most people, Reich added, saw almost no increase or even a decline in their wages after inflation adjustments.
"It would be one thing if these companies with the highest paid executives were performing exceedingly well even by their own terms — that is, maximizing shareholder returns — but they're not," said Reich.
As You Sow found that shareholder returns for companies that have appeared numerous times on their annual overpaid CEOs list were notably lower than shareholder returns at companies that have never appeared on the list. About half of all S&P 500 companies have not appeared on the overpaid list, which is in its ninth year.
Reich and As You Sow are calling on institutional investors to take a more active role in opposing excessive CEO pay on the grounds that the overpaid CEOs are underperforming and hurting shareholder value.
As You Sow noted that international financial fund managers vote against excessive CEO pay packages at a significantly higher rate than US-based firms.
BlackRock, the largest U.S.-based financial fund manager, voted against S&P 500 CEO pay packages just 5.7% of the time in 2022, though they voted against 25% of packages for the top 100 most overpaid CEOs, according to the report.
By comparison, HSBC Asset Management — part of HSBC, the largest bank in Europe by total assets — voted against 95% of pay packages of the 100 most overpaid CEOs. It has also acknowledged "the impact high executive pay has on economic inequality and social cohesion" and vowed to "vote against pay outcomes that do not meet our framework for fair executive pay."
That framework is described as a CEO earning "between 20 and 170 times the national median wage in the United States and the United Kingdom."
BlackRock notably manages the pension fund for the Nevada Public Employees Retirement System (PERS) and share votes are delegated to BlackRock financial managers.