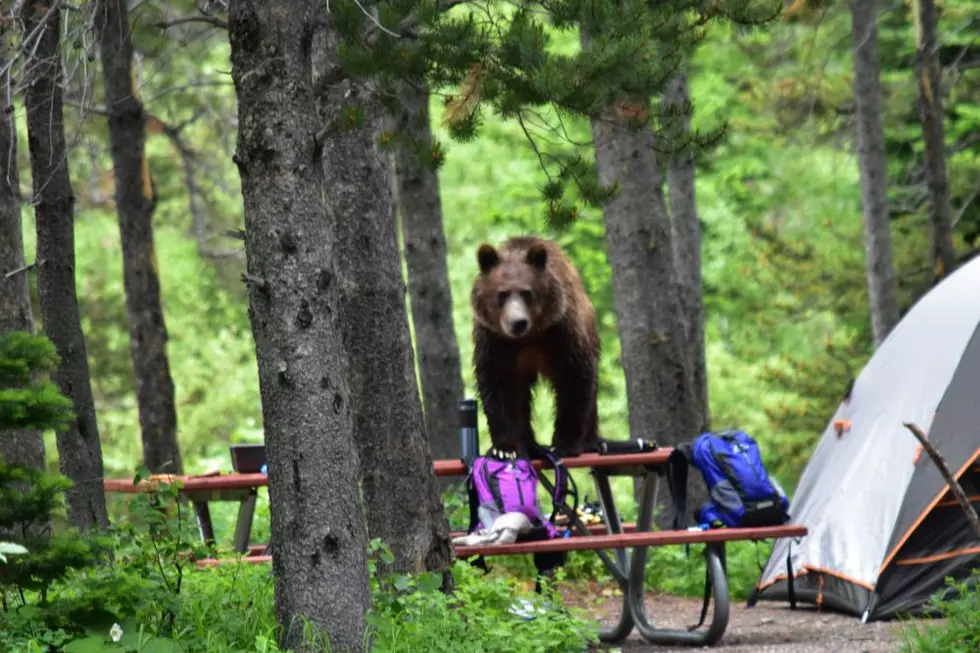 Many Glacier Campground reopens to tents after grizzly bear eludes capture
On June 30, this small grizzly bear climbed atop a picnic table in the Many Glacier Campground to eat two brook trout just caught by campers. (Photo Courtesy D. Hanlon)
A grizzly bear that entered the Many Glacier Campground in late June and ate two brook trout campers were cleaning at a picnic table has eluded capture by Glacier National Park officials.
With no sightings of the small grizzly since then, bear managers on Monday suspended efforts to trap the bear and reopened the campground to tent camping.
Since June 30, Many Glacier Campground had been open only to hard-sided campers – no tents or other soft-sided rigs.
In a written announcement, park officials said they will continue to monitor for unusual grizzly bear behavior in the Many Glacier area, which is home to a significant number of grizzlies, with frequent sightings by visitors.
The problem with this particular bear, estimated at just 150 pounds, was its obvious food conditioning.
It climbed on top of a picnic table where two campers had just returned from fishing and were cleaning their catch. After eating the fish, the grizzly sniffed, pawed and bit two nearby backpacks.
The campers used bear spray in an attempt to prevent the bear's approach, but it was undeterred.
When park rangers responded, they tried to haze the bear out of the campground, but the bruin took its time, digging into two fire pits first, and sniffing picnic tables, a tent and an RV with visitors sitting inside.
Park officials said the same bear was seen several days earlier on the nearby Swiftcurrent Nature Trail and was unafraid of visitors – although it showed no sign of aggression.
Since the incidents, rangers have taken both an educational and law enforcement approach to reminding visitors of regulations governing food storage in Glacier Park.
Once bears are food conditioned, they must be removed from the population and are most often killed. Thus the frequent warning to visitors that "a fed bear is a dead bear."
In Monday's announcement, the park reported that in two days this past weekend, rangers made 19 contacts for food storage violations and issued citations and warnings.
They also confiscated 12 coolers left unattended in parking areas, according to the park, and moved unattended food to bear boxes at two campsites.
"Once bears have successfully obtained unnatural food from people or become accustomed to foraging in developed areas, it is very difficult to change their behavior to return to wild areas and natural food sources," park officials said in an earlier report. "Once they have received a human food reward, they often become a safety hazard as they become increasingly aggressive seeking out and obtaining subsequent food rewards.
"In 1976, a conditioned grizzly bear dragged a camper from her tent in the Many Glacier Campground and killed her."