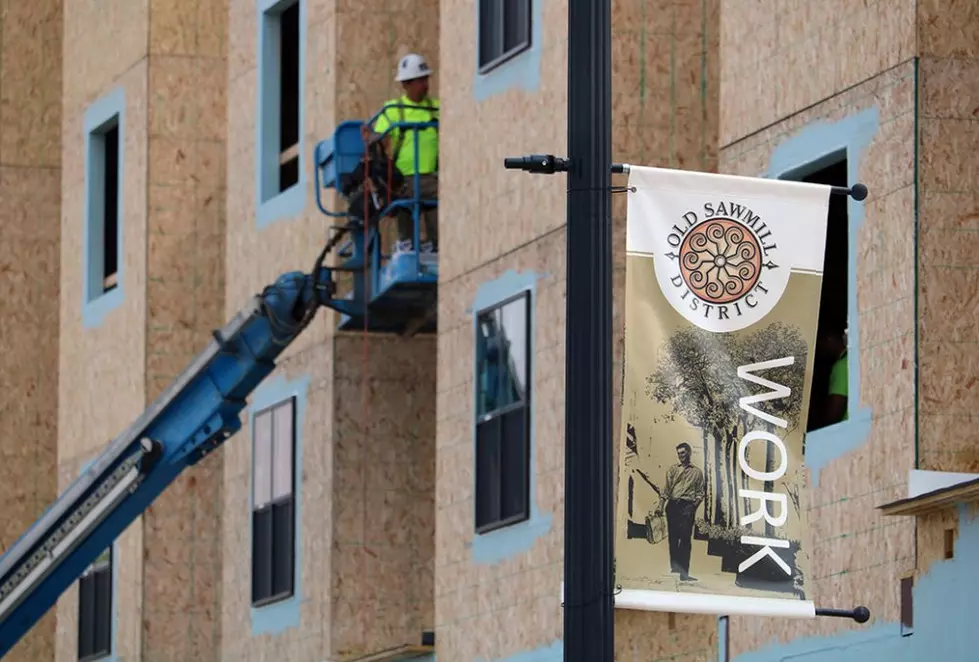 "Shocking" loss of market value in certain city districts has Missoula leaders perplexed
Despite robust construction, Urban Renewal District II lost roughly $9 million in market value this year, while District III lost $4 million in value. A construction worker applies windows in one of the projects unfolding in the Old Sawmill District, located in District II. (Martin Kidston/Missoula Current)
The Missoula Redevelopment Agency is working with city officials to fully understand what's being billed as a "shocking" drop in market value in two city districts and little increase in another, leading to a poor showing in this year's taxable values.
Regardless, the agency's board of directors on Thursday said it will work with local taxing jurisdictions to help close the resulting gap in their general funds by releasing a one-time remittance of roughly $2.7 million.
"Whatever number is going to the city, each of the other taxing jurisdictions gets a proportional amount," MRA Director Ellen Buchanan said after Thursday's board meeting. "We're in the process of analyzing where to take that from and how to distribute that."
Under the proposal, the city would receive $750,000 from MRA, triggering a percentage for release to Missoula County, Missoula County Public Schools and Mountain Line, among others.
Exactly how MRA opts to remit those funds hasn't been determined, Buchanan said. Some of the Urban Renewal Districts don't have the contingency funds available, including the Hellgate URD, which hasn't seen any activity.
The contingency funds remaining in the other URDs will be analyzed after this year's mill value is determined, according to MRA staff. That will determine where the remittance will come from.
What is known, Buchanan said, is that the Riverfront Triangle URD saw an increase in revenue, largely due to the construction of Stockman Bank. The North Reserve and Scott Street URD also saw a revenue increase related to the construction of Consumer Direct and its new office building.
More baffling was the "shocking" loss of value in URD II, which fell an estimated $9 million, and URD III, which lost $4 million in value. Why that occurred remains a mystery the city is working to solve.
Board members said Whitefish and Bozeman experience similar outcomes.
"We're at a loss to know where that came from," Buchanan said. "With all the development going on in the Sawmill District (District II), how do you lose $9 million in market value? We're trying to dig through that."
That district alone has seen the construction of four high-end condominium buildings and one of the largest office buildings in Missoula. All five projects were either opened or under construction on Jan. 1 when the Montana Department of Revenue certified this year's taxable values.
In the Front Street URD, construction of the Residence Inn by Marriot, the Roam student housing project and a row of upscale condominiums were also out of the ground, though they netted an increase of just $16,000 in taxable value.
"The increase in Front Street didn't come close to what we assumed it would be," Buchanan said. "I think the general conclusion is that a lot of people appealed their taxes last year and did so successfully. Those adjustments would counter whatever increase we should have seen."
When last year's taxable values were released, many local businesses and some homeowners saw a sharp and confusing increase in property values. One business on Brooks Street saw the assessed value of his property jump 118 percent, even though no improvements had been made. A hotel on Broadway said its bill jump $20,000, not the typical 1 to 5 percent.
That has left some city leaders to speculate that many property owners successfully protested last year's values. Buchanan said it may explain why the market values in certain city districts fell or didn't increase as expected.
"If in fact people appealed their assessments last year and they got adjusted, they got adjusted this year, so it's reflected in this year's taxes," Buchanan said. "We're going to get all the data from the state and go through and try to understand the trend of what's going on. It may be a complete aberration."
Members of MRA's board expressed their desire to help the city with its budget challenges, though they also defended the city's URDs and their success at generating projects. Without them, they said, there wouldn't be any funding for the city, county and school district to fall back on in challenging tax years, such as this one.
Still, they said, the funds generated by the city's districts are needed to invest in other critical projects, including transportation improvements, affordable housing, and job-creating projects in partnership with private developers.
Those partnerships and the availability of TIF funds could be critical in developing affordable housing in parts of Missoula, as well as bringing other rumored projects to fruition.
"Just because the funds aren't already committed doesn't mean they're not needed," said board member Ruth Reineking. "They're critical for redevelopment in the (Brooks Street corridor), and potentially for housing. I'm thinking about the need for housing in Missoula that's affordable and obtainable and how we can help with that. Our funds aren't committed to any of those projects, but I like knowing they're available."