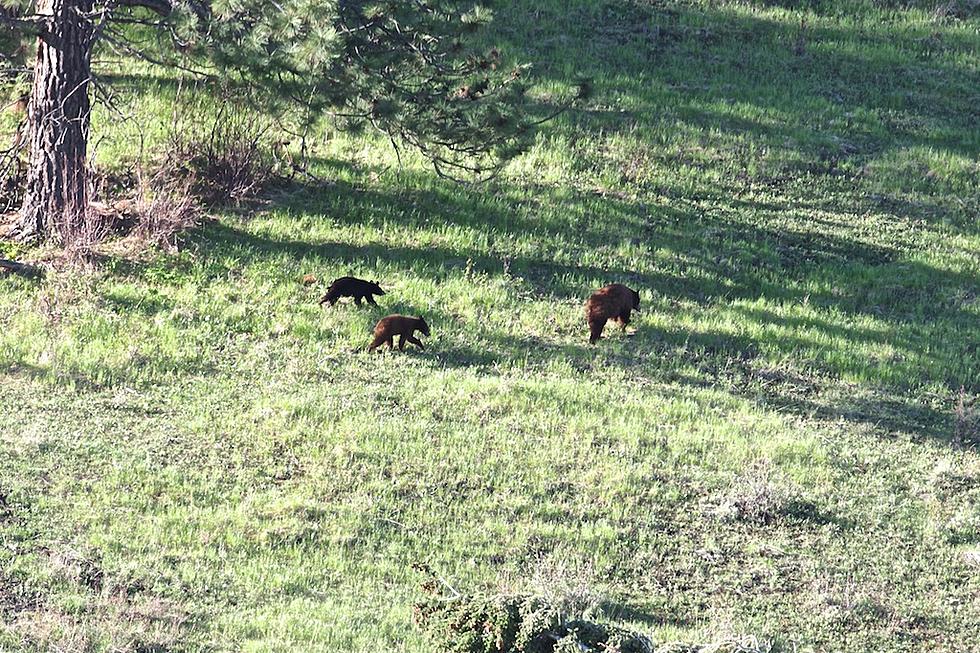 Missoula closer to expanding bear buffer, requiring containers
Bears in the greater Missoula area. (William Munoz/Missoula Current)
Martin Kidston
(Missoula Current) With bear conflicts on the rise, Missoula County has voiced its intent to adopt changes to existing health codes that would expand the bear buffer zone around the city and implement over three years a measure requiring bear-proof trash containers.
While the new rules would address a number of changes to current solid waste regulations, the biggest change relates to bears and the public's call for efforts to reduce conflicts that often arise over poor garbage storage.
"We want to limit bears' access to garbage in the Missoula area," said Shannon Therriault, director of environmental health and the City-County Health Department. "Bears that get used to seeking food become emboldened. They damage property seeking food. They become a safety risk for people and pets, and it becomes deadly for the bears. They'll sometimes have to be removed and sometimes killed."
The city and county of Missoula last year adopted a "Bear Smart" resolution, setting the stage for further policies and practices to reduce conflicts with bears. Recommended by a working group comprised of wildlife biologists and others, it focused on a model practiced in British Columbia.
If the county adopts the new rules at its second hearing – and the Missoula City Council follows – the new regulations would shore up what many have described as lackadaisical garbage and food storage among some area residents.
"The rule that applies to the bear buffer zone isn't widely complied with. It says you either have to have a bear resistant container or put garbage out the day that it's collected to keep it away from bears at night," said Therriault. "The reality is, most people don't comply with that rule and it's time intensive for enforcement."
Wider buffer and bear-proof bins
The Bear Smart resolution adopted last year committed Missoula to becoming smarter with its trash, along with a push to become more harmonious with native wildlife. Efforts moving forward will focus on education and promotion of best practices, along with a new ordinance and enforcement.
It also extends the bear buffer zone, pushing it further away from the city limits. It would also require bear-proof trash bins in those areas.
Jamie Jonkel, a biologist with Montana Fish, Wildlife and Parks, said that while the wet spring and summer provided a hearty natural food crop for bears, conflicts still occurred. Biologists euthanized two sub-adult black bears in Missoula that had entered open homes seeking garbage.
Two weeks ago, bears were spotted in various urban neighborhoods, including the University of Montana campus. They're also entering the Rattlesnake area searching for urban apples and what remains of the chokecherry and hawthorn crop.
"Last year we had a food failure and it was horrendous. We had over 2,000 bear conflicts," Jonkel said of the Missoula area. "We had to relocate 40 black bears last year and destroy or euthanize 13. We had 15 bears shot by homeowners. We had a phenomenal 38 road-kill black bears."
Jonkel attributed most of the road kills due to garbage stored along highways and frontage roads in outlying areas. The bears are attracted to the garbage and hit by vehicles. And it's not just black bears, Jonkel said.
"We've seen an increase in grizzlies in Missoula. We've had several encounters in that Marshall Creek area. In Clinton, we've had four different grizzlies show up there this summer. Two got into garbage."
Potomac also remains a growing problem, he added.
"The garbage is left out at bus stops and road junctions. It started with chronic black bears and now it includes at least four grizzlies," Jonkel said.
According to an FWP conflict report, around 49% of bear issues are due to garbage, 16% due to bird feeders and 8% to fruit trees. Another 8% are related to livestock and pet food, and 6% to human food stored in outdoor freezers.
As it stands, the proposed expansion of the bear buffer zone, the requirement for bear-resistant containers and other measures, including education and enforcement, have broad support. Garbage haulers say it will cost a household around $5 to $10 a month for a bear-proof bin.
If adopted, the bear-proof requirement would be phased in over three years.
"We all live in bear habitat and we have a responsibility to help the bears live here," said Chris Servheen, a former U.S. Fish and Wildlife bear coordinator. "This work we've put together and this bear-resistant garbage program will go a long way in making us live successfully with bears in the Missoula Valley, in Potomac and the rest of Missoula County."