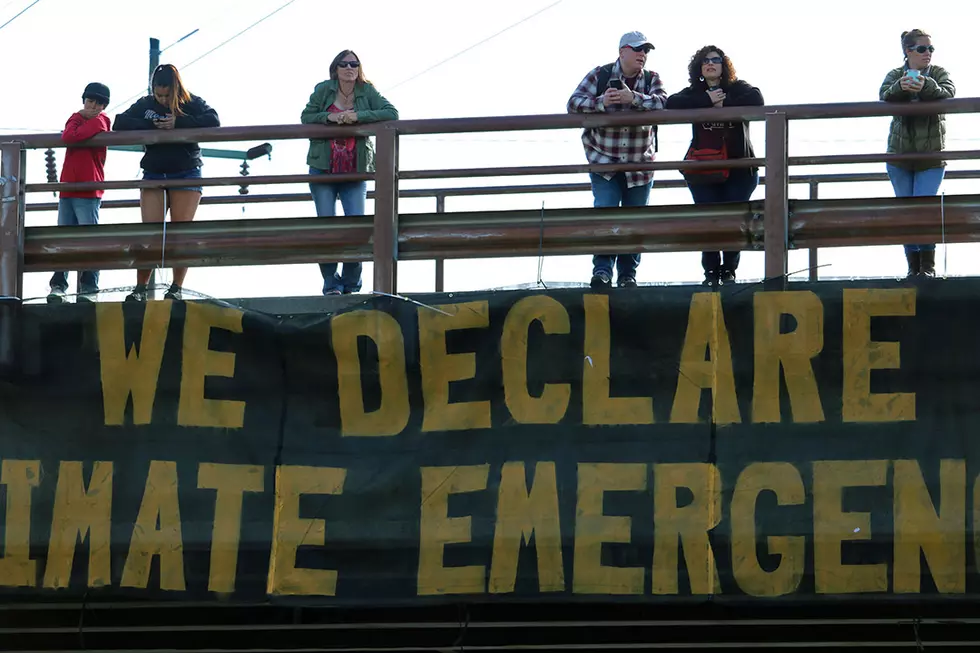 Climate change: Missoula County, city to unveil plan naming threats, coping strategies
A crowd gathered on the Higgins Avenue Bridge this summer during a climate rally in downtown Missoula. The City of Missoula and Missoula County will unveil Climate Ready Missoula next month, detailing the threats posed by climate change and ways the community can prepare for them at the local level. (Martin Kidston/Missoula Current file photo)
Nearly two years after joining forces to prepare for the impacts of climate change, the city of Missoula and Missoula County plan to unveil their first draft resiliency plan next month.
In partnership with Climate Smart Missoula, the plan – dubbed Climate Ready Missoula – looks to ready the region for frequent flooding, intense wildfires and other changes resulting from a shifting climate.
"It's an 18 month community process to develop a climate resiliency plan for Missoula County," said Diana Maneta, one of the plan's project leaders. "We started by looking at locally specific climate projections and working with stakeholders to identify the greatest risks we faced."
Those risks include hotter and drier summers, warmer springs resulting in frequent flooding, and a more intense and prolonged fire season, not unlike that experienced in 2017.
Low elevation snowpack is expected to dwindle sooner in the season, increasing the likelihood of summer drought and wildfire. The results could have broad impacts ranging from recreation to the local economy.
"The plan identifies quite a number of things we should be doing as a community to address these risks," said Maneta. "We're aiming for adoption of the plan by the Board of County Commissioners and the City Council in the spring."
While the resiliency plan is the region's first, local governments have worked to address climate change at the local level for the past several years.
The Missoula City Council signed the "We Are Still In" pledge in 2017, citing the "scientific consensus regarding the reality of climate change." The city and county also have developed energy conservation goals, vowing to power the region with 100 percent clean electricity by 2035.
Both governments have adopted a climate action plan and completed an inventory of local carbon emissions as well.
Upon it's release, the resiliency plan will identify future threats and recommend coping strategies. They range from clean indoor air during periods of intense smoke to protecting the wildland urban interface from future fires.
"There's strategies around reducing the vulnerability of our buildings during wildfire, and strategies around our natural systems and how to support their resiliency to climate change," said Maneta.
"Some of these are things happening to some degree in our community already. The idea is to make sure we're doing it in the context of what these climate projections are telling us."
A draft of the plan will be released in January at City Club Missoula.