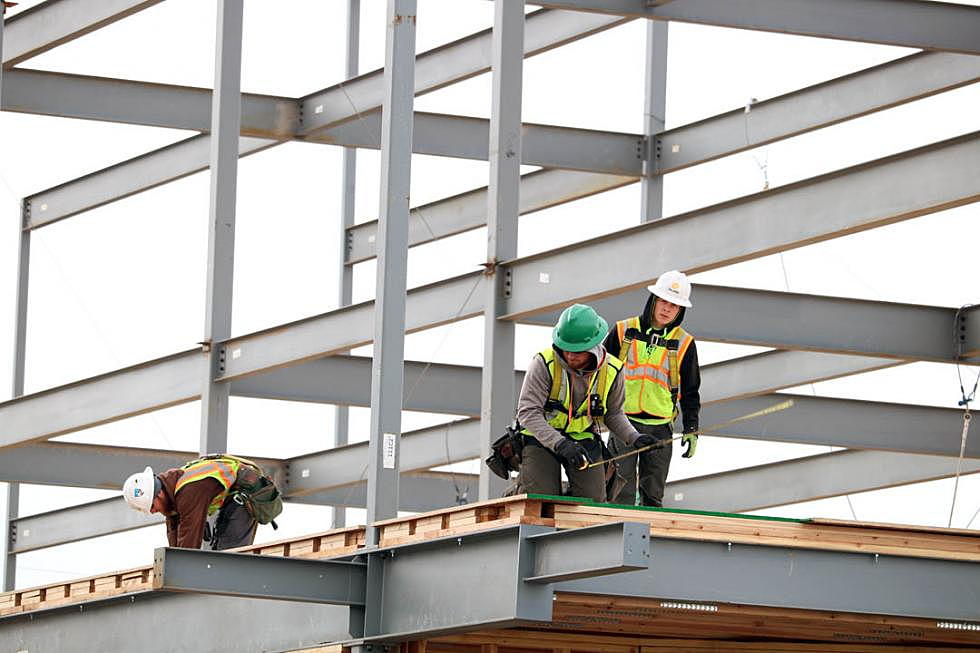 Missoula contractors hungry for skilled workers; bracing for jump in steel prices
Crews work on the Roam student housing project in downtown Missoula last year. Industry experts believe President Donald Trump's tariff on steel and aluminum may slow construction and make projects harder to pencil out as they become more expensive. (Missoula Current file photo)
It took Jackson Contracting Group 18 months to build Missoula College, a project that rang in at $26 million, or $237 per square foot. And while the project ran smoothly from shovel to delivery, the site conditions proved challenging.
"One of the things we didn't consider, and what all of us in Missoula know, is the difficulty of building on that site – the Hellgate winds," said Joe Easton, the contractor's project development manager. "The Hellgate winds in the winter, building at that location, were very difficult."
Easton this week touched on the challenges facing general contractors in Missoula as they tackle the latest growth cycle, one that has led to a flurry of new projects and hundreds of millions of dollars in new investment across the city.
The work, from a new downtown hotel and student housing project to warehouse growth at the county's industrial site by the airport, has led to growth in wages and employment, but it also has stretched contractors thin.
"There are several factors that influence a general contractor's cost that may not be considered beyond design or cost or materials, and that's subcontractor availability," said Easton. "The reason we have so many employees compared to other general contractors is because we have a lot self-performance capacity, because subcontractor availability is so tight."
Coupled with the building activity, workers retiring from the skilled trades have put a pinch on contractors like Jackson. And while programs like the state's new apprentice effort and the heavy equipment class at Missoula College are expected to help, contractors remain hungry for skilled workers.
"If you're considering opening up as a drywall manufacturer or installer, come see me," Easton said. "Carpentry, drywall, painters, laborers – there's a ton of opportunity for trades."
Other factors beyond local control are also influencing the cost of projects in Missoula, including construction materials. As it stands, Easton said, the most volatile materials lie in steel and metal.
President Donald Trump's new tariff on steel and aluminum won't likely ease the situation. Industry experts believe the tariff may slow construction and make projects harder to pencil out as they become more expensive.
"We're getting quotes from our suppliers right now that are holding prices for three days," Easton said. "Most of the time, we're getting prices from estimators and our subcontractors saying they're good for 45 days. Right now, it's three days."
Easton, who spoke at Sterling CRE's second annual Market Watch in Missoula, said the traditional design-bid-build method is also falling out of favor, replaced by more efficient ways to approach construction projects.
Over the past decade, Jackson has found that the old method doesn't deliver the best value, nor the lowest costs. Instead, the so-called construction manager at risk has become the new norm. It's a process that's also been used lately by the city for several projects.
"The architect, engineer, general contractor, banker, investor and adviser are all the table at the very beginning, sharing their goals and costs," Easton said. "We can look at design and pick it apart at the very beginning and share our costs and how we can meet budget goals or schedule goals, and not wait for 'bid day,' when you open your envelope and you're 25 percent over your budget and you have to go back out and redesign."
While architecture, size, materials and location often dictate project costs, Easton said, other unexpected issues have posed challenges to recent projects. Site conditions are often overlooked by investors, though in Missoula, it's something that should be considered.
The valley is comprised of different soil types and histories, such as Missoula College, where a century of foreign debris was uncovered during excavation. Other sites have been plagued by similar issues, Easton said.
"Out at the Missoula Development Park, it's heavy, tight, dense clay material that requires over excavation and back fill," Easton said. "Over at the (Sawmill District), it's your traditional Lake Missoula river bed, and we came across boulders."