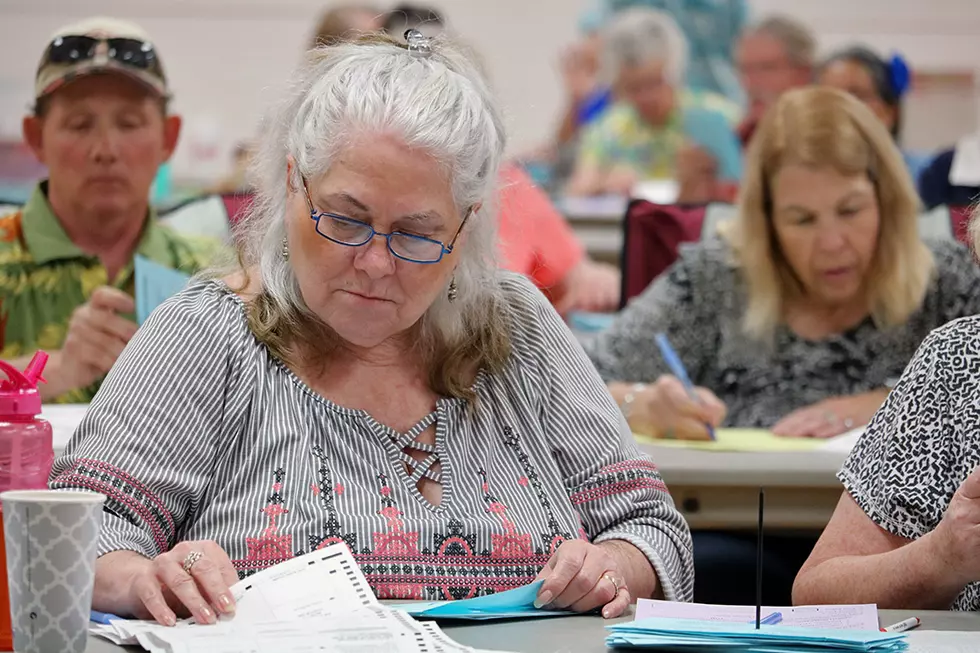 Missoula County to buy $1.87M Russell St. property as future elections center
Missoula County election workers count ballots deep into the night. (Martin Kidston/Missoula Current file)
The Missoula County Elections Center could be leaving its Midtown location at the county fairgrounds for a vacant building on North Russell Street, so long as a buy-sell agreement approved on Wednesday holds tight.
Commissioners agreed to the $1.87 million deal at their morning administrative meeting, saying the transaction is set to close in September. The resulting tax increase will settle in at around $2.54 a year for a $300,000 home.
"I know it's a need we have," said Commissioner Dave Strohmaier. "It's opportunistic. It's not something we necessarily sought out."
Vickie Zeier, the county's former elections supervisor who now serves as the chief administrative officer, said the Elections Office currently uses space at both the Missoula County Courthouse downtown and the fairgrounds.
The courthouse is short on parking, making it necessary for the county to hold elections at the spacious fairgrounds. But even there, she said, the elections center is spread across several county-owned buildings, making it not ideal for elections operations.
"We use a lot of staff and a lot of space," she said. "When we point out absentee ballots, all of that processing is done wherever we're holding the elections. In the 2018 election, our absentee numbers grew from 2016, and in 2020, I believe our numbers will go well over 50,000 absentee ballots."
Missoula County has also seen a growing number of late voter registrations in recent years, she said. Prior to election day, the number of late registrations grew from around 500 in 2010 to more than 1,800 last year.
The sheer number of paper pieces has also become a challenge. Last year, she said, elections officials handled nearly 1.3 million individual sheets of paper
"That's envelopes, requests for absentee ballots, rejection notices and undelivered ballots – I could go on and on," Zeier said. "I'm trying to give you somewhat of a perspective of the amount of space. When you have a three-page ballot for one precinct, it's important to realize the amount of space those ballots take up."
The building eyed by the county was formerly occupied by the Western Montana Mental Health Center at 140 N. Russell St. It includes roughly 7,700 square feet of office space divided across three floors and will require around $500,000 in renovations.
The ground floor would accommodate non-election events while the basement would serve to tabulate ballots. The upper level would be used to process ballots.
"Currently we operate in several buildings and move ballots back and forth between buildings," Zeier said. "It will all now all be within one area with no outside exposure whatsoever."
Roughly 64,400 square feet of land also comes with the deal. As part of its vision, the county plans to build a 4,400 square-foot addition. The open-office concept would be large enough to house election events and would be funded by acquiring grants.
When elections aren't taking place, the sheriff's department could also use the space to store equipment and conduct training, the county said. It could also serve to house emergency operations.
"During the 2018 flooding, we were using all of the current space available in the courthouse emergency operations space," said Chris Lounsbury, the county's chief operating officer. "Even though we were using all that space, we found we didn't have adequate space for the number of agencies that were participating. This space could potentially be used as an emergency operations center."
The purchase will result in annual debt service payments of $139,600 for 20 years. The county plans to levy around .63 mills to cover the purchase, which is set to close in September.
"It won't impact this fiscal year," Zeier said