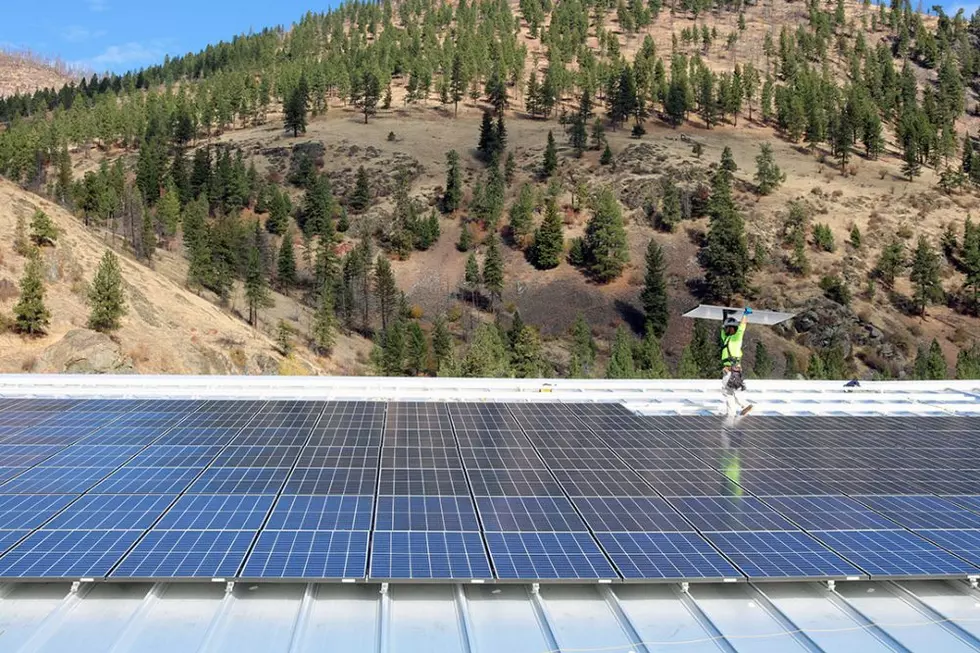 Missoula County says no thanks to NorthWestern's green tariff program; new clean energy sought
Missoula Electric Coop and Kettlehouse Brewery joined forces for a large solar installation in Bonner. The city and county of Missoula are working with NorthWestern energy on a clean energy future and the development of renewable sources.  (Missoula Current file photo)
While the city and county of Missoula are pushing toward a renewable energy future, they're not interested in NorthWestern Energy's current green tariff program, saying it doesn't bring new renewable energy onto the grid but only circulates what's already available.
Missoula County commissioners stated as much in a letter signed Thursday to the Montana Pubic Service Commission, saying NorthWestern's E+ Green program isn't relevant to Missoula in the context of its 100% clean electricity goals.
"(E+ Green) is not relevant to Missoula City and County, either in its existing form or with the revision proposed by NorthWestern Energy," the county's letter states. "Our 100% clean electricity goal is articulated such that to achieve it, we must obtain new sources of clean electricity rather than taking credit for existing renewable energy sources."
Diana Maneta, the county's energy and conservation coordinator, said the E+ Green program involves the purchase of unbundled Renewable Energy Certificates. NorthWestern has submitted an application to the PSC seeking to revise its tariff program by reducing the rate it charges customers.
Maneta, who represents the county on the Green Tariff Stakeholder Group with NorthWestern, said the program doesn't bring new renewable energy onto the grid.
"I've made it clear, as has the city, through those discussions that E+ Green tariffs just aren't really relevant to the city and county with respect to our 100% clean electricity goal," said Maneta. "It just involves the purchase of these unbundled Renewable Energy Certificates and doesn't result in the addition of new renewable energy to the grid."
In a joint session last year, city and county leaders adopted a 100% clean electricity goal for the Missoula urban area and set a target date of 2030. Last month, they also approved a memorandum of understanding with NorthWestern Energy that commits the parties to work together in pursuit of that clean electricity goal.
Roughly 95% of the electricity delivered to the Missoula urban area is purchased from NorthWestern Energy. Of that, roughly 60% comes from sources considered clean, including hydro, wind and solar.
To reach 100%, the city and county must replace the remaining 40% of fossil fuel electricity with renewable sources. That will require NorthWestern to develop more clean utilities and bring that electricity into the market.
"We are really interested in the development of new green tariffs that result in the development of new utility-scale renewable energy in the state, which city and county governments would have the option to buy into," Maneta said. "NorthWestern has ensured us they're serious about continuing to work through this (Green Tariff Stakeholder) group to develop such a program."
The memorandum signed between the city, county and utility last month outlines a baseline agreement to pursue the development of utility-scale renewable energy, improve efficiency and conservation, and modernize the electrical grid.
Among other things, the memorandum also looks to avoid "taking credit" for more than Missoula's share of renewable energy sources while leaving other parts of the state powered by fossil fuel.
"Like many corporate buyers of renewable energy, we seek to ensure that our purchases result in the addition of new renewable energy onto the electrical grid beyond what would have been developed otherwise," the county's letter states.