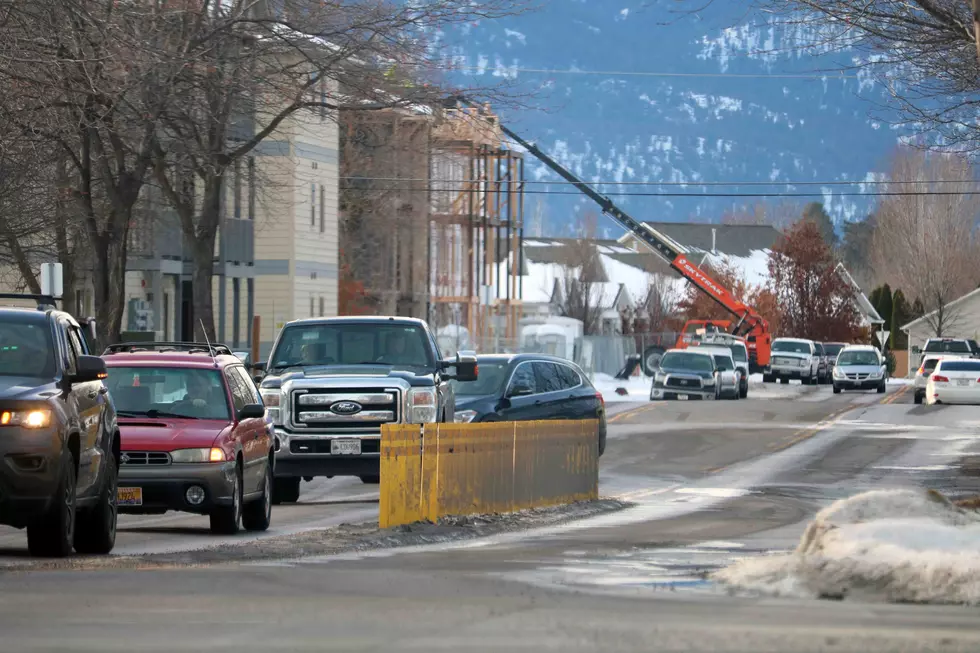 Missoula County establishes housing fund with few details on uses
Housing construction near Reserve Street. (Martin Kidston/Missoula Current)
Martin Kidston
(Missoula Current) Despite some public opposition, Missoula County on Thursday voted in lockstep to create a Housing Innovation Fund and invest $750,000 into the program.
While the county admits it has few details yet on how and where the money will be invested, it said that creating the fund represented a start. It follows on the heels of the county's new housing action plan, along with a recent needs assessment that found housing among the area's top issues.
"This didn't come out of thin air," said Commissioner Josh Slotnick. "We're following a policy that was set up. There's a lot of background behind this and a lot to do."
As adopted, the program's resolution states that multiple strategies are needed to address the county's housing needs, and that better partnerships and more resources will be necessary to meet success.
It also cites the increase in median home prices, which have more than doubled since 2010 to more roughly $550,000. The cost of housing has resulted in a lack of inventory that's affordable to many working county residents.
"To be able to afford a home of the median sales price, a family of four with down-payment assistance would need to make 170% of area median income, or roughly $140,000," said the county's housing specialist Garrick Harmel. "Given the unusual market dynamics, flexibility will be important as market and housing conditions change for the creation of future programs."
The county's spectrum of local housing needs starts with "very low income," or a family of four that makes around $25,000. The same family that makes $49,000 is also considered "low income" while a family of four earning $65,000 is considered "moderate income."
Not until the same family starts earning more than $80,000 a year does the county's housing spectrum considered it to be "middle income." The spectrum presented Thursday tops out at $160,000 a year, or a family of four earning 200% of the area median income.
"Missoula County needs housing in every portion of this spectrum," Harmel said.
Housing fund programs, investment to be determined
The City of Missoula adopted an Affordable Housing Trust Fund in 2020 and by its own resolution is required to invest $100,000 annually into the program. The Missoula Redevelopment Agency also has invested $1 million or more into the program each of the past few years.
The city plans to grow its fund to $10 million and could inch closer to achieving that goal once it sells a number of publicly-owned parcels for redevelopment. The fund established by the county on Thursday is new but like the city, it too will be fed by the sale of land in the county's development park.
The $750,000 represents a one-time investment, the county suggested.
"This is not from money people paid in property taxes this year or last. It's coming from the sale of land out at the development park," said Slotnick. "We're putting this money aside to work on housing. We're creating this fund. The next step is creating some programs. Right now, this is a space to put this money and say we're going to spend it on housing."
While the county has no solid plans in place on how and where to spend the money, it said the fund "will be nimble and flexible to address evolving community needs." It also could be used to create new programs and leverage additional funding.
But the lack of details prompted several people on Thursday to oppose the measure, saying it needed more community vetting. They also suggested the program should require "skills training" for recipients, otherwise it could be viewed as a handout rather than a hand up.
"On the lower spectrum, a family of four making $24,500 don't need a house, they need job skills so they can improve their career and better themselves to get up into a higher bracket," said David Olson. "If you have someone at the lower end of the spectrum, there needs to be more put to it. Establishing a fund at this point is putting the cart before the horse. There needs to be a discussion about programs that would be coming along with the fund."
Kevin Davis, who spearheads the Reserve Street community forum, also opposed the fund. He asked the county to wait until it knows where the funding would go and what programs would be used.
"This is a large sum of taxpayer funds, and a lot of us have questions about the track record so far on how public funds have been used for housing and homelessness. I would encourage the commissioners to postpone this until the public has more engagement opportunities on the topic and understands it better."
The county defended its decision, saying the fund's establishment follows years of work to create a housing action plan. While questions remain around the program and what it's actually for, the county said it does "a pretty good job at connecting the dots for what its programs mean for Missoula residents and taxpayers."
The county pledged transparency as it develops programs around the new pool of funding.
"This is a foundational step that provides the financial tools," Commissioner Dave Strohmaier said of the fund. "It's not an inconsequential amount of money, but it's equally not a huge amount of money given the needs here in Missoula County, particularly outside the city limits. We don't want to duplicate what's already happening in the city."