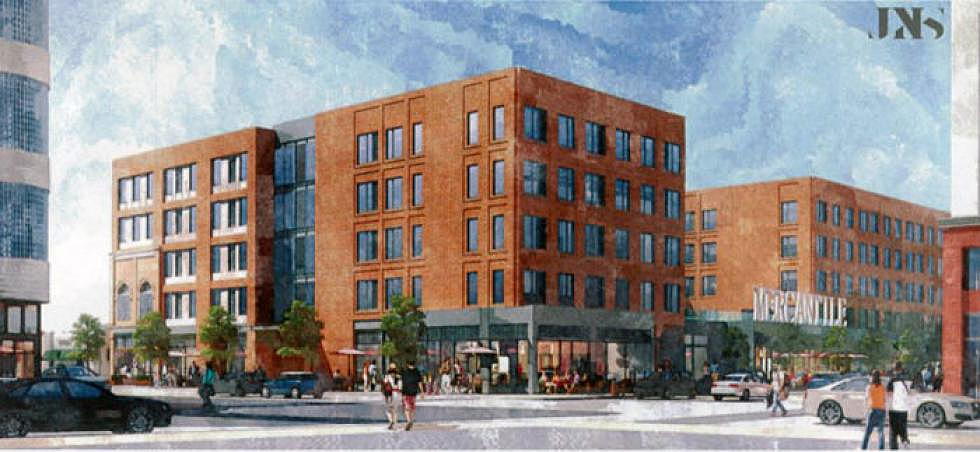 MRA approves funding to reimburse some Mercantile redevelopment costs
The new Residence Inn by Marriott planned for the corner of Higgins Avenue and Front Street in downtown Missoula is nearing its final design and is expected to break ground in early July.
The Missoula Redevelopment Agency's board of directors on Friday agreed to reinvest the tax increment generated by a new downtown hotel back into the project once it's fully completed and designed to the satisfaction of the City Council.
The ultimate size of the bond, while not to exceed $3.5 million, will be based upon the tax increment revenue generated by the project. That will be determined by the city's financial adviser and Stockman Bank, once the final terms are negotiated.
Stockman is also funding the project and has agreed to purchase the debt.
"Initially, it looked like there would not be capacity in this project to cover the entire ask," said MRA director Ellen Buchanan. "But the numbers I got back from Stockman look like there's adequate coverage, or adequate revenue to meet the coverage requirements Stockman would be asking for."
For the past two years, Mercantile Investors has been working to win approval from the city to construct a new Residence Inn by Marriott on the corner of Higgins Avenue and Front Street, an effort that is finished less final approval of the bond needed to reimburse portions of the project.
The $3.5 million request sought by Mercantile Investors covers both taxable and non-taxable portions of the $37 million project. Non-taxable reimbursements include relocation of utility lines and improvements to the public right of way, which total around $1.6 million.
The taxable reimbursements cover $1.5 million in costs to deconstruct the old Mercantile, and $335,000 to preserve the pharmacy. Both were requirements implemented by the Missoula City Council as part of the project's condition of approval.
While well intended, those conditions, however, added nearly $2 million to the project's costs – costs the developers are now looking recover.
"At MRA's insistence and request, and City Council's request, the (Mercantile) was deconstructed as opposed to be being demolished," said Buchanan. "That had a cost in terms of real dollars and time. Demolition would have been much quicker and the developers would be on a schedule they would be a little happier with."
Since its unveiling last year, the project presented by Mercantile Investors has undergone several design changes, also at the insistence of the City Council.
The developers abandoned an early rendition after it was panned by the council before receiving approval for a five-story building wrapped primarily in brick and stucco with ground-floor retail.
Barring a few final disagreements over cornices and other features, design elements are largely settled.
"You guys are doing a really good job of upholding these recommendations," said Emy Scherrer, the city's historic preservation officer. "Mainly, it's just keeping everyone on the same page and making sure we're all being communicative and don't get any big changes. I know you've worked hard on the mews, reusing and re-purposing materials and being sensitive that way. Primarily, everything's going very well."
Despite the back-and-forth with the city, Mercantile Investors developer Andy Holloran said the negotiations have helped improve the project. He expects to have a structural permit next week and begin construction on July 10, with a planned opening set for December 2018.
"We now have 177 rooms, a little more retail space on ground level, and our budget is just over $37 million," Holloran said. "We couldn't be happier coming to downtown Missoula and seeing all the activity that's going on right now. It's a great time to be in Missoula, particularly downtown."
According to MRA, the hotel's economic impact is estimated at $6.5 million annually, or as much as $13 million when multiplied for the local market. Annual hotel wages are estimated at $2.6 million, resulting in a local impact of $4.7 million.
The hotel expects to employ up to 58 people. The retail shops and restaurants on the ground floor will likely employ an additional 40 workers. Potential tenants are already looking to secure commercial space.
"We actually have our first letter of intent," Holloran said. "The group wants to take the corner of Pattee and Front (streets) in a 4,000-square-foot restaurant and bar. We've also had great dialogue with someone else looking at the main floor. My sense is that we'll have three or four food and beverage locations and a couple of retailers."
For the first time on Friday, Holloran also unveiled the working design for the hotel's ground floor, which includes materials salvaged from the old Mercantile.
That includes an abundance of wood and brick, and artifacts intended for a public mews, or internal museum running the length of the building between Higgins Avenue and Pattee Street.
"It's a very warm Montana, Missoula feel," Holloran said of the interior design. "Marriott has also agreed that all our signage can be the Mercantile."
Reporter Martin Kidston can be reached at info@missoulacurrent.com