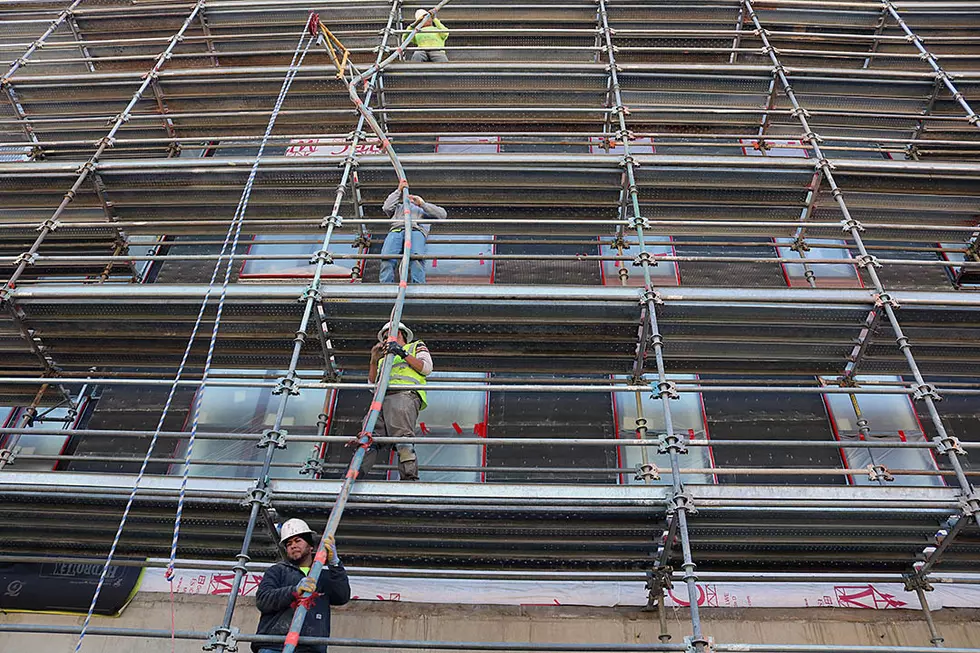 MRA's FY24 goals include investments in housing, infrastructure
A downtown Missoula housing project under construction. (Martin Kidston/Missoula Current file)
Martin Kidston
(Missoula Current) With the addition of workforce housing to Montana's definition of infrastructure, the Missoula Redevelopment Agency is working on ways to apply tax increment to future projects.
While it won't likely mean an investment in bricks and mortar, it could result in the subsidization of new housing development that's targeted to those earning between 60% and 140% of the area median income.
"We're comfortable with ways we can use those funds to supplement workforce housing and encourage its development," said MRA Director Ellen Buchanan. "We hope to take this to the MRA board in August and possibly bring something to City Council in September."
MRA this week presented its FY23 successes and goals for FY24, which lean heavily on housing and public infrastructure. But that's nothing new. Since 1978, the agency has invested in the infrastructure, property acquisition and public housing that has supported the creation of more than 2,400 new for-sale or for-rent housing units.
While some have criticized TIF investment in such businesses as banks and hotels, MRA and members of the City Council this week said the increment generated by those large-scale projects provide the revenue that supports other community goals around housing, parks, trails and basic public infrastructure.
In Urban Renewal District II, the agency has plans to light the Bitterroot Branch Trail, complete the sidewalk network, build out water mains and convert an old railroad trestle to a pedestrian bridge spanning the Clark Fork River.
In the Midtown area, the agency has spent the past several years completing the sidewalk network and also has plans to invest in water mains. In both instances, Buchanan said, the water projects will help lay the foundation for new infill development.
"That will be the district best suited for reinvestment and redevelopment if they have adequate water supply," Buchanan said of District II. "And Urban Renewal District III (Midtown) probably has as much potential to address our housing needs as any part of Missoula at this point."
Plans for FY24
MRA has a number of "ambitious" plans lined out for the new fiscal year, and many of them will either create new housing or incentivize new housing construction.
In the downtown area, MRA's focus includes the redevelopment of the old library block. The agency has contracted the Missoula Economic Partnership to vet potential developers, and an announcement is expected soon.
"That block has a ton of potential for a lot of different things. Housing will be the core of that in all likelihood," Buchanan said. "In downtown, we've got some housing projects that are on the drawing board and some other commercial investments we're trying to encourage there."
The agency also is working to see new development land in the Riverfront Triangle. A number of projects and developers have come forward in recent years but none of them have been able to bring a project over the finish line.
But Buchanan said those projects could see new life in FY24.
"We're working closely with the owners of the balance of that area," said Buchanan. "If we're successful with what we're trying to do with the Riverfront Triangle, we should see upwards of 200 to 400 new housing units there once that's been redeveloped."
MRA also is working toward the conversion of Brooks Street to a bus rapid-transit corridor. The agency landed an $850,000 federal grant last year to help vet the proposal and the steering committee met this week for the first time.
Buchanan said MRA will begin tucking away tax increment from District III this year to ensure the city has matching funds as it chases a federal grant to transform the corridor.
"That's going to require a large amount of federal funding to pull it off," Buchanan said. "We've earmarked $10 million to $15 million in match to make that a competitive project. It's probably the most prevalent thing we heard during the Midtown master planning process, that we've got to address Brooks."
Buchanan said MRA will also continue its support of affordable housing in the Scott Street area. The agency invested $1.3 million in tax increment toward the Villagio project, which will provide 200 units of income-qualified housing.
It's also supporting the redevelopment of 9 city acres in partnership with Ravara. That project will include several hundred units of market rate housing, retail, daycare and 70 units of workforce housing. Banking land in the district when possible remains an MRA goal for FY24.
"We don't know what's available out there at any given time. When there's opportunities to purchase property that can be used for housing, or the amenities needed for housing, that's something that will be a high priority for MRA moving forward in that district," Buchanan said.
The thing about housing
City Council member Daniel Carlino this week criticized MRA's use of tax increment to occasionally invest in market rate housing. But other members of council said it's those very investments that enable the city to also invest in workforce or deed-restricted housing.
"Those market rate houses that MRA invests in creates the increment to put toward projects like Ravara and the Villagio, which aren't going to pay as much out (in tax increment)," said council member Gwen Jones. "It's part of the whole equation. The reality is, we see a lot more private investment in Urban Renewal Districts in the long run."
Council member Amber Sherrill agreed.
"Economic development is slow moving. Sometimes that gets lost in the conversation, and how we develop increment, and how we're able to invest that increment back into great things for our community," Sherrill said.
Given the city's tight housing market, it currently has little fluidity, Buchanan said. Investing in new housing, even at market rate, frees up lower-cost housing for others to move up and in to. The city's housing policy also calls for housing at all price points.
"When you build housing that empty nesters can move in to, you free up housing that young families can move in to, and you free up housing that income-restricted people can move in to more easily," Buchanan said. "There's no fluidity in the market here. Helping create that fluidity in the market is incredibly important. It's just as important as building new housing. We need to fund housing as appropriate."
Additional FY24 Budget Stories
2024 Budget: Development and Planning seeks $1.5M in new requests (missoulacurrent.com)
2024 Budget: Missoula fire reiterates need for new station (missoulacurrent.com)
Hess releases FY24 executive budget, details funding priorities (missoulacurrent.com)