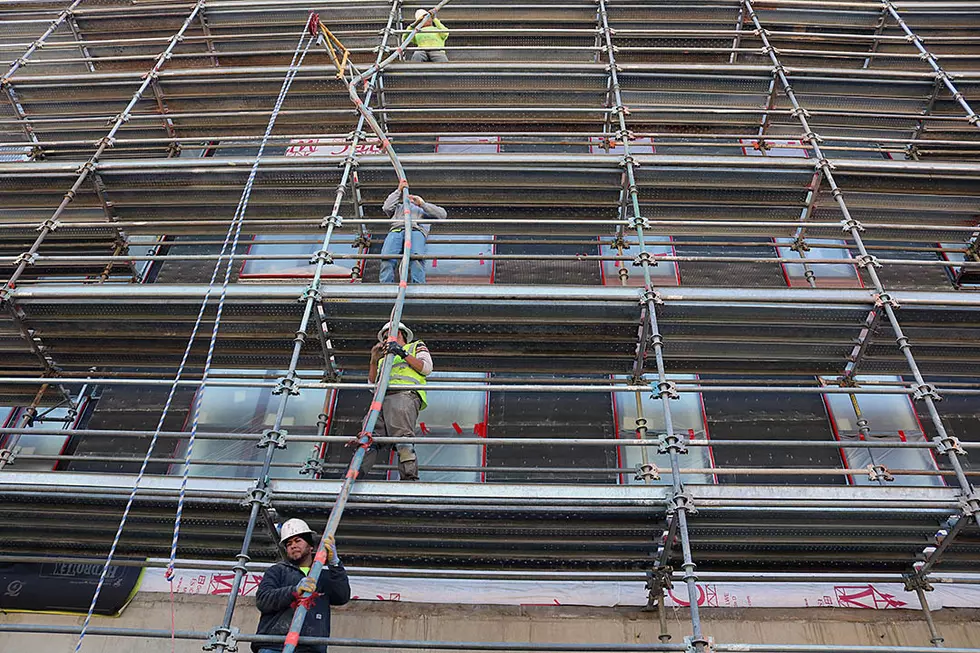 City of Missoula realigns planning and permitting, appoints new director
Crews work on a downtown Missoula building in this file photo. The city on Wednesday realigned Development Services and appointed Eran Pehan to serve as director of Community Planning, Development and Innovation. (Martin Kidston/Missoula Current file photo)
In an effort to break down silos and improve efficiency, the city of Missoula on Wednesday realigned several departments to streamline everything from land use and planning to transportation.
In doing so, it established a new singular department dubbed Community Planning, Development and Innovation, and appointed Eran Pehan to serve as its new director.
"She's demonstrated remarkable skills as a leader, a manager and a mentor," Missoula Mayor John Engen said. "I believe that in this role, she'll be able to help us put our rules and regulations in place to better align with our goals for increasing housing stock for everyone in our community."
Pehan formerly served as director of the city's Office of Housing and Community Development, which Engen created three years ago to address the city's housing shortage and resulting costs.
After its creation, the Office of Housing released the city's first housing policy, "A Place to Call Home," which the City Council adopted last June. The city continues to refine and implement the policy's various recommendations.
Other planning updates, such as subdivision review and zoning, also remain a work in progress.
"We have the road map in place, but it's time to implement and move ahead," Pehan said. "We do that through tighter, better coordination so we're all working in lockstep. The city has done a really phenomenal job in creating and adopting visionary plans, but we struggle more with the implementation side of that."
While the city addresses planning, growth and development has continued to play out an even pace, and some members of the City Council believe the city is falling behind in the process.
Developers also have voiced concern over the time it takes to get projects approved by the city, saying that such delays add cost and unnecessary risk to their projects.
Between it all, Development Services has struggled with vacancies and retention at a time when growth and development is on the rise and building projects are becoming more complex.
"What it means is that we know business as usual isn't working at the current pace of development," Pehan said. "We shouldn't settle on the status quo but look to improve and evolve."
The city had hired a new director of Development Services earlier this year, though the candidate backed out and never took the job. The department has been without a director ever since, and given the other mounting challenges, the city saw an opportunity to realign the entire program.
The new Office of Community Planning, Development and Innovation will incorporate Pehan's initial department, the Office of Housing and Community Development. Transportation Planning, which includes the Bicycle and Pedestrian Program and Missoula in Motion, will also join Public Works to form Public Works and Mobility.
Pehan said the new department will work in close proximity under a focused team approach to help expedite planning and review and improve internal communication.
"When these steps are implemented and we put these road maps to work, I think you'll see teams working in lockstep with one another," Pehan said. "You'll see more efficiency and better communication with the development community and internally with each other."
Members of the City Council unanimously approved Pehan's appointment.