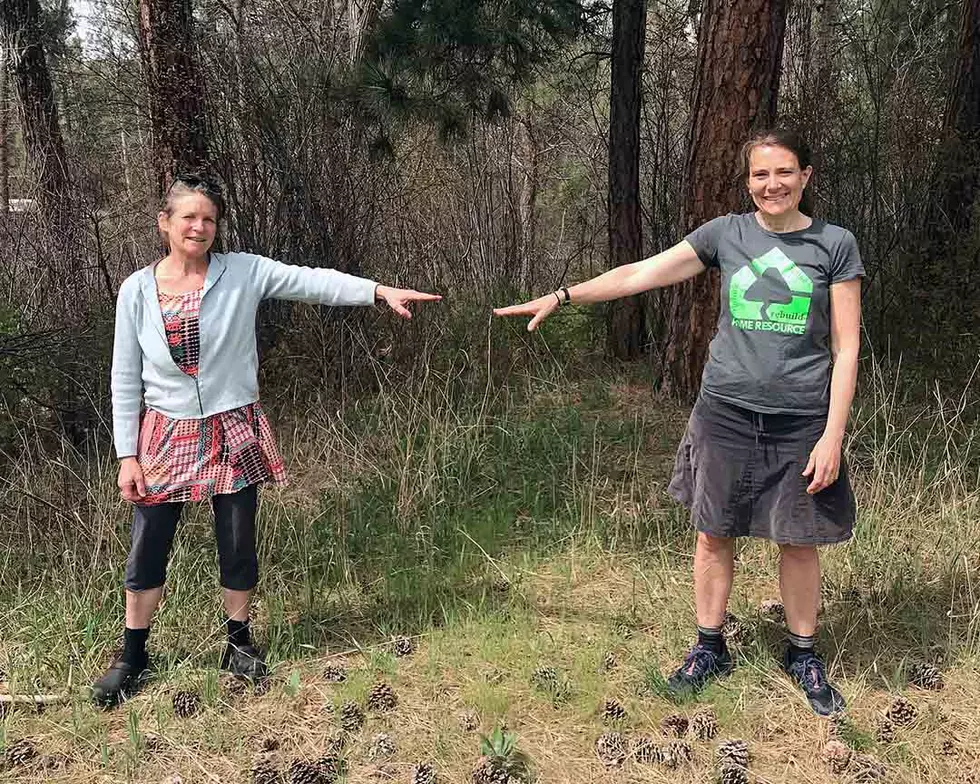 Sustainable Missoula: New possibility emerging from the pandemic pause
Katie Deuel, right, is the executive director at Home ReSource and Amy Cilimburg is the executive director at Climate Smart Missoula.
I was 19 years old when Amy and I met. (Alas, I am considerably older than that now.) At that time, we were training to become outdoor educators, a group of strangers setting off on an intensive physical, mental and personal journey characterized by joy, grief, pain, laughter, stumbles, catches, conundrums, and solutions.
As we learned about ourselves and the natural world, and stumbled and caught together, we also clarified values, formed bonds and sorted how we would each take what we learned into the larger world.
Amy and I took separate paths — paths that eventually brought us both to our humble city — but the values that connected us then are evident in the work we do and the ways that we connect now, here in Missoula. The organizations that we lead, Climate Smart Missoula and Home ReSource, are both deeply invested in building community, protecting biodiversity, seeking a just world, and teaching, learning and leading to create the future we believe in.
COVID has turned our world upside down. And we now find ourselves on a journey into a much more challenging unknown. There is more at stake, more to lose, yet also more opportunity to build a better tomorrow.
In the last months, we have seen a terrible tragedy unfolding. We mourn for those who are sick, those who are alone, those we have lost; for the businesses that are shuttered and struggling, and for the laughter and human connection that we used to access so readily.
We don't know exactly what a post-COVID world looks like or when we will get there. But as we sort out the next steps, we remain steadfast in our belief that all beings on this planet deserve to live in a just, vibrant and sustainable world. And we remain steadfast in our vision for a future that is energy-efficient and resilient, with less consumption, a higher quality of life, and lighter drag on the natural communities that support us.
We know that it is as important as ever that we get there, and that we can only get there together, with you - the incredible, generous, committed, thoughtful and caring denizens of western Montana.
Collectively, we're also getting a glimpse of what is being called a "global pause" - people breathing clean air, "discovering" mountains in their viewshed that they've never been able to see, birds singing that they hadn't been able to hear. Here in Missoula the roads are quieter, the biking easier, the trails busier with families, kids in tow, looking for bluebirds and yellow bells. We see possibility in this pause; possibility that extends beyond the pandemic.
We see a world in which we radically shrink our carbon emissions; reduce consumption by reusing, respecting and repairing materials; keep our dollars local; help our residents breath clean air, and restore our natural communities.
We also see that we can turn our fear into meaningful actions, we can care for each other even when there is doubt, uncertainty, and stress, and that we can adapt to new ways of doing things.
We have always believed each one of us has the power to make a difference.
Now is a time unlike any other. It is a time for each one of us to make the differences that we can, even as we attend to the challenges of today, to keep creating a just and vibrant future together. Let's begin by holding that vision of a sustainable tomorrow, and filling in that sketch of promise with the vibrant colors of true possibility.
And then? We can commit to learning and innovating to make new possibilities real and lasting. We can commit to howling with support (or frustration if needed) and bolstering those with less opportunity. We can commit to spending our dollars locally, helping sustain local food systems and the local businesses that have been hit so hard.
This is also a time to learn more about and support community non-profits that keep the fabric of community together, working the front lines, pulling for the long haul, and improving our quality of life.
This marks the 7th annual Missoula Gives, a 26 hour giving "day" that begins at 5 p.m. Thursday, April 30 and runs through May 1. Non-profit community organizations are raising funds to keep doing essential work through challenging times.
We encourage you to give generously however you can. For those with means, please consider donating during Missoula Gives. We at Home ReSource and Climate Smart Missoula plan to keep our doors open, working collaboratively to build a sustainable future. We hope you can support us and support other non-profit organizations during this community-building event.
Not one among us chose to be on this journey, but together we can make an amazing difference.
Katie Deuel is the executive director at Home ReSource and Amy Cilimburg is the executive director at Climate Smart Missoula. This Sustainable Missoula column is brought to you – via the Missoula Current – every week by Climate Smart Missoula and Home ReSource.
Sustainability Happenings
As COVID-19 has postponed or cancelled many community events, many have moved on-line or found creative outlets. Here we offer ideas about sustainable ways to stay involved in our community. If you like these offerings, consider signing up for Climate Smart's eNewsletter here. And sign up for Home ReSource's eNews via their homepage here.
EARTH DAY ART 4 ALL - check out what community members created throughout Missoula via our virtual community-wide art show!
You can still take the Earth Day PLEDGE - a way to stand together, though physically apart, to advocate and build more resilient communities and a healthy planet.
Did you know Home ReSource is open? Details about how to buy items (carefully and safely) here.
May is Bicycle Month. And this pandemic won't pause that - choose sustainable transportation!
Missoulaevents.net has many virtual activities listed - they're stepping up to help us all stay engaged.