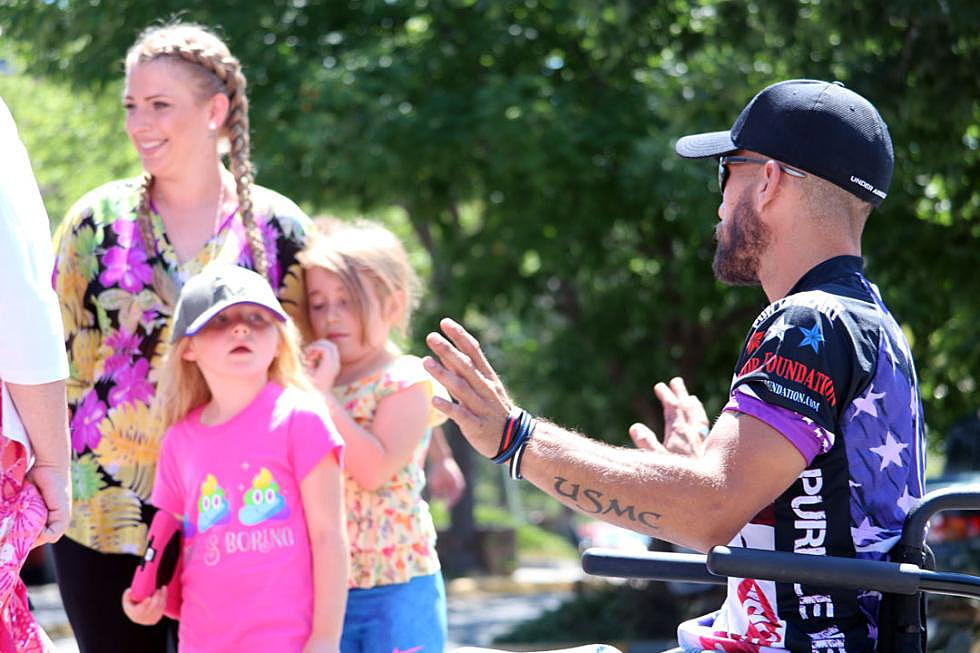 Wounded in war, combat veterans recognize Missoula as a Purple Heart community
Tyler Huffman, driver of the specially-equipped Purple Heart truck, mingles with visitors during Sunday's ceremony in downtown Missoula. Huffman encourages other combat-wounded vets to work through their injuries, just as he did after he was shot and paralyzed while serving with the U.S. Marines in the Helmand Province of Afghanistan in 2010. (Martin Kidston/Missoula Current)
More than a dozen of the nation's 1.8 million Purple Heart recipients gathered with family and friends outside a popular brewery in downtown Missoula on Sunday to recognize the city as an official Purple Heart community.
And while the recognition comes with little more than accolades, it notes Missoula's appreciation for its combat-wounded veterans and their dedication to service – service that has made the city a stronger place.
"For us, it means we've been accepted back into the community," said Char Gatlin, the regional commander for the Military Order of the Purple Heart.
"We all have that enemy marksmanship badge, but it's good for the community to know that we still have a lot of human capital. We signed a contract, we served and we continue to serve, and we do what we can where we can to help."
Gatlin, himself a Purple Heart recipient, has helped rebuild the local chapter of the Purple Heart into a visible organization that emphasizes volunteering. By calling on its members to serve once again, the chapter has established new community roots with a new generation of combat-wounded veterans.
That effort hasn't gone unnoticed by city officials, including Mayor John Engen. Through a proclamation last month, he recognized "the sacrifice Purple Heart recipients have made in defending our freedom" and their ongoing "willingness to serve our community."
"What we're about is working together, and it turns out that when we do that, great things happen," Engen said on Sunday, noting that is father served in World War II. "I have a big space in my heart for folks who select to serve, and I want to thank you for selecting to serve."
Sunday's event was tied to the arrival of the Purple Heart Truck Run, a large Ford pickup adapted to accommodate combat-wounded veterans who were paralyzed or lost limbs in battle.
The vehicle, according to Purple Heart recipient and driver Tyler Huffman, encourages other combat-wounded vets to work through their injuries, just as he did after he was shot and paralyzed while serving with the U.S. Marines in the Helmand Province of Afghanistan in 2010.
"About the first year there was a learning curve – learning how to re-do everything and learning how to relive my life," Huffman said. "Once I got past that point, I did the same things I did before I was injured. Now we're out here showing you can do it. You don't have to be stuck in a van or a SUV waiting on someone else."
Congress established the Military Order of the Purple Heart in 1932. The organization remains unique among veteran service organizations in that its members have all been wounded by an enemy combatant.
Roughly 1.8 million veterans are currently Purple Heart recipients. In Montana, seven women are also Purple Heart recipients.
"I've been in many different veteran organizations, and this one is all ranks and all services," said retired Col. John Keefe, who received a Purple Heart in the Vietnam War. "They're great guys and I love them all. I'm glad to be participating with them every chance I get, and this particular chapter does great things for the community."
Keefe, who served two tours in the Korean conflict and two more in Vietnam, was shot by a sniper in 1966. Huffman, the driver of the Purple Heart truck, was also shot. Gatlin was injured by an improvised explosive device.
Regardless of how and when they incurred their injuries, each of the veterans has common bonds through the Purple Heart, and they're looking to give back to their community.
So too is the community giving back to them, though it wasn't always that way, Gatlin said.
"The attitude in Missoula was quite a bit different when I was commissioned, at least that's the way I interpreted it," he said. "But it has changed a lot.
"One of the things I've noticed in Missoula is that we have opportunity here," he added. "We're coming back, we're going to school, we're volunteering and getting involved, and that's what makes communities stronger. I think Missoula recognizes that."
With Sunday's recognition, the city of Missoula joins the University of Montana as an official Purple Heart locale. The city also received new parking signs reserved for Purple Heart recipients, though it has not yet determined where it will install them.