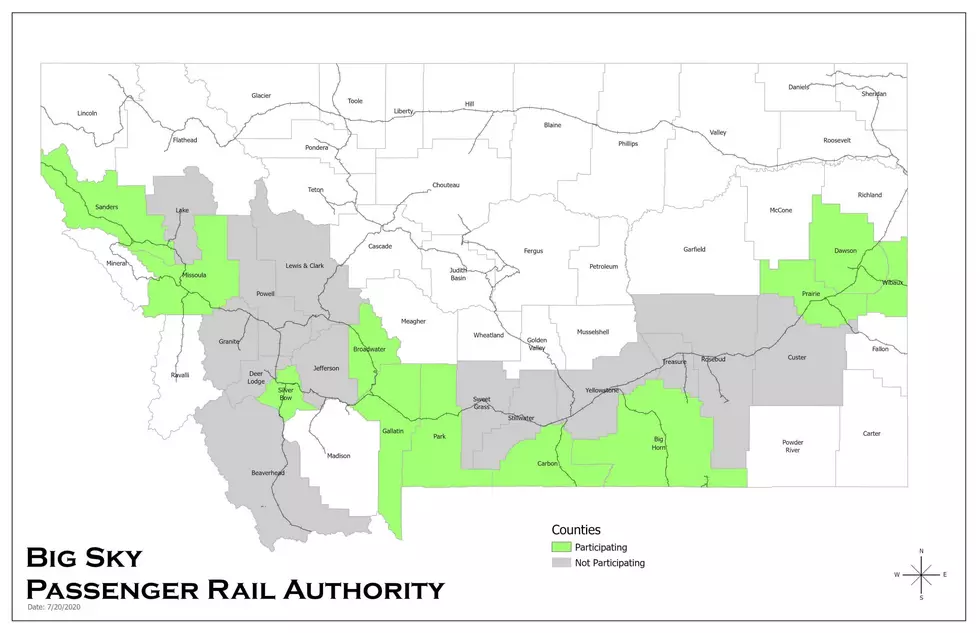 "We can bring it back:" City of Missoula backs Big Sky Passenger Rail Authority
The Big Sky Passenger Rail Authority will include 11 founding counties when it's adopted by each individual county over the coming weeks. It also includes a resolution of support from the City of Missoula.
The Missoula City Council placed its unanimous support behind a growing effort between counties in southern Montana to form the Big Sky Passenger Rail Authority in a push to restore intercity rail service across the state.
Eleven counties have signed on to the resolution forming the authority, which goes to individual county votes in the coming weeks. The city of Missoula is the first municipality to back the effort in a resolution of support.
"It's a monumental effort, but if we all work together, we can bring it back," said City Council member Jordan Hess. "Passenger rail has a lot of benefits."
Among them, Hess said intercity passenger rail through Montana's most populated region would provide a sustainable mode of transportation, reducing both congestion and emissions. But it also would provide a significant economic jolt to cities and towns along the route and further develop the region's tourism.
"The solution is restoring long distance passenger rail service. It truly would be a transformational project for southern Montana," Hess said. "It crosses all political stripes, all urban and rural geographies. We've got a county that's further away than Seattle that's joining onto this effort. There's similar efforts throughout the region and throughout the West."
Missoula County Commissioner Dave Strohmaier began spearheading the effort last winter, and interest in passenger rail has spread across much of southern Montana and neighboring states, including the city of Boise where the potential of a Salt Lake to Butte route is being discussed.
Advocates believe the initial infrastructure costs will be recovered in economic and other public benefits. As it is in many other countries around the globe, Strohmaier said, passenger rail ought to play a larger role in America's portfolio of public transportation.
"This isn't about nostalgia," he said. "This is a little back to the future and investing strategically in a greener, more sustainable and equitable mode of transportation for our friends and neighbors."
Missoula County adopted a draft resolution in April and shopped the idea to the nearly two dozen counties poised along the old North Coast Haiwatha passenger rail route operated by Amtrak up until 1979.
Eleven counties, including Missoula, have signed on. The rail authority would be the first of its kind in Montana and stretch from Idaho to North Dakota over a distance of more than 600 miles. The participating counties will now formally adopt a resolution to join the authority.
"What we're attempting here is something that's never been attempted before in the history of the state of Montana by way of a passenger rail authority," Strohmaier said. "It's a big, bold endeavor, but we in communities and counties here in the state of Montana have forgotten what it means to do something big and bold and what we can do collectively that we cannot do individually."
The city of Missoula's support also urges Montana's congressional delegation to back the effort when the surface transportation bill is reauthorized this year. The bill is renewed every five years and would establish five new multi-state rail commissions, not unlike the Southern Rail Commission established by Congress in Louisiana, Mississippi and Alabama.
Missoula County made a similar request to the state's delegation last month, saying Congress could play a leadership role in economic recovery and 21st century innovation.
"I've had conversations with Sen. Steve Daines and he's willing to try to get language into this reauthorization bill to direct the rail commission to conduct an updated feasibility study on passenger rail restoration in Montana," Strohmaier said. "There's also an opportunity to replicate what's occurred elsewhere in the country by way of establishing a Pacific Northwest-Northern Rockies railway commission."