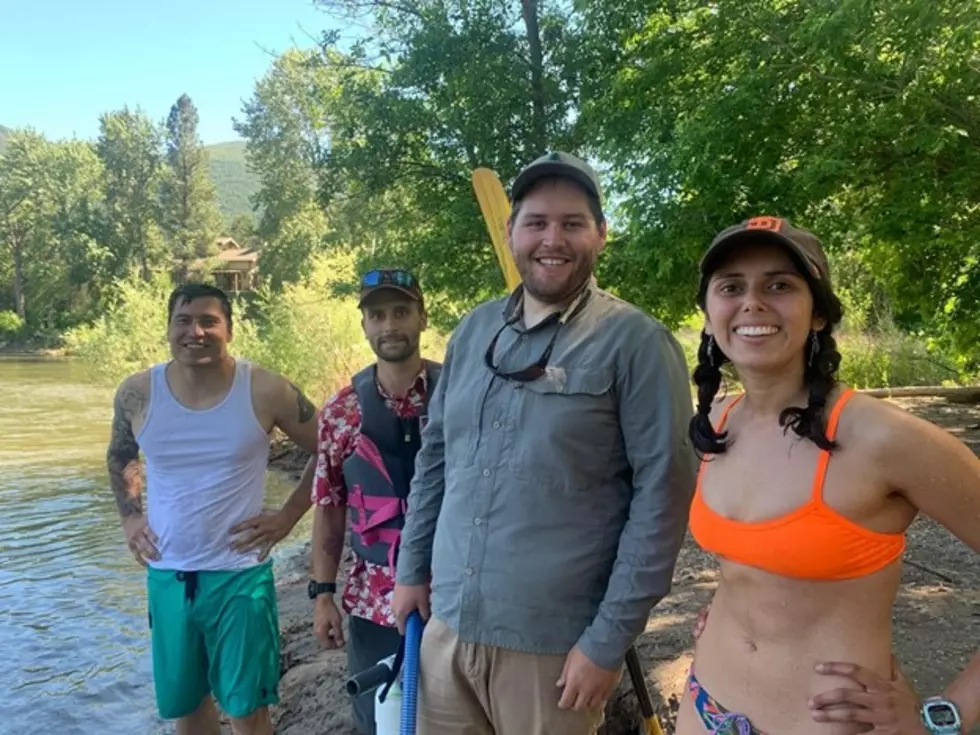 Sustainable Missoula: River ambassadors ensure safe, clean river fun
The 2021 river ambassadors include, from left to right, MJ DeRosier, Charlie Rieck, Tim Grisley and Bela Garcia-Arce.
Missoulians are fortunate to be surrounded by fantastic river recreation opportunities. As summer heats up, many of us are headed out for floating, fishing, and fun.
But with the warm weather also comes crowded access points and more pressure on – and trash in – the river. Since river corridors are some of the most ecologically important habitats in western Montana – supporting 85% of the state's wildlife and bird species during their life cycles – such heavy use can impact nesting sites, spawning routes, and areas of refuge for many species.
This is on top of stressors from legacy pollution and a quickly-warming climate.
We've come a long way in cleaning up and restoring the Clark Fork and creating wildlife-friendly riverfront parks and trails. But those amenities were never designed to accommodate the level of use we're seeing now.
A recent study by Missoula Parks and Recreation Department revealed that on peak days in July and August more than 65 people float past Missoula's Madison Street bridge every hour. That surge in use means more bank erosion from "bandit" trails to the river, more trash in the water, and more trampled riparian vegetation. And as you've no doubt noticed – it's also created its share of parking headaches.
How can we help more people enjoy the river while ensuring we don't "love it to death?"
Help is on the way with a new River Ambassador program sponsored by the Clark Fork Coalition, Missoula City and County, and Montana Fish, Wildlife and Parks. The program is part of a shared effort to improve public recreation experiences while also protecting conservation investments in Missoula Valley rivers.
"River ambassadors will play a crucial role in maintaining the integrity of our river access sites, the health of the rivers themselves, and the quality of experience for users and neighbors alike," says Missoula County Commissioner, Josh Slotnick, who helped conceptualize and launch the program.
Clark Fork Coalition community program manager, Lily Haines, agrees: "We know that nobody wants to see the river degraded, but it's not always clear how to do the right thing. River ambassadors can help people recreate responsibly and sustainably, helping all of us be better river stewards."
How does the program work?
Beginning June 24th, four ambassadors will move between Missoula-area river access points and parking areas on the Clark Fork, Bitterroot, and Blackfoot, as well as be available on SUP boards and in kayaks as a floating resource on the river. Ambassadors will provide information on parking and shuttle options, guidance on put-ins and take-outs that protect riverbank vegetation, safety tips, river facts, and friendly advice to help people get the most out of their day on the water.
These ambassadors will also play a role in informing long-term river recreation management decisions by collecting data on river use numbers and documenting vegetation impacts and erosion problems. This will help pinpoint problem areas, note areas where improvements should be prioritized, and inform decisions on where investments in the urban river can have the greatest impact. You can be part of this effort by reporting your own findings to river ambassadors, which will help ensure more eyes are on the river to help keep it clean, safe, and healthy.
Frequently asked questions:
Are river ambassadors "river police?" Not at all! The job of ambassadors is to ensure safe, fun, river-smart recreation by providing information on access points, appropriate waste disposal, parking/shuttle options, safety tips, maps, best river use practices, and more. River ambassadors are not first responders or trained medical professionals, but they can help call emergency responders, if needed.
Are river ambassadors river guides? No, but ambassadors can tell you about local floats (including access points, distances, and times), can provide you with maps and mesh trash bags, and are happy to offer tips for your time on the river.
How do I know who the ambassadors are? Just look for friendly folks with the bright River Ambassador t-shirts! The words "RIVER AMBASSADOR" will be clearly visible on the back.
How can I report trash or other issues to ambassadors? Just flag down a river ambassador while you're out floating, or you can send an email to: riverambassador@clarkfork.org. (You can also submit trash reports to the Clark Fork Coalition any time by texting "TRASHY" to 33222, and replying to the automated message with location and details.)
Look for river ambassadors on local rivers from late June through the first week of September, Thursdays through Sundays from 11 am to 7 pm. For more information, including maps, safety tips, river trip check lists, and more, visit www.clarkfork.org and follow the links from the homepage. Here's to a fabulous summer of fun, safe, and sustainable river recreation!
Tips for sustainable river use:
Plan ahead: Refer to the Missoula River Map to find designated access sites (concentrating access protects sensitive riparian areas), and understand what amenities and facilities are available. Use only designated restrooms, trash receptacles, and parking areas (not every access site has them).
Keep the river clean and healthy: Pack it in, pack it out! Carry mesh trash bags (or get one from a river ambassador), and plan to leave no trace.
Respect public lands and waters, as well as the communities and private lands around them.
Be safe: Rivers are powerful natural systems that should be respected. Keep in mind your own safety, as well as the safety of others, as you recreate. Do not bring glass on the water, and be especially careful when drinking on and around the river.
Pat Ortmeyer is the Communications Director of Clark Fork Coalition. This Sustainable Missoula column is brought to you – via the Missoula Current – every week by Climate Smart Missoula and Home ReSource.
Sustainability Happenings
Here we offer ideas about sustainable ways to stay involved in our community. If you like these offerings, consider signing up for Climate Smart's eNewsletter here. And sign up for the Home ReSource eNews via their homepage here.
Missoula's Farmers Markets. Eat local now through the early fall! The original Farmers Market at the north end of Higgins runs every Saturday 8am-12:30 – information here. The Clark Fork Market is now located at 101 Carousel Drive near Dragon Hallow, runs every Saturday 8am -1pm – information is here.
Fixit Clinics - June 19, July 17, & Aug. 21, 11am-3pm. Save the dates for upcoming Fixit Clinics, hosted by Home ReSource! Bring your broken items and work with skilled repair coaches to learn how to fix them. More information and sign ups here.
Welcome to Summer Gathering - June 22. Climate Smart Missoula and friends will be at Imagine Nation Brewing Co's outdoor patio to celebrate summer and visit about what's ahead. Do stop by, say hi, bring your friends and colleagues. 5- 7pm.
Montana Conservation Voters Summer Road Tour stops in Missoula – July 8. Imagine Nation Brewing. 5-7pm. All welcome. Details here.
Our Climate is Changing: Are we ready? What can we all do? – July 12, 11:30 – 1pm. Virtual. City Club presentation by Missoula County and Climate Smart Missoula. Details will be posted here.
Wildfire Smoke Ready Week – July 12-17. Brought to you by Climate Smart Missoula, the Climate Ready Missoula Team, Missoula City-County Health Department and Missoula County. Stay tuned for sponsored events where you can learn more about how we can, together, prepare for and stay healthy when wildfire smoke comes our way.
Bike to Barns tour - Aug. 14-Sept. 30. Explore local farms and flavors on a 15-mile bike tour through Missoula's Orchard Homes and Target Range neighborhoods. Check back here for more info.
Spontaneous Construction – Sept 18th. Missoula's festival of creative reinvention! Reuse. Compete. Create. Enjoy! More info and team registration here.
Missoula's third annual Clean Energy Expo – Sept 25. Climate Smart Missoula and Montana Renewable Energy Association are back to hosting this premier event at Caras Park. Save the Date.
Materials donations to Home Resource keep the wheels of reuse spinning in our community; and remember that everything you need to know about what to do with your unwanted stuff is at www.zerobyfiftymissoula.com.
Find more local activities and events at Missoulaevents.net and on Montana Environmental Information Center's Conservation Calendar. And you too can help organize events – here's the 2021 Calendar of Environmental Awareness Days – month by month break down of world day campaigns.