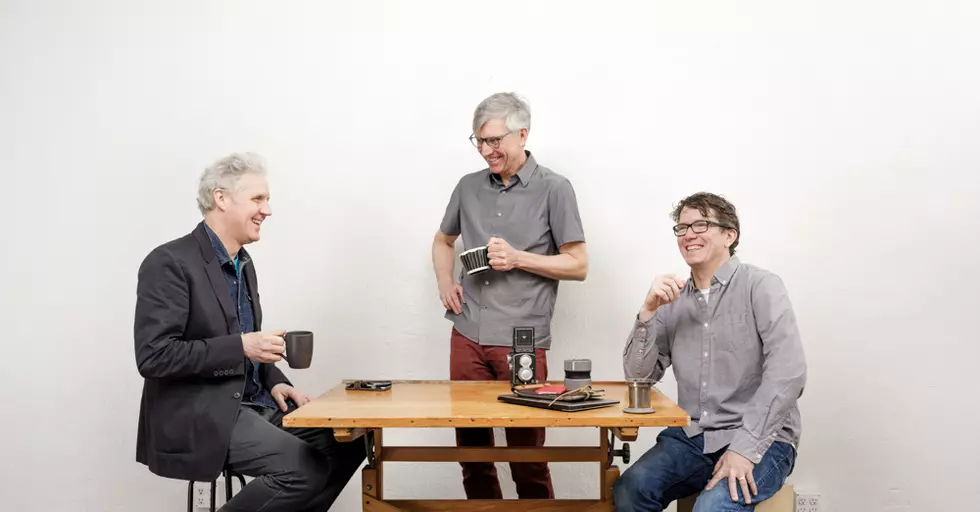 From basement hippies to fastest growing, Missoula tech company continues to scale
Michael FitzGerald, Bruce Tribbensee and John Brownell co-founded Submittable in 2010. The company, which currently employs 72, made Inc. magazine's list of the nation's 5,000 fastest growing companies. (Courtesy of Submittable)
A growing technology company based in Missoula made Inc. magazine's list of the nation's 5,000 fastest-growing companies – welcome news to the firm's co-founder and CEO, Michael FitzGerald.
FitzGerald, who founded Submittable in 2010 with college friends John Brownell and Bruce Tribbensee, has grown the company from 26 employees last spring to 72, and he now measures the firm's revenue in the millions of dollars.
Still, FitzGerald takes a humble view of the company's beginnings and its long-term goals for growth. That includes 500 workers who earn more than double Missoula's median wage.
"It feels crazy to me," FitzGerald said Thursday. "I've never done this before. Every time we add a new employee, we're treading new territory. Forever and five years, we were three people in a basement."
Recognizing the company's potential for growth and his own limitations, FitzGerald and Submittable are now bringing on experienced executives to move the company to the next phase of growth.
That includes a vice president of sales who helped RightNow Technologies scale from its infancy to its acquisition by Oracle in 2011 for $1.8 billion.
"We're trying to find people who have been at our stage and have gotten to the next stage," FitzGerald said. "At each stage, there's certain characteristics for a company, so we're in the thick of that. It's where you scale and start to have managers. Our first 30 employees were Missoula hippies trying to figure it out. Now, we're bringing in the executives."
Submittable, based in the Florence Building on Higgins Avenue in downtown Missoula, currently claims 10,000 clients in 124 countries. In simple terms, the company makes it "effortless to accept media-intensive submissions."
But back when the recession hit, FitzGerald and his fellow University of Montana graduates came on hard times. FitzGerald worked as a writer while the others worked as a filmmaker and musician. Each supplemented their dreams by coding, though the rollout of WordPress put a damper on their income.
"We lived the Missoula lifestyle, piecemealing together jobs to pay for rent," FitzGerald said. "We didn't know what we wanted to do, we just knew we wanted to start a company together as friends."
FitzGerald, who understood the challenges of the publishing industry, spent roughly 18 months developing a marketplace platform to help connect writers and agents. The effort, completed under the company's original name Submishmash, stumbled when they went to sell it.
That prompted them to redevelop and sell the platform as a tool for publishers to accept submissions. It's then Submittable was born.
"My background is writing and I knew the publishing process," FitzGerald said. "That was our first focus. It doesn't sound like a great market, because publishers are going broke. But through fits and starts, we started getting literary journals and small publishers."
They also attracted some larger ones, such as the Harvard Review, Playboy, Conde Nast and the New Yorker, among others. Much of that came by word of mouth – other graduates of various English departments who found jobs at national publishers and sold them on Submittable.
Now, FitzGerald said, the company is moving into other content, with video being one of the largest. That includes content sharing for news outlets and other user uploads.
"We're going back to the original idea," FitzGerald said. "We're going to supply an opportunity market place for anyone who creates anything and help them find an opportunity for what they make. Film is probably the fastest growing component. It has really taken off."
Submittable was one of 13 companies in Montana to make Inc. magazine's list of the nation's 5,000 fastest-growing companies. It also has drawn the attention of Business Insider and the New York Times, along with the Wall Street Journal.
"They live in Missoula, Mont., are in their 40s, and have never before started a business," the Journal quipped. In a second article, it noted that Submittable raised $1.3 million in Series A venture funding, making it one of the most well-funded tech startups in the state.
"When we first started, we had to come up with a North Star, and our goal was to keep the smartest kids here," said FitzGerald. "The number for me was 500 employees, and that's still our goal – real careers where people can start and learn and not have to come back and take a pay cut."