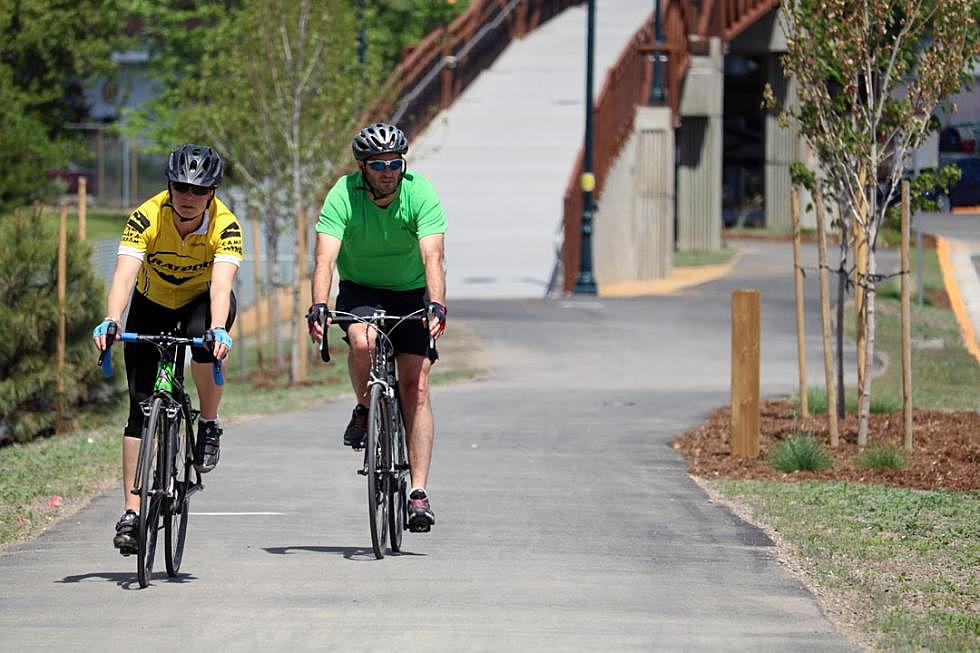 Tight city budget shaves maintenance for new greenway enhancements
Riders cross the South Reserve Street pedestrian bridge and pick up the Missoula to Lolo Trail on Wednesday afternoon. The greenway is among the latest public enhancements that have no maintenance funding under the proposed FY 2018 budget. (Martin Kidston/Missoula Current)
The heads of several city departments on Wednesday defended their proposed budget enhancements or argued their need for additional funding as part of the Missoula City Council's ongoing discussions surrounding the Fiscal Year 2018 budget.
The proposed budget, set for adoption next month, includes three new positions for Development Services to help it keep pace with the city's robust growth.
However, the budget does not include the $82,000 requested by Parks and Recreation to cover the maintenance of several new greenways, including the Missoula Art Park and the pedestrian crossing at South Reserve Street.
Nor does it include $650,000 to fund the city's Jail Diversion Master Plan. Among other things, the initiative seeks funding for a number of programs, including $38,000 for alcohol and drug monitoring, $62,000 for anger management and $17,000 for home arrest.
The latter effort would reduce the jail's population by one inmate per day, according to Missoula Municipal Court Judge Kathleen Jenks.
"They can keep their jobs and they can take care of their kids," Jenks said. "They can continue with medical plans and prescriptions. Those all get disrupted when you go to jail."
The court and several City Council members plan to meet over the next week to discuss the proposal further and work to prioritize programs within the plan. And while the city may not fund the program this year, it could look at doing so next year, or approaching it in pieces.
"The taxpayers pay for a person to be in jail $108 per day," said Ward 3 council member Emily Bentley. "If you're saying one person per day, for the taxpayers, that's $365,000 or more per year. We'd be shifting the cost from the county and state to the city, but ultimately, we have to think about the taxpayers and what's best for the overall community."
The proposed budget does include funding for three new positions within Development Services, including $63,000 for a new staff engineer, $63,000 for a new engineering technician, and $68,000 for a new level III planner.
Over the past few years, the department's workload has increased as much as 40 percent, though its staffing levels have not changed. Construction values across the city have doubled over the past three years, setting a new record last year.
The city is on pace to set another record this year.
"By the end of May, we were ahead in terms of building permits issue as well as market value of construction," said department head Mike Haynes. "By the end of June, we'll be well ahead of where we were in 2016. We continue to see the pace of development activity increase."
That uptick in projects has placed increased pressure on the department and its ability to inspect projects and process building permits in a timely manner. With the increased workload, Haynes said, the department has been forced to "triage" its focus, often "robbing Peter to pay Paul" when juggling projects.
At least one of the new positions would be covered by revenues generated from fees. Haynes urged the council to keep the positions in the budget when it makes its final consideration.
"We're doing everything humanly possible, including people coming in on weekends and holidays to get things done," Haynes said. "But we're at the point where we need human resources."
Parks and Recreation also received non-tax funding to cover costs associated with Fort Missoula Regional Park, and $59,000 to expand programming that generates revenue for the department.
It did not, however, receive its $82,000 request for an urban forestry specialist and other staff to maintain the city's new greenways. Those include the new Missoula Art Park, the pedestrian crossing over South Reserve Street, and the city's portion of the Missoula to Lolo Trail, among other community enhancements.
"We had requested $82,000 and we originally though they would be in there," said director Donna Gaukler. "Last year, we did fund the art park for one-quarter time and have since lost that for this fiscal year. These are the new features we have not obtained additional funding for. We understand, but we want you to know what we're unable to do."
While the city's Public Works Department didn't present its budget requests on Wednesday, director John Wilson politely expressed frustration with his department's inability to get its requests filled. Of the 11 requests he submitted, Wilson said half of one was recommended for approval.
"What we're doing in public works isn't sustainable," said Wilson. "One of our requests was for an electronic technician for the communications shop and that didn't survive. I wouldn't be surprised if we lost one of my existing employees because of the situation there that I can only see improving by having more help."
Each year, city leaders must decide how to distribute funds to maintain basic services and do so against constantly rising costs, from wages and insurance to equipment and upkeep. While some departments have the ability to generate revenue through fees and user charges, others do not.
Without any new additions, the budget presented to the City Council by Mayor John Engen includes a 3.8 percent increase, or an addition of $1.3 million. The unfunded items under debate across all departments would need an additional $6.1 million in funding, resulting in an 18 percent increase.
Contact reporter Martin Kidston at info@missoulacurrent.com