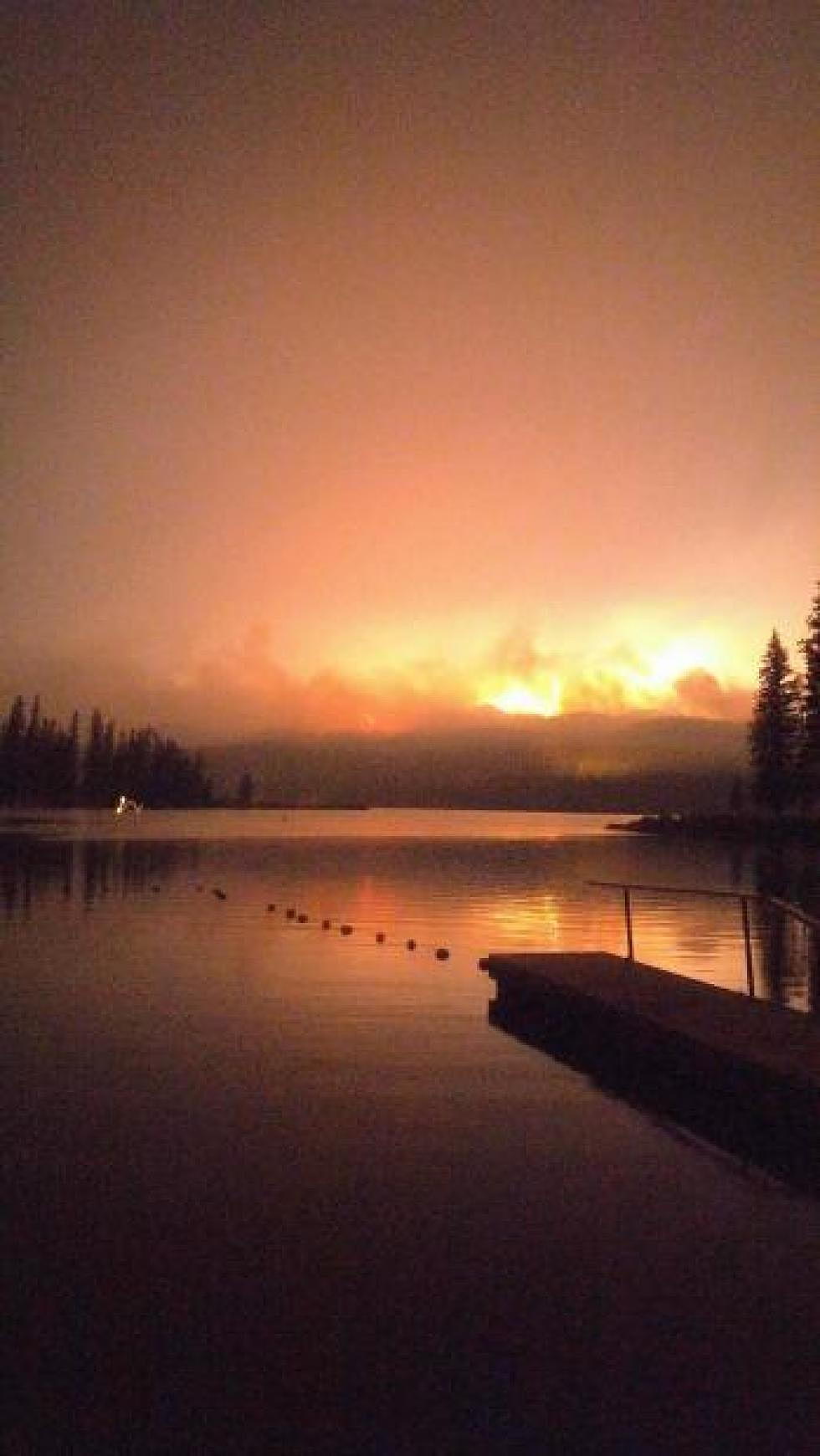 Air quality unhealthy throughout Missoula County, hazardous in Seeley Lake
The Rice Ridge fire burned actively, as seen from Seeley Lake on Thursday night. (Levi Tucker/inciweb.com)
At nightfall Friday, air quality was unhealthy across the Missoula Valley and about to become hazardous yet again in Seeley Lake.
The Missoula City-County Health Department's latest update described the work week's end as "a monstrously awful air quality day."
"The particulate pollution stayed relatively constant at every monitor, although we did finally see some improvement in the Lolo monitor right around noon," said Sarah Coefield, an air quality specialist with the Health Department.
All indications were that air quality would deteriorate overnight and through the weekend, when burning conditions are expected to favor the growth of the many wildfires contributing to the county's air-quality woes.
When air quality is listed as "unhealthy," people with heart or lung disease, smokers, children and the elderly should limit heavy or prolonged exertion and limit the time they spend outdoors.
In Seeley Lake, where "hazardous" conditions have existed most recent days, health officers have urged residents to leave town until conditions improve. Air quality both indoors and outside is not suitable for even healthy adults in Seeley.
"The tremendously depressing National Weather Service prediction of 'light and variable' winds in Seeley Lake after midnight, and then calm wind in the morning, means another smoky, smoky night and morning for the valley," Coefield said Friday evening. "Air quality in Seeley Lake is likely to be hazardous by morning."
When air quality is hazardous, she said, "all people should limit or avoid outdoor exertion and leave the area or stay indoors with filtered air when possible."
Throughout Missoula County, Coefield said, "atmospheric mixing is going to shut down pretty abruptly this evening, at which point the Canadian smoke should be cut off. Unfortunately, we'll still be stuck with whatever additional smoke the local fires contribute to our air tonight."
Wildfires in Missoula County burned actively on Friday afternoon, and the weekend forecast of a red flag warning – for high winds – prompted an expansion of the evacuation warning for Highway 12 to include both the north and south sides of the road from milepost 20 at Bear Creek to Fort Fizzle.
Hazardous driving conditions also have been reported on Highway 12 because of the smoke.