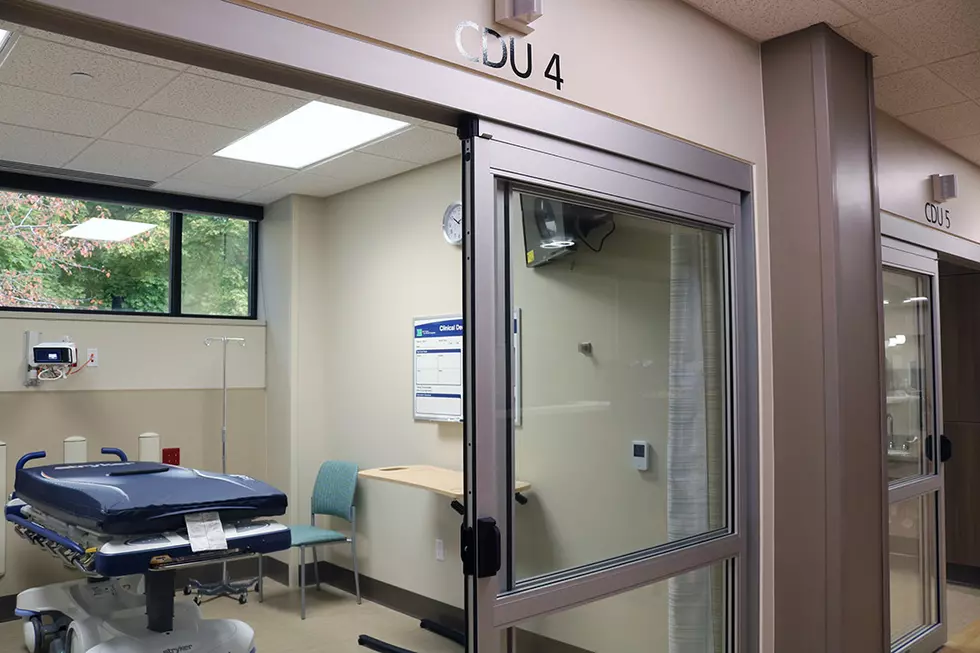 Latest slate of Montana abortion bills advance ahead of upcoming deadline
Blair Miller
(Daily Montanan) The latest round of Republican bills aimed at restricting abortions or putting new conditions on them in Montana, including one introduced Wednesday afternoon, advanced Thursday in party-line votes.
House Bill 968 from Rep. Amy Regier, R-Kalispell, which was first noticed to the public Wednesday, passed out of the House Judiciary Committee in a 13-6 vote Thursday after being heard earlier in the morning.
The bill aims to make changes to state law stemming from a Lewis and Clark County District Court judge's ruling in February that permanently struck down the Parental Consent to Abortion Act of 2013 but did not rule on the Parental Notification of Abortion Act of 2011.
Each of those measures deal with when and how parents are notified about their children seeking abortions. The 2013 bill required parental approval, in most cases, before a minor could receive an abortion, but Judge Christopher Abbott struck it down, writing that it violated both state law and the constitution.
The 2011 measure was passed by voters on the 2012 ballot with nearly 71% of the vote. It required providers to notify a parent or guardian of a minor under age 16 at least 48 hours before moving forward with an abortion. The 2013 law aimed to repeal the 2011 measure, but it never went into effect, and Planned Parenthood of Montana sued to enjoin both.
Assistant Solicitor General Brent Mead said at Thursday's hearing on HB968 the Department of Justice planned to appeal Judge Abbott's ruling on the parental consent measure in the next two months and that the ongoing lawsuit against the parental notification law would go to trial next February.
The bill aims to change the Parental Consent to Abortion Act of 2013 to the Consultation for Minor's Abortion Act of 2023 and change portions of the 2013 law.
It strikes a portion of the statute that states the law is intended to reduce "teenage pregnancy and unnecessary abortion." It strikes a requirement under the law that abortion providers must first receive "notarized written" consent from a parent or guardian before performing an abortion.
It also makes changes to the law to state that a parent or guardian of a minor seeking an abortion first be "informed and consulted" by a consent form detailing the risks of abortion and the risks of carrying a pregnancy to full term, among other things. Regier's bill would require the minor and parent or guardian to be fully informed on the risks of abortion and full-term pregnancy and to have consulted one another, and consented to, the procedure.
Regier, who chairs the committee, told members her bill aimed to close loopholes in the 2011 law and was "narrowly tailored" to adjust to the judge's order on the 2013 law.
"None of us wants to see children being involved in exploitative relationships, abused or raped," Regier said. "House Bill 968 recognizes where we are in the legal process and closes the loopholes abusers can exploit to hide their exploitation of young girls."
Montana Family Foundation president Jeff Laszloffy was the main proponent of the bill, who said multiple times that he believed the bill was "narrowly tailored" to reflect the judge's ruling and added that he was grateful the judge gave proponents what he called a "blueprint" to tweak the 2013 law in Regier's proposal.
Alan Doan with the Montana Department of Justice said the department gave a "hearty 'me too'" to what Laszloffy had said, adding that the state has a "compelling interest to allow parents to participate in the lives of their children."
Rep. Lola Sheldon-Galloway, R-Great Falls, said she wanted parents to be more involved in their children's lives, citing a personal example that involved a family member receiving birth control she said put their life in danger.
"I can't imagine a child going in and having an abortion, and having some complications, and it's done without a parent knowing. And this is happening in their lives, in secret, not letting parents know," she said. "… I think there are times as a parent you just kind of know some things that are beneficial to their child, and you have every right to save your child's life in that situation."
Opponents included representatives from Planned Parenthood Advocates of Montana, the Blue Mountain Clinic, the Montana Human Rights Network, the Montana Coalition Against Domestic and Sexual Violence, the Susan Wicklund Fund, and several other citizens.
Opponents said the bill caused further confusion about the law surrounding abortion for minors while cases were still pending and would create more confusion for the courts as well. They also said the measure did not do enough to account for children who are pregnant due to rape or incest, or who have parents or guardians who are staunchly opposed to abortion.
The opponents said in most cases, minors considering or receiving abortions do consult with their parents or guardians, but there are instances in which doing so would put them in danger.
"We know, and research backs this up, that most minors talk to their parents about their abortion decisions. We also know that those who don't have very valid reasons for doing so," said Leah Shea, a lobbyist for the Susan Wicklund Fund. "… This bill protects no one. Instead, it would put those who are already most vulnerable at greater risk."
Several opponents also objected to the short notice for the bill, saying whether the rules were broken or not, it was unethical to discuss such bills just hours after they were introduced. But Republicans on the committee pushed back, saying no rules were broken and that the hearing was not unethical, while Rep. Laurie Bishop, D-Livingston, said people should be able to express their frustrations.
Rep. SJ Howell, D-Missoula, said they were opposing the bill because concerns about minors who were sexually abused or coerced into becoming pregnant hadn't been addressed.
"I recognize that is a complicated and nuanced situation, and finding the balance between addressing situations like that and respecting parental rights is a complicated balance," Howell said. "Unfortunately, I have concerns about this approach still."
The bill passed the committee on a 13-6 party-line vote, with Republicans in favor.
House Bill 937 — abortion provider licenses
The committee also passed, on a 13-6 party-line vote, Sheldon-Galloway's House Bill 937, which seeks to license and inspect abortion providers and their facilities and employees – a bill that the committee heard on Wednesday.
Bishop, the Livingston Democrat, said the bill singled out the abortion procedure despite it being a covered and lawful procedure, and said the providers were already covered though insurance. She compared it to the state singling out tooth extractions at dentists' offices despite those providers and officers already being licensed.
"To do so is discriminatory," she said.
Sheldon-Galloway said the bill would add safety nets for women and "keep medical procedures safe."
House Bill 786 — reporting on abortion medication
The Senate Judiciary Committee passed on a 7-4 party-line vote Sheldon-Galloway's House Bill 786, which aims to have the state create regulations for the "humane disposition" of dead infants and fetuses, and other regulations of maternal complications and deaths tied "directly or indirectly" to abortions.
It would also require physicians to keep files on both the mother and fetus involved in an abortion, report regularly on when medication to induce an abortion was prescribed and any side effects, and subject any provider who violates the new requirements to sanctions, including a one-year license suspension.
Sen. Andrea Olsen, D-Missoula, argued the bill was too vague, possibly unconstitutional, and questioned why the legislature was seeking to penalize doctors "when we're not trained well enough to even get the language correct to be sure we're trying to punish what we want to punish."
Sen. Steve Hinebauch, R-Wibaux, tried to cut testimony and vote on the bill, saying he thought the matter had been "talked to death" both during executive action and the heated hearing on the bill and others regarding abortion earlier this week.
"I wish that we could talk this bill to death, literally," retorted Sen. Jen Gross, D-Billings.
But the majority Republicans voted 7-4 to advance the bill, which already passed the House earlier this session. Sen. Theresa Manzella, R-Hamilton, will carry it on the Senate floor.
The committee did not take action on Sheldon-Galloway's other bill heard Tuesday, House Bill 575, on Thursday after amendments were written and posted on Wednesday.
House Bill 721 — restricting access to surgical abortions
But it did take action on House Bill 721 from Speaker Matt Regier, R-Kalispell, the discussion over which led Democrats to walk out of Tuesday's hearing in protest over language and characterizations used by supporters of the measure. The committee also voted on party lines to advance the bill to the full Senate floor.
The bill would restrict access to surgical abortions and implement fines and prison time for people who preform them.
Olsen said the bill was unconstitutional, citing the bill's legal review note, and said there was no reason the bill should have been written with such "inflammatory and abusive" language. She again told the committee the legislators should not deem themselves to be in a better position to determine what happens between people and their doctors.
Gross again said she was both disappointed in the bill and its hearing earlier this week.
"I'd like us to work a little harder on [distinguishing fact from opinion] because I did hear opinions, did hear things that were just completely – claim to be facts that are not," she said. "There's no other way to say it."
Committee chair Sen. Keith Regier, R-Kalispell, acknowledged there were "witnesses on the fringe in both ways."
The bill passed in a 7-4 vote and will be carried by Hinebauch on the Senate floor.
House Bill 862 — prohibiting use of public tax dollars for abortions
House Bill 862 from Rep. Mike Hopkins, R-Missoula, which was heard earlier this week by the House Judiciary Committee, passed its second reading on the House floor in a 68-32 party-line vote.
Hopkins again called his bill a Montana "Hyde Amendment" and said both parties should agree state taxpayer dollars shouldn't be used to fund abortions through Medicaid. Montana is currently one of 16 states that uses its own state funds to cover certain abortions under Medicaid.
Questions on whether the measure would apply to employee-funded insurance plans like those in Missoula County, as well as state insurance plans, persisted from Democrats, but Hopkins said he did not read the bill that way.
Bishop said she'd be even more troubled if the bill only applied to low-income people dependent on Medicaid and not lawmakers covered by the state plan.
Hopkins said lawmakers should move the bill forward and that the Senate could hash out some of those concerns.
Tuesday is the legislature's deadline to have all of its appropriations, revenue and constitutional referenda pass their first chamber. Rep. Amy Regier said the House would have a full-day floor session on Monday ahead of the deadline.