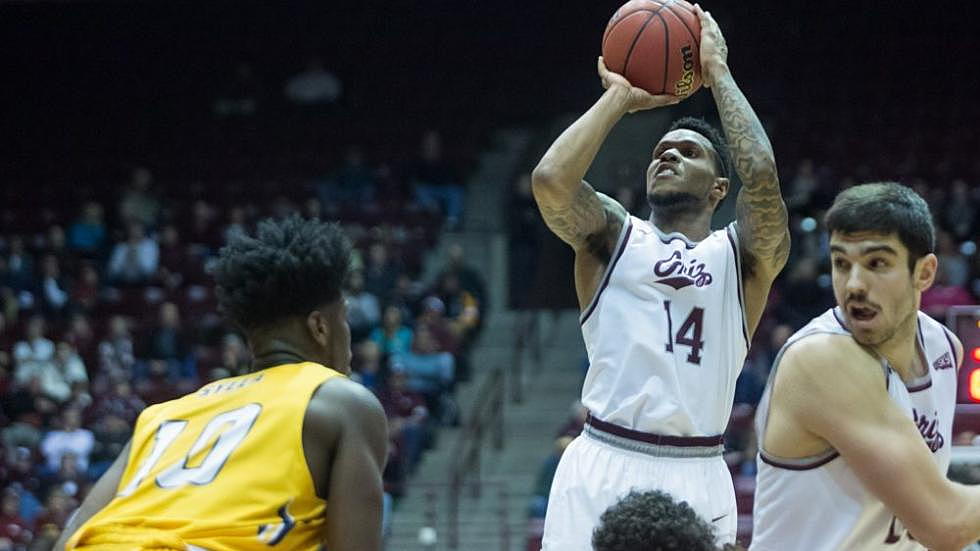 Montana basketball: Rorie named to preseason all-conference team
"Ahmaad is a special basketball player," head coach Travis DeCuire said of the guard. "It's hard to find guys who work harder than him and spend more time on their game. It's good to see competitors respect the work he's put in and what he's capable of." (GoGriz.com)
OGDEN, Utah – Montana junior Ahmaad Rorie is one of six players named to the Big Sky Preseason All-Conference Team, which was announced by the league on Thursday afternoon.
Rorie joins Bogdan Bliznyuk (Eastern Washington), Geno Crandall (North Dakota), Jordan Davis (Northern Colorado) and Victor Sanders (Idaho) on the all-conference preseason team. Montana State junior Tyler Hall is the preseason MVP.
In his first season playing for the Griz, Rorie started all 31 contests in 2016-17, leading the team in minutes (32.5 average), field goals (192), three-point field goals (63), free-throw makes (100), assists (97) and points (17.6 per game).
He earned second-team All-Big Sky recognition and was the Carl E. Dragstedt Award winner as the team's MVP. Rorie led the league with a 2.1 assist-to-turnover ratio as Montana posted the 12th-fewest turnovers in all of NCAA Division I. During conference play, Rorie averaged 19.4 points per game (eighth in the league). He also ranked eighth for assists and fifth for free-throw percentage.
"Ahmaad is a special basketball player," head coach Travis DeCuire said of the guard. "It's hard to find guys who work harder than him and spend more time on their game. It's good to see competitors respect the work he's put in and what he's capable of."
Rorie is a communications major and a native of Tacoma, Wash. He began his collegiate career at Oregon, making 15 starts for a Ducks squad that advanced to the Pac-12 championship game and second round of the NCAA tournament. He redshirted in 2015-16, per NCAA transfer rules, before showing Griz fans his talents a year later.
DeCuire initially recruited Rorie when he was the associate head coach at Cal and noted the prep star's strong work ethic even back then.
"I've had the chance to watch him mature as a basketball player. When I first met him he was working out at 6 a.m. before school every day. I think that hard work and commitment to his game has paid off."
The Big Sky Conference preseason poll will be announced Friday afternoon. Montana finished the 2016-17 season with an 11-7 conference mark, reaching the quarterfinals of the Big Sky Conference tournament as the No. 5 seed. The Grizzlies return four of their top five scorers from last year, in addition to seven newcomers and two redshirt transfers who will be eligible to play after sitting out a year ago.