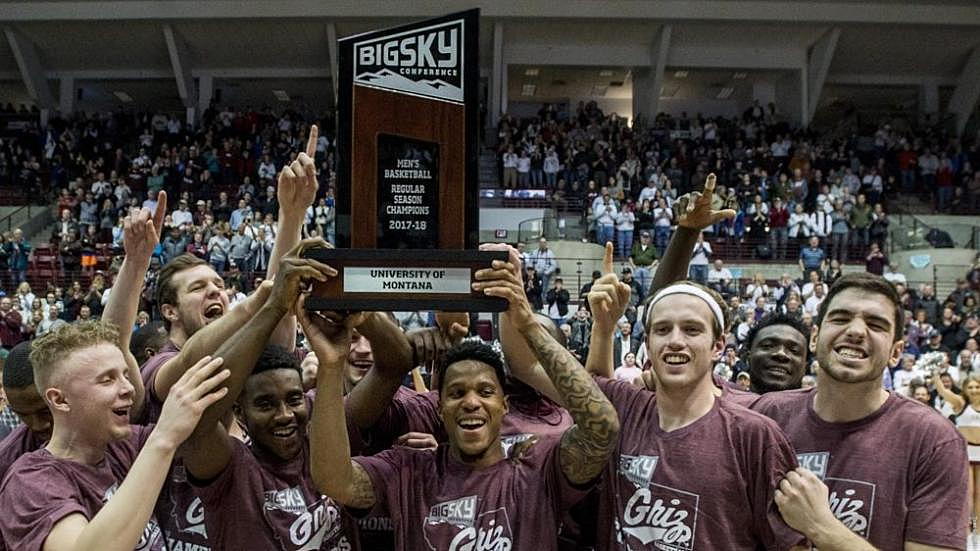 Montana basketball: Griz rout Weber State to win outright conference title
The Grizzlies will play their regular-season finale on Saturday, hosting Idaho State. (GoGriz.com)
In 2015, Travis DeCuire's first season back in Missoula, Montana won a Big Sky Conference regular-season title, sharing the honor with Eastern Washington. The Grizzlies had no interest in being co-champs in 2018.
Montana led from start to finish Thursday night vs. Weber State, rolling to a 75-57 win over the Wildcats to win the league title outright. It marks the team's 11th regular-season championship, in addition to nine tournament titles.
"It feels good," DeCuire said. "Like fine wine, nothing worth having happens overnight. For us, it's a slow process, and that's why we always talk about enjoying the process."
Following the game, Montana was presented its hard-earned trophy and cut down the net in front of its home fans.
"We have been working toward this for a long time," said Fabijan Krslovic, Montana's lone senior. "We have pictured ourselves here, but the ultimate goal is next week and we know we are in a great spot having the (No.) 1 seed, but there is a target on our backs down in Reno. We have four more games and we want to go win four more games."
The Grizzlies scored the game's first seven points – five of which were by Krslovic – and never trailed in the contest. After leading by double digits, 21-10, Weber State used an 8-0 run to cut the deficit to a single possession, 21-18. Ahmaad Rorie would hit back-to-back buckets, though, – the second of which was an and-one with a free-throw added to the end – and the Grizzlies were back in control.
They held a seven-point lead at halftime before scoring the first six points of the second half. Montana would lead by as many as 20 points in the rout.
Krslovic had one of his top performances of the season, scoring 15 points and adding 11 rebounds. It marked his first double-double of the season and third of his career. Rorie led all players with 20 points and a career-high-tying seven assists, while Jamar Akoh had 12 points and Michael Oguineadded 11. Montana shot 53.4 percent from the floor and tallied a season-high 22 assists on 31 made baskets.
Weber State entered the game ranked No. 2 nationally for three-point shooting, but was limited to 2-of-11 (18.2 percent). The Wildcats didn't connect on their first three-pointer until 26 minutes into the contest.
"We wanted to minimize as many attempts as possible," DeCuire said. "They shoot it too well to even let them shoot them. The way we defend the ball screen, it gives up threes here and there, so we needed to rotate. We spent two days making sure everyone knew where the rotations were coming from and who we were going to leave open and who we weren't."
Montana took advantage of 21 second-chance points and out-scored Weber State 42-24 in the paint. The Grizzlies held a 42-25 edge on the glass.
The Grizzlies will play their regular-season finale on Saturday, hosting Idaho State. Prior to the game, Krslovic, Montana's lone senior, will be recognized. With Thursday's win, Montana will play as the No. 1 seed in next week's conference tournament in Reno, Nev. The Grizzlies' first game will be Thursday at 1 p.m. MT.
"No slippage," DeCuire said. "It's another opportunity to come out and get better, another opportunity to perform. I would like to go into Reno with some momentum. We have a chance to be the first team in a long time to go undefeated at home for a complete season."